Summer came early to Southern California, which means that our beaches will be busy as residents and tourists alike look for ways to stay cool. Good thing timing is so perfect, as it was the Knott's Soak City grand re-opening this past Saturday. Located in Buena Park, Knott's Soak City is on Beach Boulevard directly east of Knott's Berry Farm. Easily accessible via the 91 and 5 freeways, it's the place to be this summer!
We were invited for a complimentary family day, courtesy of Knott's Soak City and I can give you all a preview of the new things you'll see when you visit this year, starting with seven new slides originating from two new towers.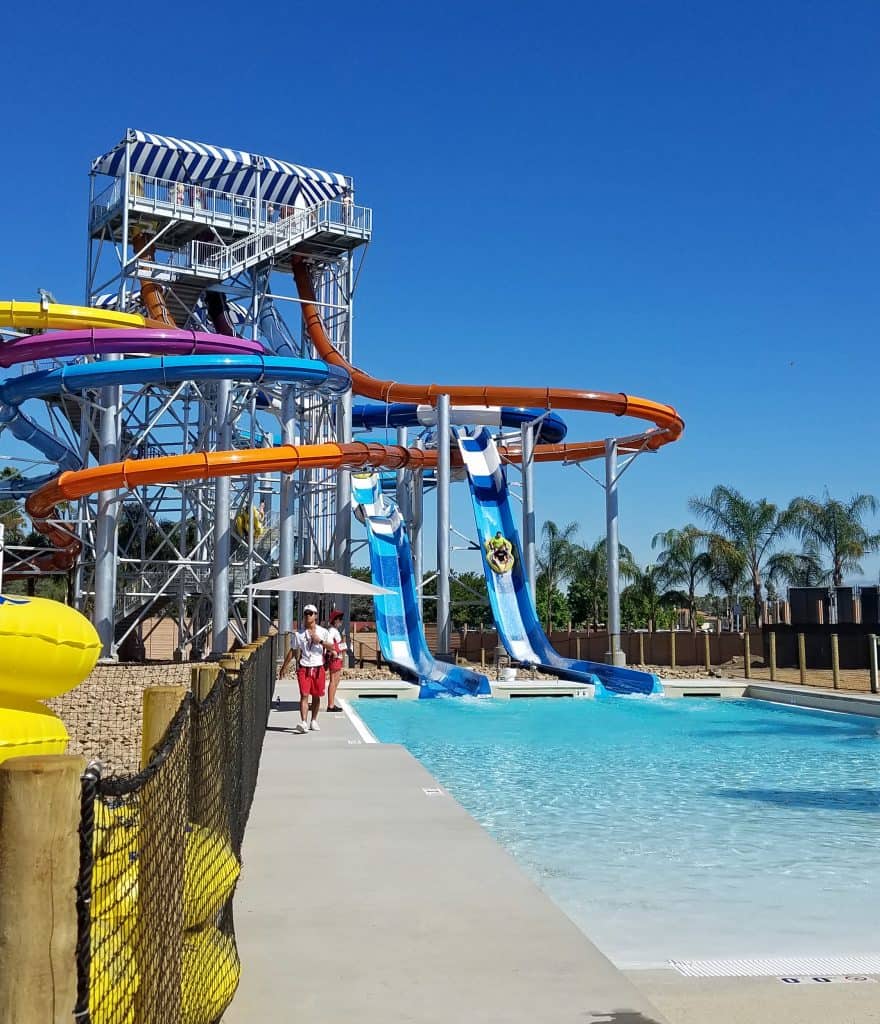 Shore Break tower is 60′ tall and is the site of six of the new waterslides. Four slides start with the new aqua-launch chamber, where the rider stands vertical and then drops down the slide from a standing position as the floor opens. The slides take you through speedy turns and a translucent tube without a raft. Those four slides are at the top of Shore Break, but if you're not quite ready for that unique experience, you'll enjoy the dueling tube slides that are just a couple of flights of stairs lower. (The height requirement for these rides is 48″.)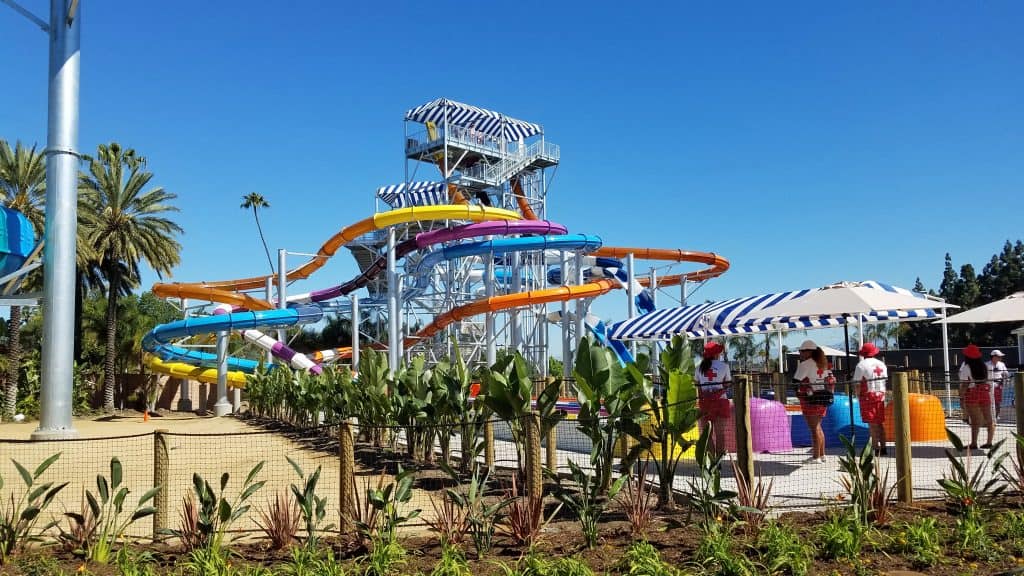 The other new tower is the Wedge, an open-air family raft ride that holds up to six people per raft. There are lots of turns and twists on this ride, too, with a height requirement of 48″ alone, or 40″ with a supervised adult.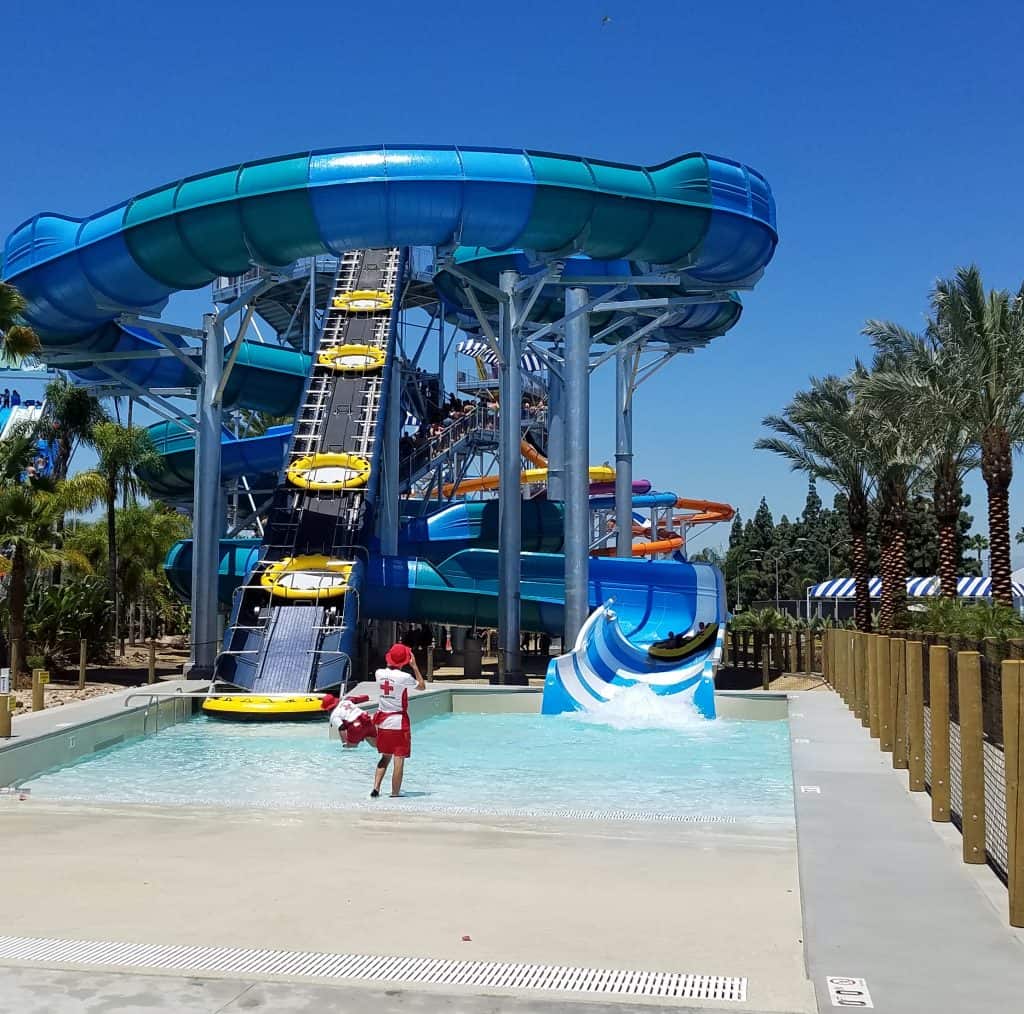 I was a little too old to go to the Beach House children's area — not that there's an age limit — but I really wanted to go stand under this giant waterfall of 500 gallons that spills every few minutes. You'll see the crowd start to build and then hear the screams as the water dumps onto everyone.
This is a popular spot in the park!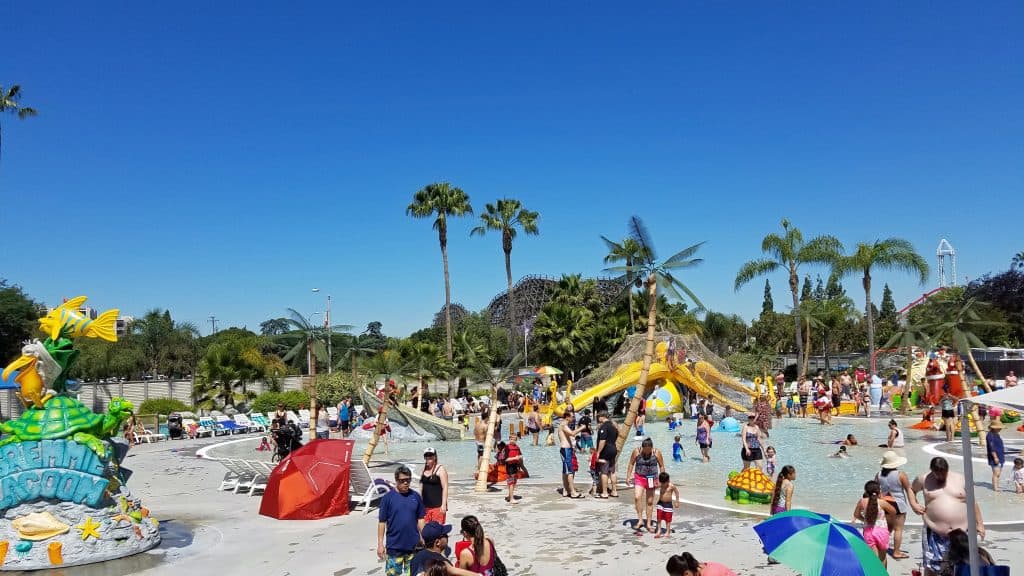 Gremmie Lagoon is another area of the park dedicated to the smaller visitors, with water play and small rides perfect for those who want to stay cool but aren't yet big enough for the daring slides, like this one, Old Man Falls. 63′ tall, it has three different slides where you lay flat on your back and take the plunge!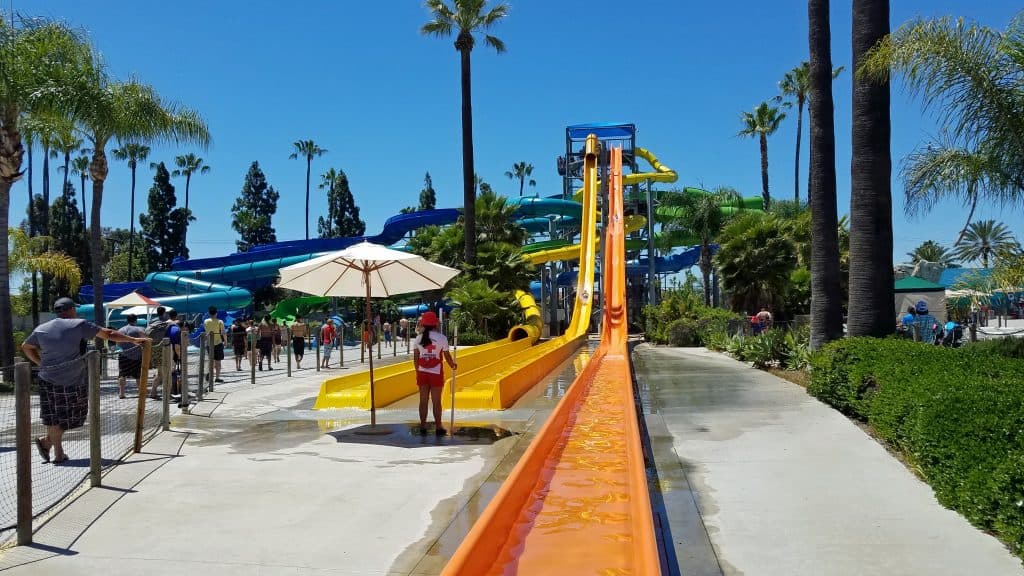 If relaxing is more your speed, head to the lazy river, grab a tube and float to your heart's content. Sunset River winds throughout the 15-acre park. It's one-third of a mile long, and is the widest lazy rivers in the world! Small children must wear life jackets, available throughout the park, and tubes are free at this ride and others. (There is also the option to rent your own tube for $10 per day.)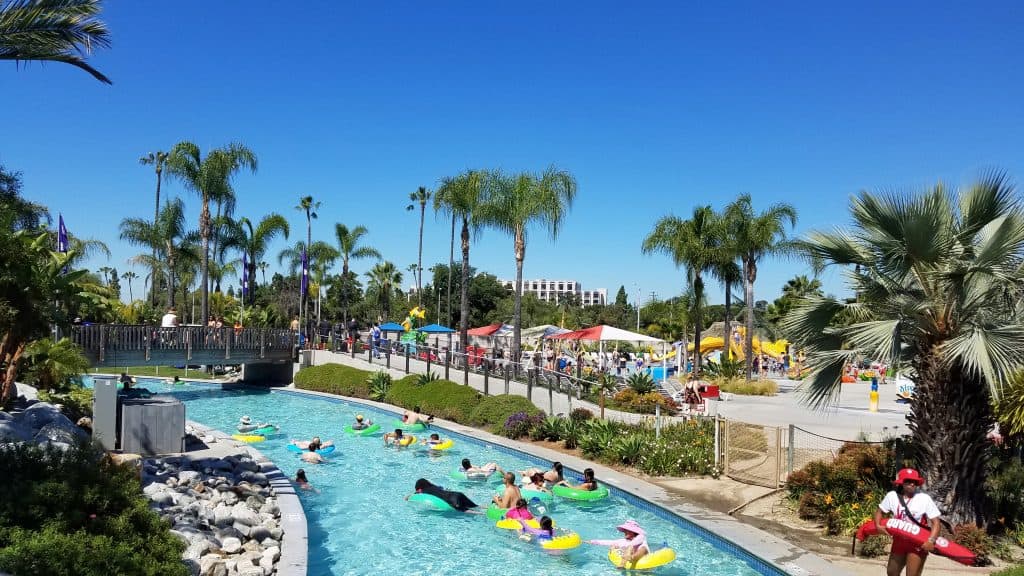 Knott's Soak City has not only added new slides, but in order to make everyone's visit more comfortable, more shaded seating areas were made available, as well as more cabanas. These cabanas are available for rent per day, and they include private seating within shade and some without, as well as a table for lunch time.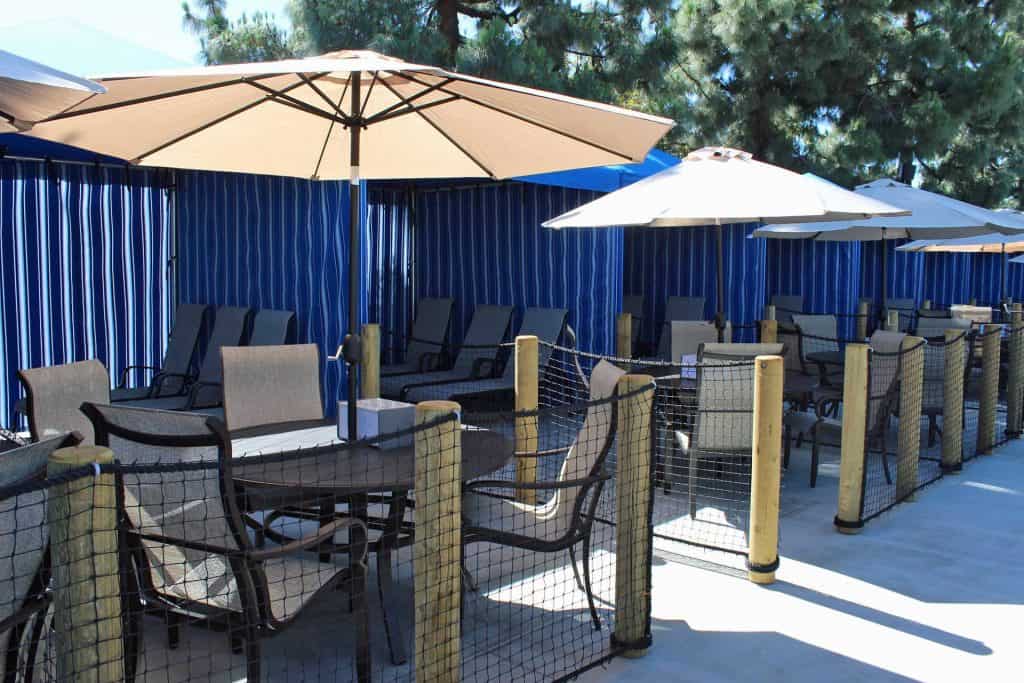 Speaking of lunch time, there are numerous places to buy snacks and beverages, including Portside Pizza (an outdoor food area) but you'll want to visit Longboard's Grill. Newly renovated, Longboard's queue is inside, so you get a break from the sun while you choose from things like chicken strips, fried fish fillets, burgers, dogs and even salads. Their onion rings are a must-buy if you are a fan.
In front of Longboard's, you'll find a large covered seating area with tables for four. Not far from Tidal Wave Bay and its surrounding cabanas, Longboard's is centrally located so you don't have to carry your food too far. If you don't want to sit at one of their tables, you're welcome of course to take your food back to a lounge chair; the chairs at Soak City are sturdy and long, allowing plenty of stability and room to enjoy your lunch and the palm trees views for miles!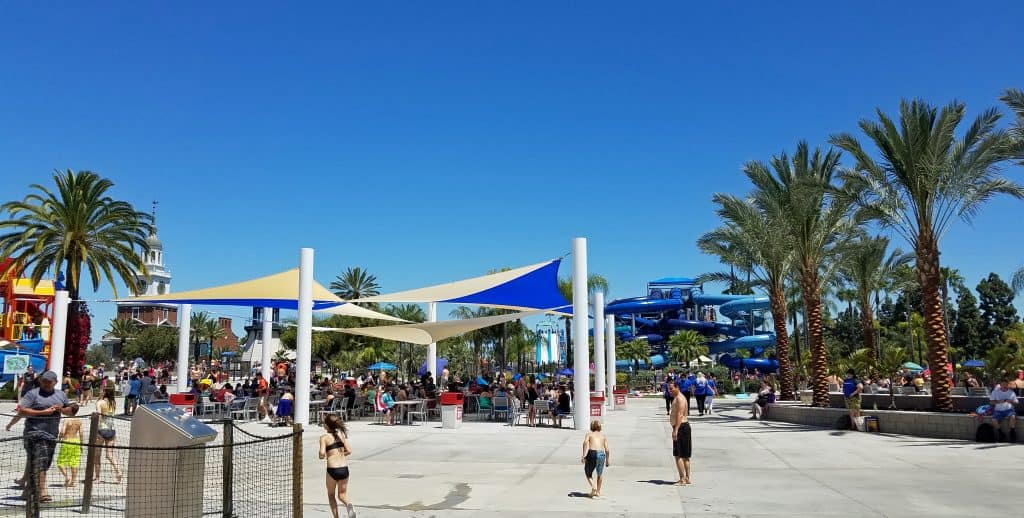 Tidal Wave Bay is another popular area in the park. It's a 750,000 gallon descending depth pool with rotating waves. The waves do shut off at times if you'd prefer calmer waters, but as those waves roll in, you can hear the laughter from far away. Surrounded by cabanas, Tidal Wave Bay is enjoyed by all enjoys. It does get to about 6′ deep on the far end but it's suitable for swimmers of all ages.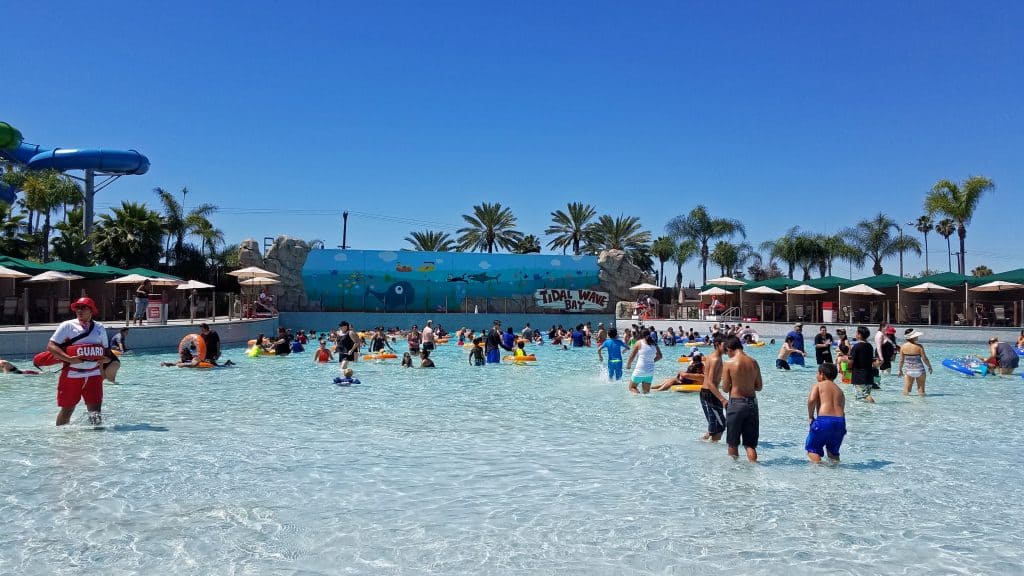 So of course we had to go get in it, too…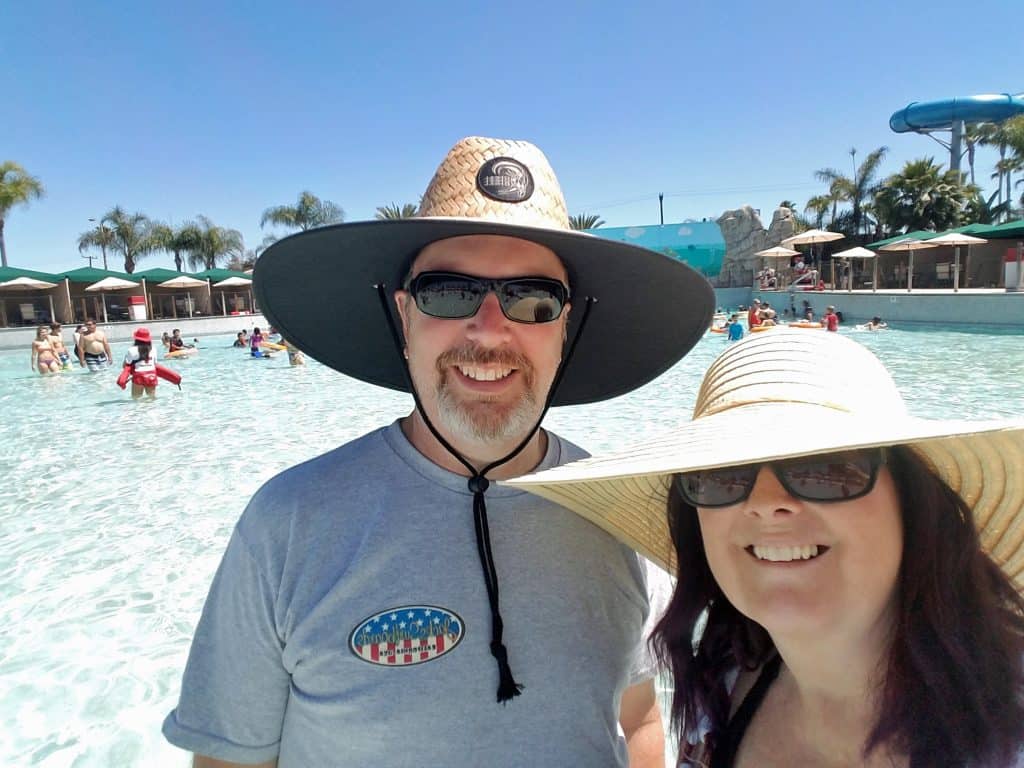 I spent a lot of time in a lounge chair not far from the water, watching the kids run around and chatting with friends.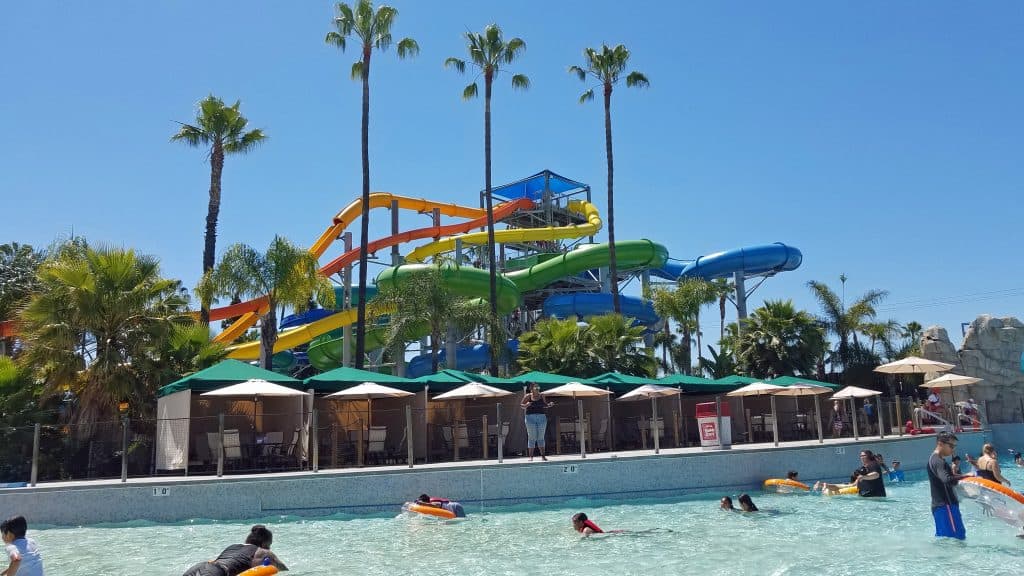 See the cabanas? Next time, I may just have to rent one of them. Sun, shade and adventure — what a great way to enjoy our beautiful California weather!
If you forgot something to help make it the perfect day, there's a good chance it's available in the store inside the park by the entrance, the Wipeout! surf shop. I'd forgotten a hat, so we both went shopping for new ones, along with a nifty little Mist 'n Fan gadget to mist us without taking up a ton of space in our bag. And the hats were only $19.99 each. Prices were great so you aren't paying typical resort park prices.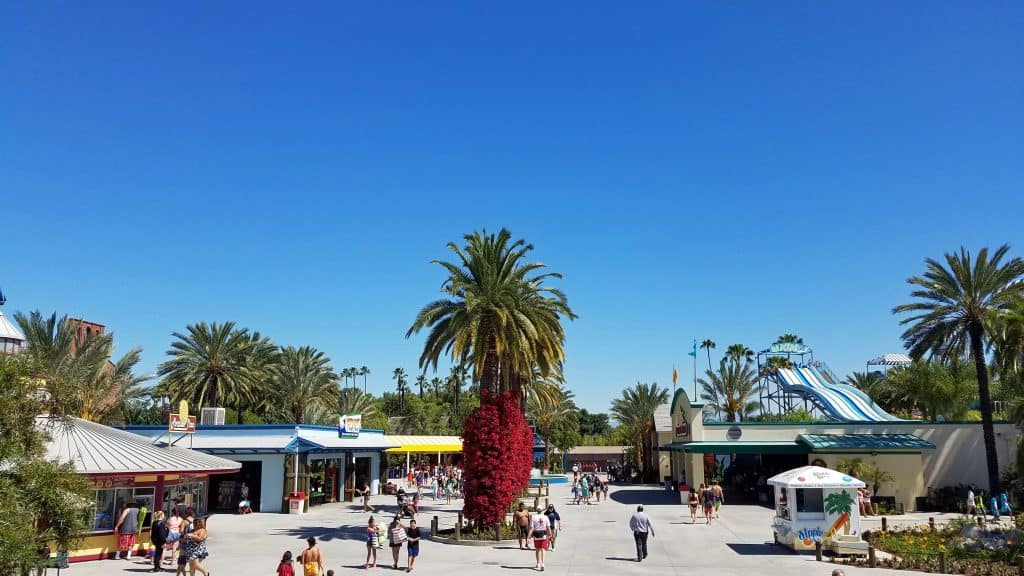 Park hours are available here, but they open at 10am each day and close between 5pm and 7pm, depending on the week. (Park hours typically lengthen during the heat of the summer.) Daily tickets start at $37 per day, with deals and discounts available if you choose to also purchase a day pass for Knott's Berry Farm. Season passes are available for six payments of $19.50, and the pass is good for both Soak City and Knott's Berry Farm. Changing rooms are available, as are lockers of various sizes. Parking is available just north of the main entrance to Soak City and is $18 per car or $23 per bus/RV.
Pack your beach bag with sunscreen, a towel and your hat and head to Knott's Soak City. Plan to spend the day so you'll have plenty of time to try all the slides, do some relaxing on the lounges, float in the lazy river and of course, enjoy some food in the shade. I can't wait to go back. My first slide is going to be the Shore Break tower, so I can hit up the aqua-launch again!