What does any real, true Disney fan need at Halloween? A LIFE SIZE JACK SKELLINGTON!
In the words of my favorite M & M, THEY DO EXIST.
A life size Jack Skellington makes your Halloween decor. He stands by your door, scaring people as they arrive, in all his 6′ 4″ glory, waving his hands and saying one of his 12 sayings, grabbing the attention of every guest.
*This post is sponsored by Wayfair!*
And if you want to be creepy, like us? The first night you set him up, you hide him in a dark-ish corner by the door through which your young adult children enter, late at night, when the house is dark. Then you listen for his or her arrival, as they react to the WE MUST STOP CHRISTMAS FROM COMING that comes calmly and clearly from the darkness.
You can't buy this kind of entertainment.
Actually, you can, from Wayfair, home of all things fun and necessary for your home. With a huge selection of Halloween decoration options, you can set your home up to be scary, creepy, fun or a mix of both, all at excellent prices and FAST. (And Wayfair has free shipping over $49!)
This year, we were going with a skeleton theme. The husband's 50th birthday party was this month, and I'd already set up some Halloween decorations before his party. It was easy to seamlessly mix the skeleton decor with the birthday decor, and it got a good laugh from all the guests.
I went to order some more decorations from Wayfair, and first I saw this fun light-up skull that changes color and rotates through several colors.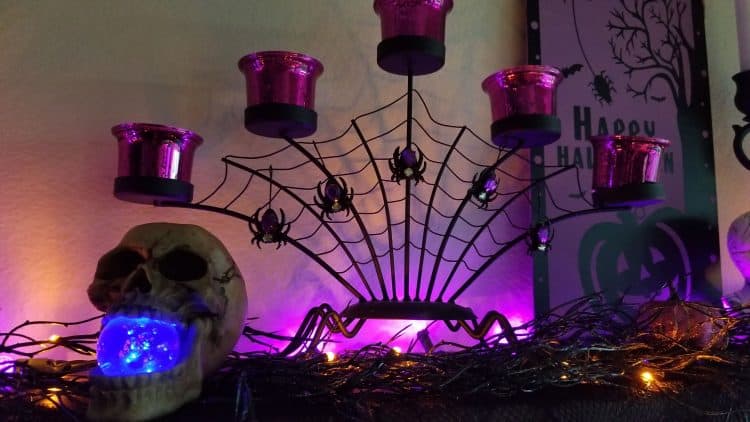 I knew he'd fit right in on my family room mantel. Then I saw the life size Jack Skellington and that was it. I knew he belonged in our Disney-fan home.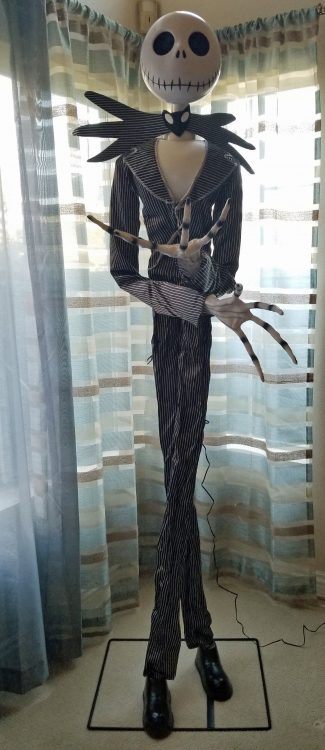 Jack comes needing assembly, but it's super-easy to put him together. Directions are clear and I had him standing up, ready to creep out my curfew-testing son, in under 10 minutes. Full transparency: I stood on the third step of my stairs in my foyer so I could easily see his neck where you popped his head and so I could easily attach his clothing. He does have a cord, as he's not powered by batteries, so plan that when you decide where to place him. (And when I get to Target tomorrow, I'm buying a black tablecloth to go around the base so the frame is covered but for now, I wanted you to see the real look.)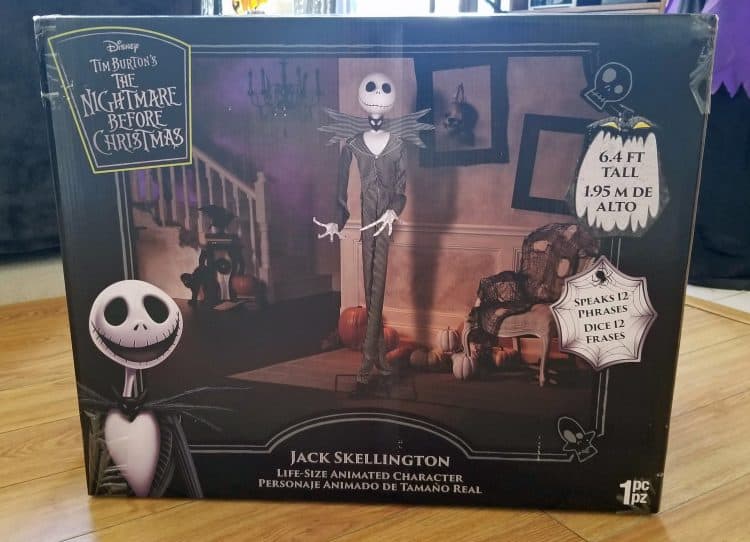 Jack Skellington is nothing short of awesome. He has his 12 phrases, his arms wave and his mouth moves. He looks identical to his movie character and I only need to get a life size Sally now to fully complete my Disney Halloween decor.
Wayfair.com has just about everything you can want for Halloween decorations, Thanksgiving, Christmas, every day and more. I've bought a lot from Wayfair, and it always arrive quickly and on time. Products are high-quality and unique, and my life size Jack Skellington proved this. I've bought so many decorations for Halloween from various places, yet I've never seen this big guy before.
Whatever you're looking for, Wayfair breaks it down. Indoor, outdoors. Lights, wreaths, lights, and then there's a section on theme. It's so easy to put things all together!

After scaring the creeps out of everyone for the first day, we moved him into the corner of the family room. His voice goes off on a sensor, so it's even more fun when you're reading on the couch or engrossed in working or cooking or whatever, and he starts talking, thanks to the fast, loud car that rounds the corner on the other side of the window behind him. We didn't plan it that way, but it works out perfectly. He is displayed in the light, no one can knock him over in shock and we benefit from random traffic.
Wayfair can help you get your house ready for the upcoming holidays for less. Whatever your budget is, you can find pieces to either accent your existing holiday theme or be the center of the whole house. It's easy to get carried away!