Imagine, you're out in your garden, contemplating life and the problems you're experiencing, when out of nowhere comes a bird flying straight for your head. You dive out of the way, hit the ground, and your mind is distracted from what you were thinking about. The Starling, the new Netflix movie with Melissa McCarthy and Chris O'Dowd, turns that bird into a metaphor and makes another animal movie that will tug on your heart strings.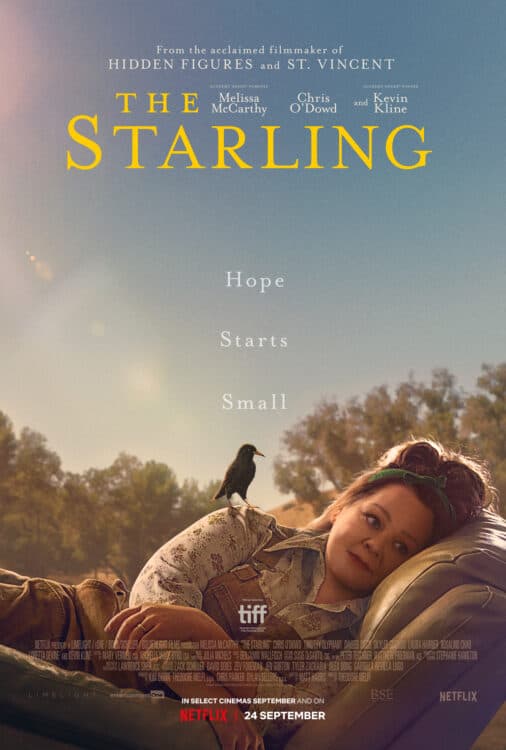 The Starling is streaming on the Netflix service as of September 4. Coming in at about 1 hr 40 minutes, it's a slow, lingering story of a couple going through a devastating period of grief following the death of their young daughter. Each spouse handles it differently, which is common amongst couples who deal with a major crisis, but when one is facing mental health issues in regards to the loss, the couple is on a more difficult path. Whether their relationship succeeds or fails is all in how they navigate it.
Melissa McCarthy is so known as a comedic actor that it may be hard to envision her in this role as Lilly, yet she shines. Her levels of ability have never been more apparent in both Nine Perfect Strangers and The Starling. She digs deep and becomes a woman mindfully stacking sugary sweets at her day job while moving on, one day at a time, from the worst moment of her life.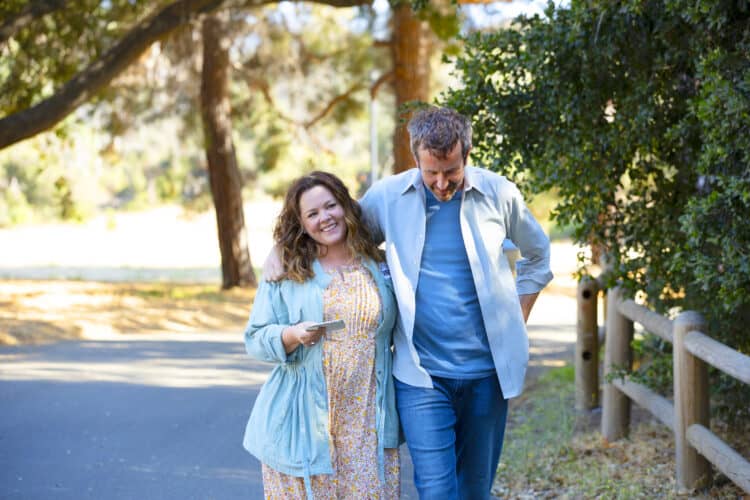 Helping her along that path is her husband's therapist, a local veterinarian (played by Kevin Klein), her garden and its new inhabitant, the starling. When the starling's behavior begins to change Lilly's gardening habits, requiring Lilly to wear a football helmet while planting, Lilly takes aim at the bird and rediscovers herself. It isn't until she has to help it through its own crisis that she stands up for herself with husband, forcing him to view their loss as a couple, and changing their future together.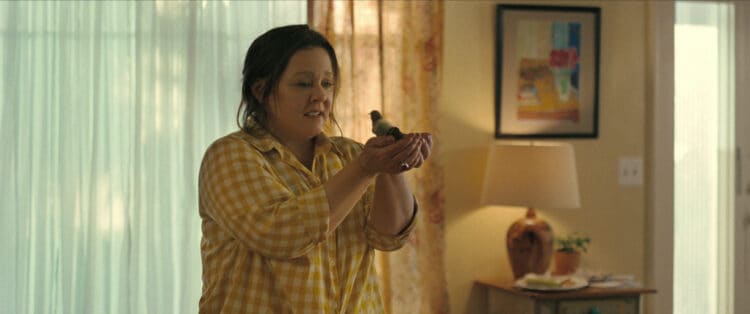 The Starling is an emotional movie, one that may be hard for parents who have lost children at any age. It does a great job at characterizing the rollercoaster moods that grief envelops a person in, and changes the picture that the man has to be the strong one while the woman crumbles. It takes steps to normalize a father seeking help, and takes such a quiet approach to the two of them resolving their relationship that you almost don't understand at times the depth of their despair.
It will break your heart a little, then give you hope. Chris O'Dowd, most known to me as Darcy's date in Thor: The Dark World, is believable as a dad, even though sometimes you want to shake him and tell him to stop using his energy on witty clips and instead speak when he calls to hear his wife's voice.
You'll need to watch the movie to see what happens. This new Netflix movie The Starling is a moving surprise of a film. Enjoy the official trailer below.