I know, peanut butter peach crisp isn't something you'd automatically think of making if someone handed you a bunch of peaches, but now that you know, you will, right?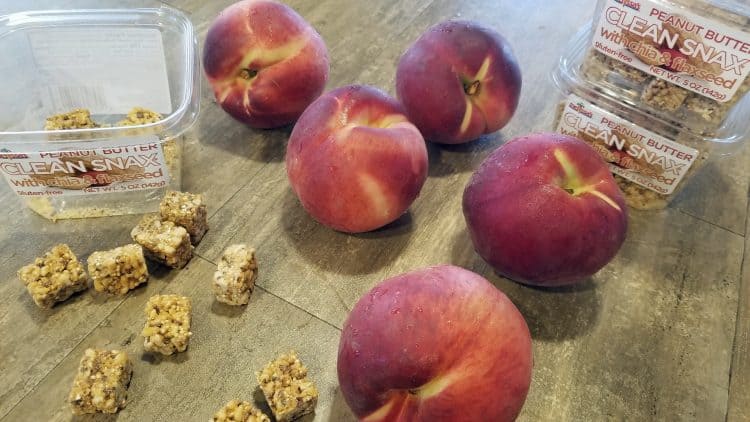 Melissa's Produce sent me a gorgeous complimentary box of produce last week, as part of our ongoing blogger challenge where three friends and I all get the some ingredients and develop a recipe based on a theme. I already had some Peanut Butter Clean Snax and after I bit into one, the idea of incorporating them into my dessert was born.
Peaches are a summer staple. Biting into one evokes good feelings, and not just because of the flavor. I remember my first South Carolina peach, bought at a roadside stand and warm from the sun. The juice ran down my face and I was enjoying it too much to care. That peach gave me a renewed interest in creating peach desserts for my family, and even though that was a few years ago, nothing's changed.
Making a crisp from any fruit is simple; all recipes are pretty similar and they're known for being easy to make. Chop fruit, coat in lemon juice and corn starch, and cover with the topping, aka the crisp. The topping usually includes oats, but my version replaces most of the oats with Clean Snax. Their flavor is amazing and the texture is definitely crisp as even when moist, they retain their crunch.
Clean Snax come in quite a few flavors and the peanut butter ones are my favorite. They are one of my favorite snacks to throw in my press bag or purse when I'm on the run.
For this recipe, I did something unusual to the Clean Snax: I smashed them to pieces!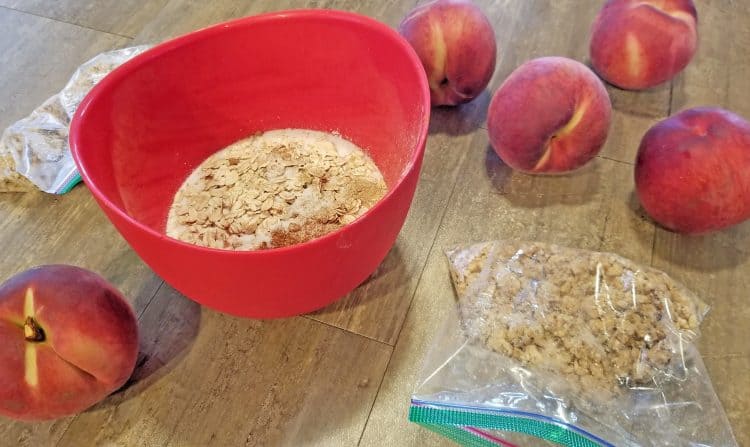 The recipe calls for one cup of smashed Clean Snax, which was a little less than two packages. (Trust me, it's worth it.) I put them into a baggy and took the back of a steel ice cream scoop to them. It's also a good exercise if you're stressed or annoyed with someone.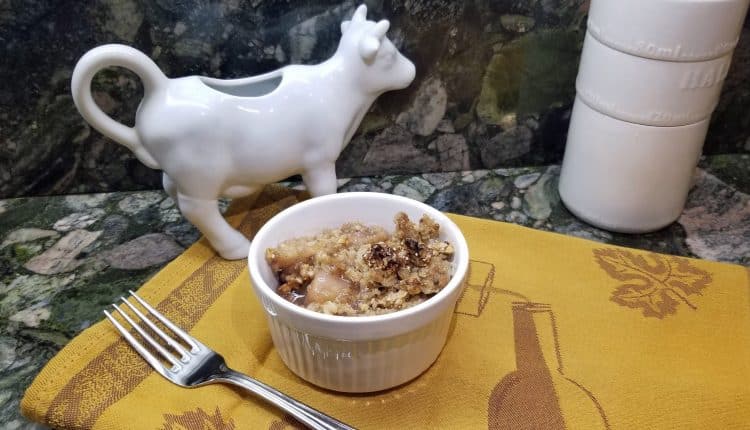 Peanut Butter Peach Crisp
4 large peaches (approximately 2-2.5 pounds)
1 tbsp corn starch
1 tbsp lemon juice
1/4 cup granulated sugar
Heat oven to 350 degrees.
Cut the peaches into slices. I didn't peel them but that's a personal preference. Mix peach slices, corn starch, lemon juice and sugar in a bowl. Set aside.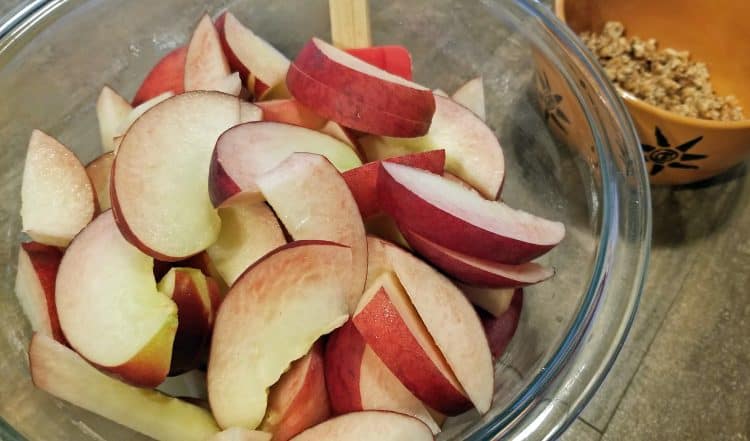 The topping half of this recipe is just as simple
3/4 cup flour
1/4 cup brown sugar
1/2 cup granulated sugar
1 cup smashed Peanut Butter Clean Snax, divided in half
1/2 cup quick oats
1/2 tsp salt
3/4 tsp cinnamon
1/4 tsp nutmeg
1/4 tsp cardamom
1 tsp almond extract
1 stick butter (1/2 cup) chopped into pieces
Mix all ingredients except for 1/2 cup of the smashed Clean Snax and the butter. Cut in the butter until the mixture is combined and chunky. You may need to use your hands.
Put the peach mixture in a greased 8 x 8 pan. Sprinkle topping mixture over the peaches, then sprinkle on remaining 1/2 cup crushed Clean Snax.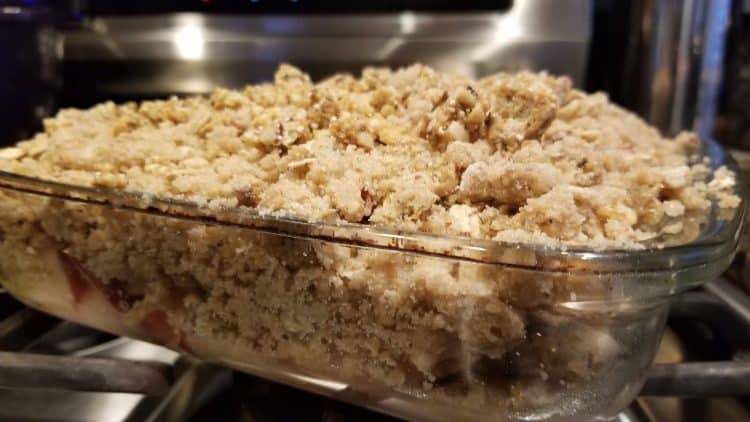 Bake for 45 minutes, checking at 40 just in case. Top should brown and mixture should bubble without burning around the edges.
Serve warm — be careful, it gets very hot, which makes Peanut Butter Peach Crisp even more delicious to eat with a scoop of vanilla bean ice cream. If you want to get decadent, a peanut butter ribbon ice cream would be fabulous, too.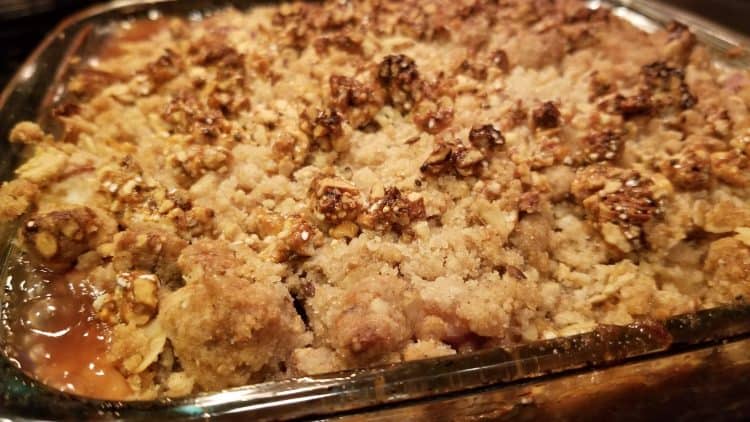 Thanks to Melissa's Produce for the food! My family thanks you as well, as they're the happy beneficiary of a lot of delicious food this week. (And I may have subbed in some crisp for breakfast one day this week. Don't tell my trainer.)