This time of year begs for soup. Cold wins, rain..or hail like we had last weekend means we want warm foods that are comforting and filling. And without a lot of work. Using some fall vegetables from Melissa's Produce, I put together a simple recipe for a roasted vegetable soup using butternut squash, shallots and a few other fun items that will have your house smelling amazing.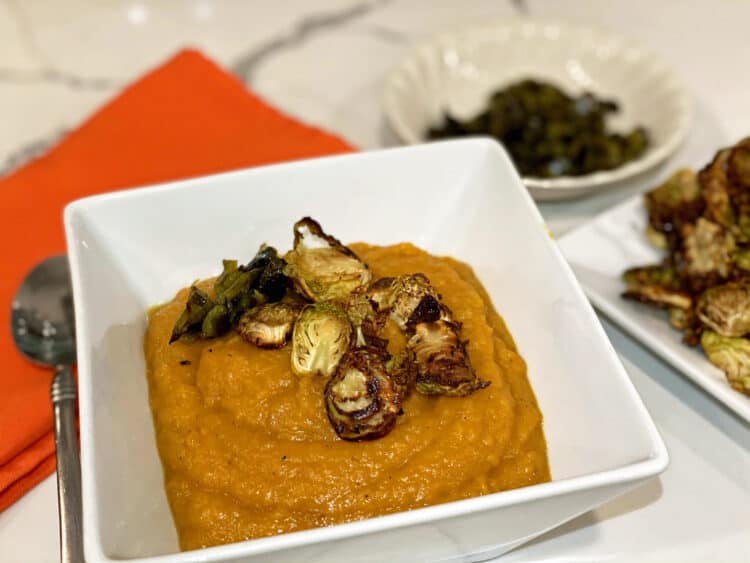 Making soup out of roasted vegetables is probably one of the easiest meals you can make! I share my specific recipe below, but you can get really creative and use whatever you have on hand. Root vegetables are a hearty foundation, and the fiber in these kinds of soups fill you up much faster than you think. Start with a small bowl and refill if you're still hungry, because none of us finished our bowls — I got overzealous and let my eyes take over.
Blended soups may not all be the prettiest, but I assure you, the flavor is there. You can mix up your seasonings and spices, but whatever you do, do not skip the fresh garlic! Powdered garlic is great in a lot of things, but nothing beats a roasted clove (or ten) of garlic.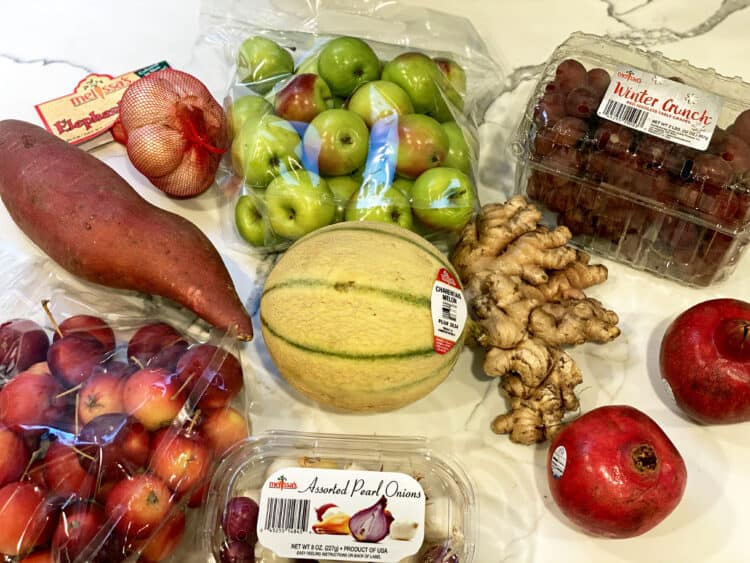 Melissa's Produce sent me this beautiful box. The colors alone had me coming up with ideas on how to use them before I even got them all out of the box! They have a huge selection of seasonal produce available and I'm always excited to come up with new ways to utilize them and feed the family something different. We used to get takeout or go out to eat two or three times a week, pre-lockdown, so it's easy to get in a recipe rut. Not anymore!
Roasted Vegetable Soup
One whole butternut squash
6-8 shallots
One elephant garlic bulb (entire bunch)
Two sweet potatoes
12-15 Baby Yukon Gold potatoes
Cayenne pepper
Salt and pepper
Fresh turmeric
Five cups chicken (or vegetable) broth
1/2 cup almond milk (or half-and-half)
Optional Toppings
Roasted Poblano Peppers
Roasted Brussels sprouts
Pre-heat your oven to 375°.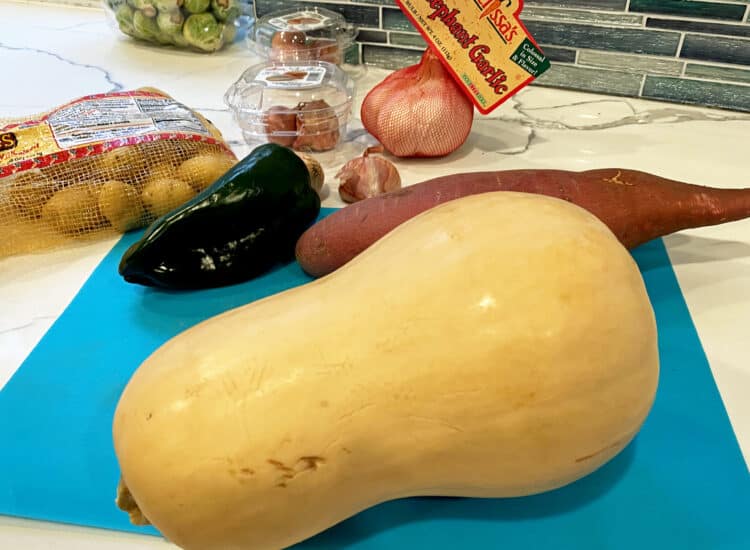 Peel the butternut squash, cut in half, then cut in chunks. (Use a strong peeler, these things can be tough!) Place on a cookie sheet, covered in a nice layer of olive oil.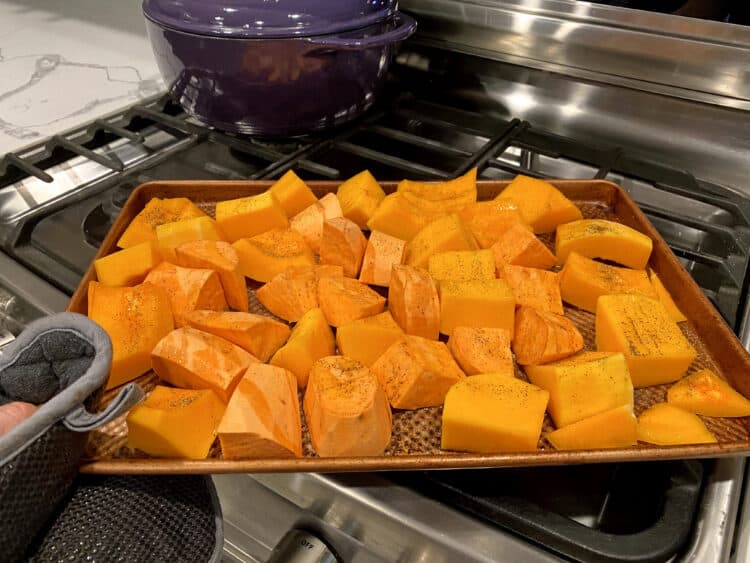 Then, peel shallots and garlic cloves, placing on another large cookie/baking sheet. Chop potatoes and place on sheet also. (I peeled the sweet potatoes but not the small potatoes. The skins add flavor and nutrition to the soup.) Drizzle quality olive oil, a little salt and a little pepper over everything. Roast all of the vegetables for 20-25 minutes, again ensuring things are soft when you poke with a fork.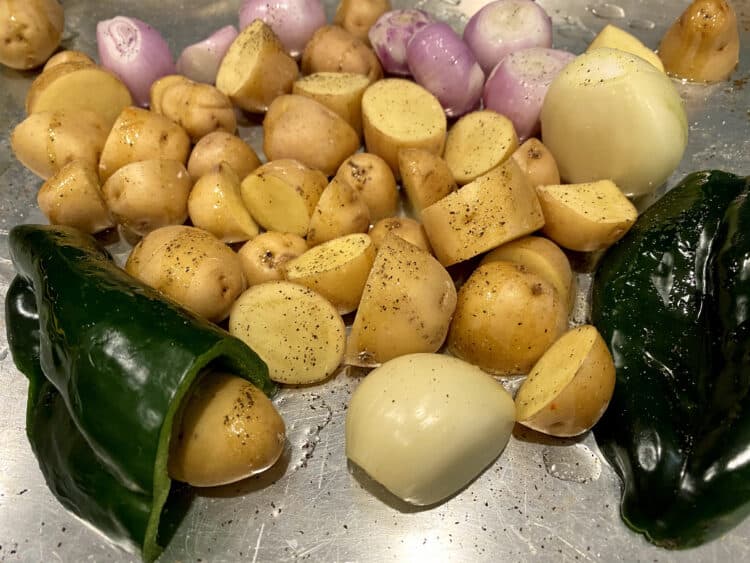 Start by puting the butternut squash into a large Dutch oven. Add all the roasted vegetables along with the seasoning, the 1/2 – 1 tsp grated fresh turmeric, and the chicken broth…basically, everything except for the milk. Bring to a simmer for another 10 minutes or so, until everything is softer and the broth has had time to absorb some flavor. Blend until smooth with an immersion blender, slowly adding the half-and-half until you reach the consistency you prefer. If it's too thick, you can always add more broth.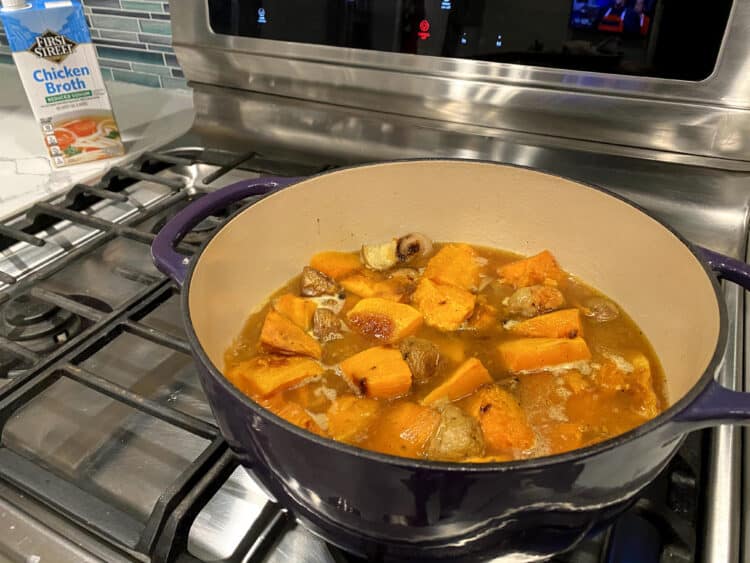 The optional toppings also come together quickly while you're roasting everything else. You can put the poblano peppers on an oiled pan under the broiler in my toaster oven, turning them when they get dark. Cool enough to touch, cut off the stem end, scraped out the seeds and chop into smaller bites. Or, you can clean out the center and slice in half, roasting with the rest of the vegetables. Your choice!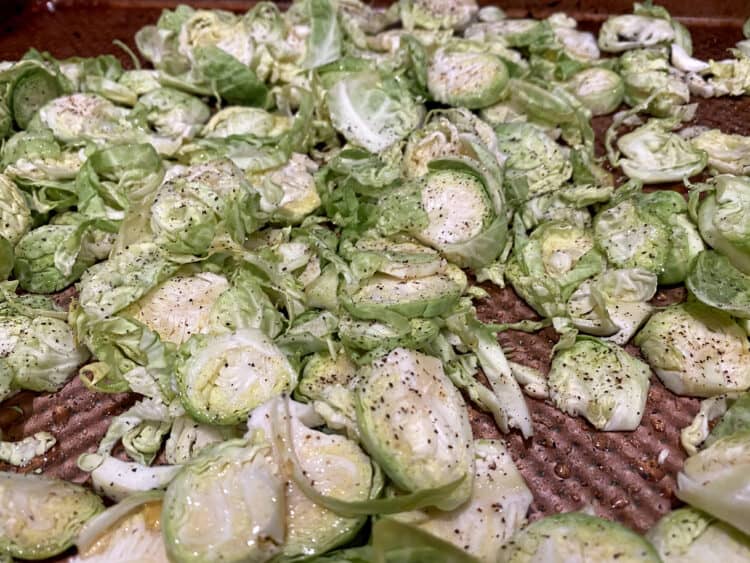 The Brussels sprouts are just as easy, and can be done in the same oven as the rest of the vegetables, just on a separate pan. Cut in thin slices, so they will get crispy, and drizzle olive oil, salt, pepper and a little cayenne pepper on top of them all. "Mix" it with your hand to make sure everything's covered well. I put it on the top rack of my oven, roasting for about 15-20 minutes. It's really a preference, as I like getting mine semi-overly brown.
Serve in individual bowls, topping with the sprouts and poblano peppers. A dollop of creme fraiche or crema is a good addition, too!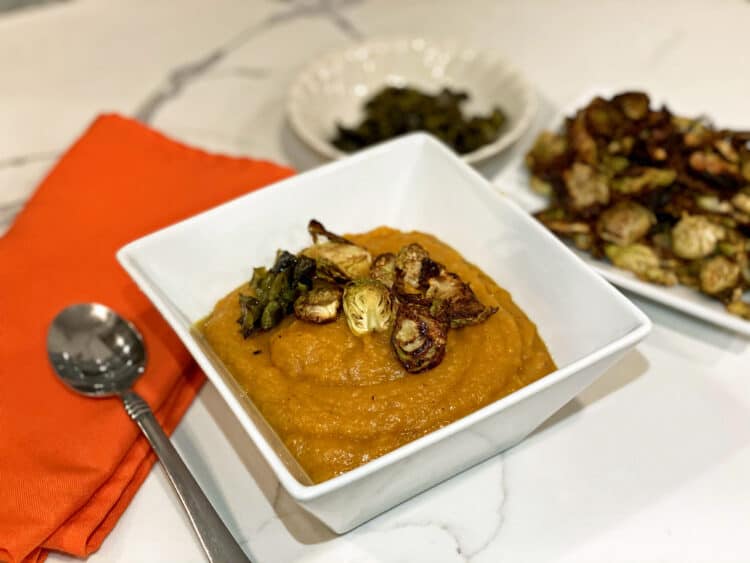 Roasted vegetable soup is something you can make all season long, changing it up a little every time, or find your favorite and make it a weekly staple. With vegetables being so easy to get, even during lockdown shopping, it also makes an affordable meal everyone will like. (You can also make it vegan with the almond milk and it freezes safely for use later on.) Need to take a meal to a lonely or ill neighbor? This will be your go-to!