I'm a cargirl, and if you've been around the blog for any time, you've seen other posts I've written about cars. I love to get out there on the road, but I drive an automatic. It's been many years since I've driven a stick with any regularity and I had no real reason to worry about it. (I considered getting my Challenger with a manual transmission, but a) it's hard to find, and b) I wasn't sure I was ready for it.) I learned in a car exactly like this one…except it was a bright blue.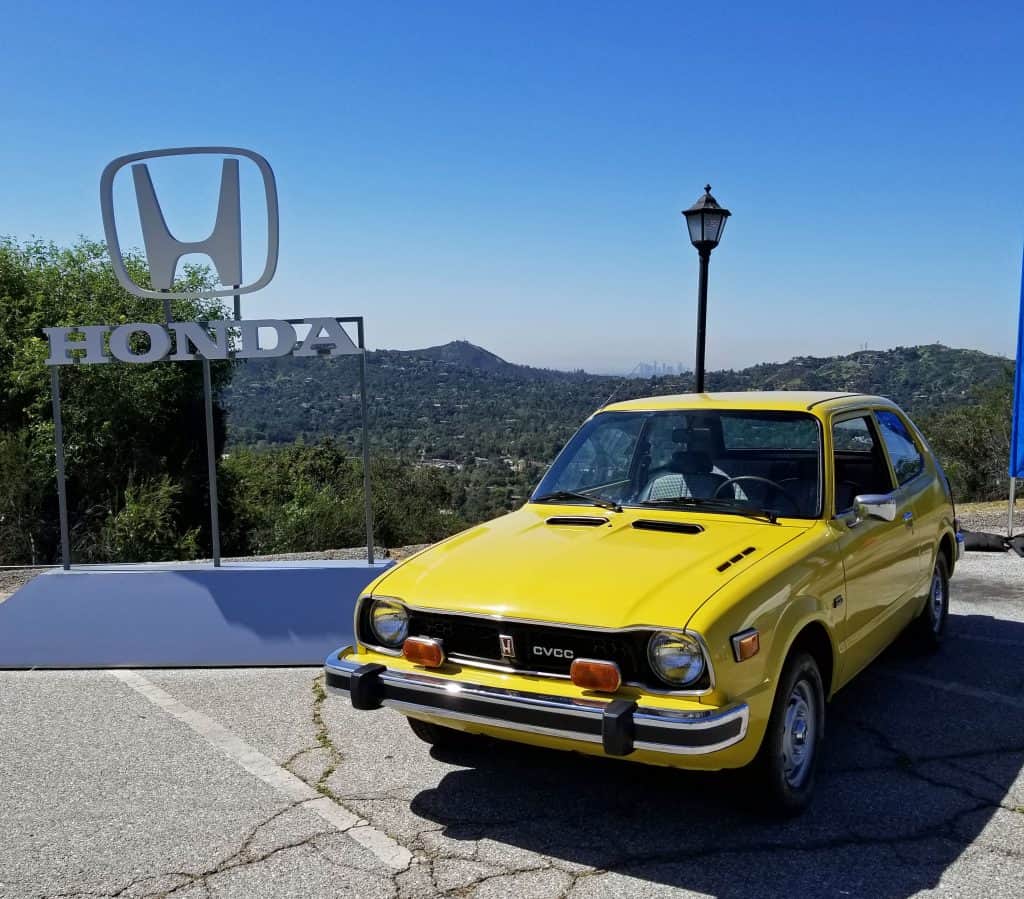 When Honda invited me to come spend a day driving their beautiful manual models on the highs of La Canada-Flintridge, I was immediately intrigued…hesitant, but intrigued, so I kept reading and was thrilled to see that the Shifting Gears with Honda event also included a 90-minute one-on-one class in driving manual. Sign me up!
It could not have been a more perfect day for the class. Up at the country club, under enclosed awnings high above the city, we watched a brief video to familiarize us with the process.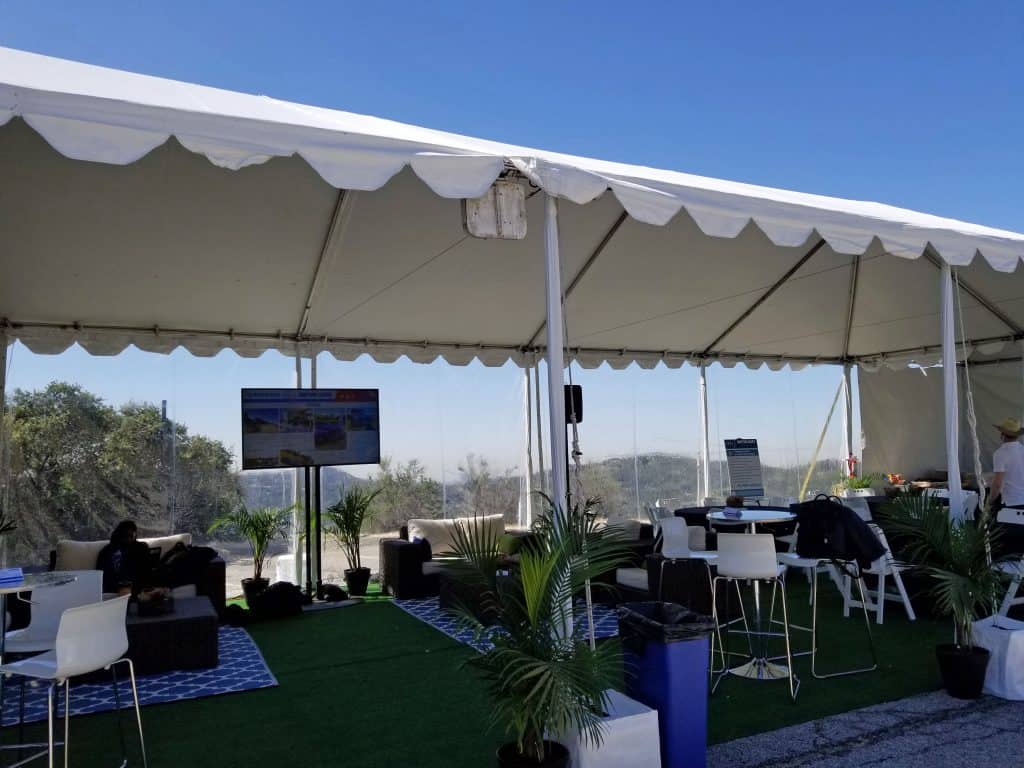 Then we had our training, where I was lucky enough to have Zach as my instructor. Not only is he the Honda PR representative in the video, but he was so kind and patient. Here I was worrying about dropping a transmission, and he turned that around so quickly that I was looking forward to graduating and getting out on the road on my own. ON MY OWN. (More on that later.)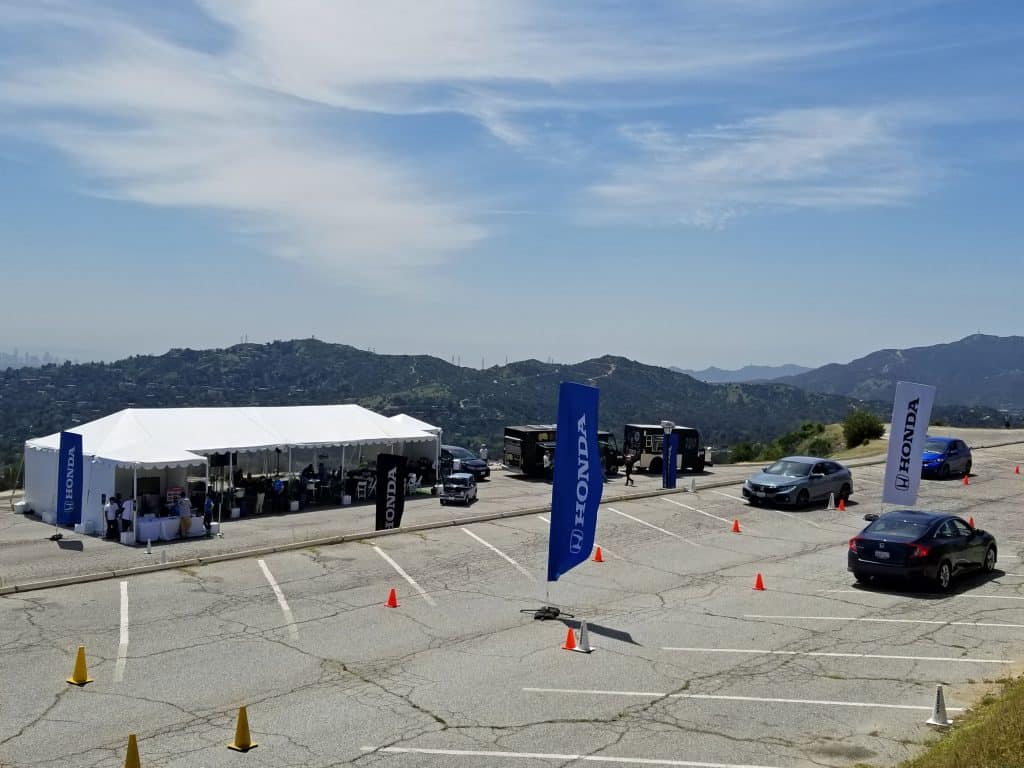 I had my class in this spiffy Honda Accord. It was comfortable, compact and was a good car to learn in.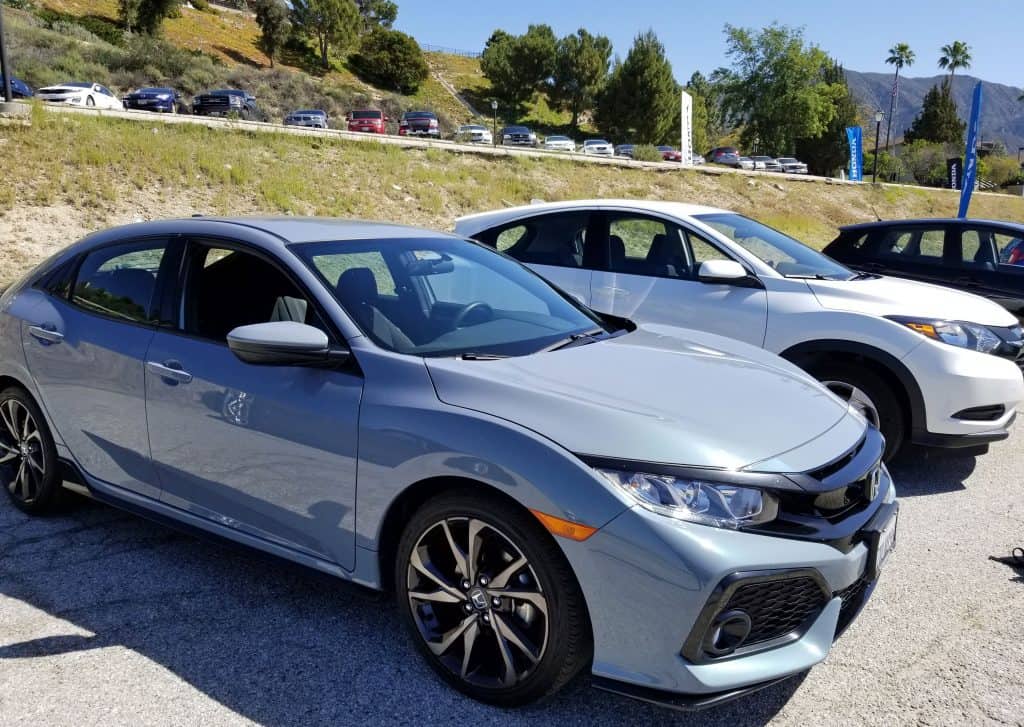 Then I was off hitting the Angeles Crest Highway in this Honda Civic Si — isn't it a beaut?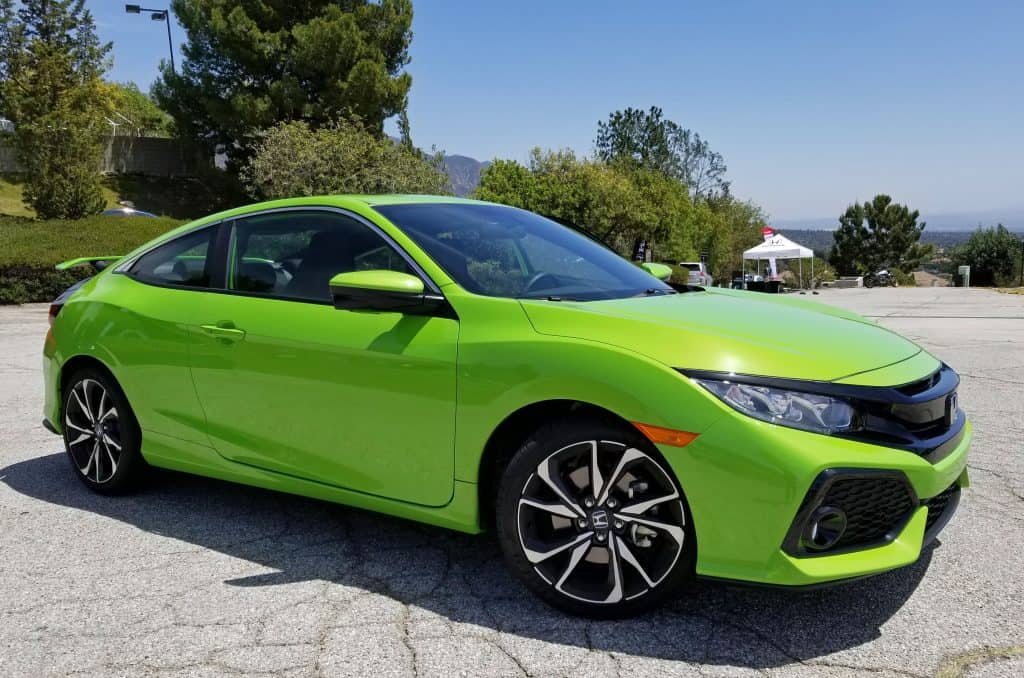 Driving manual is something too many people are afraid of. I get it, really. I was still hesitant when I got in the Civic — mainly that I'd stall out and panic on the two-lane curvy road, so they provided me another patient instructor as a ride-along so I wasn't worrying about the route while still getting acclimated.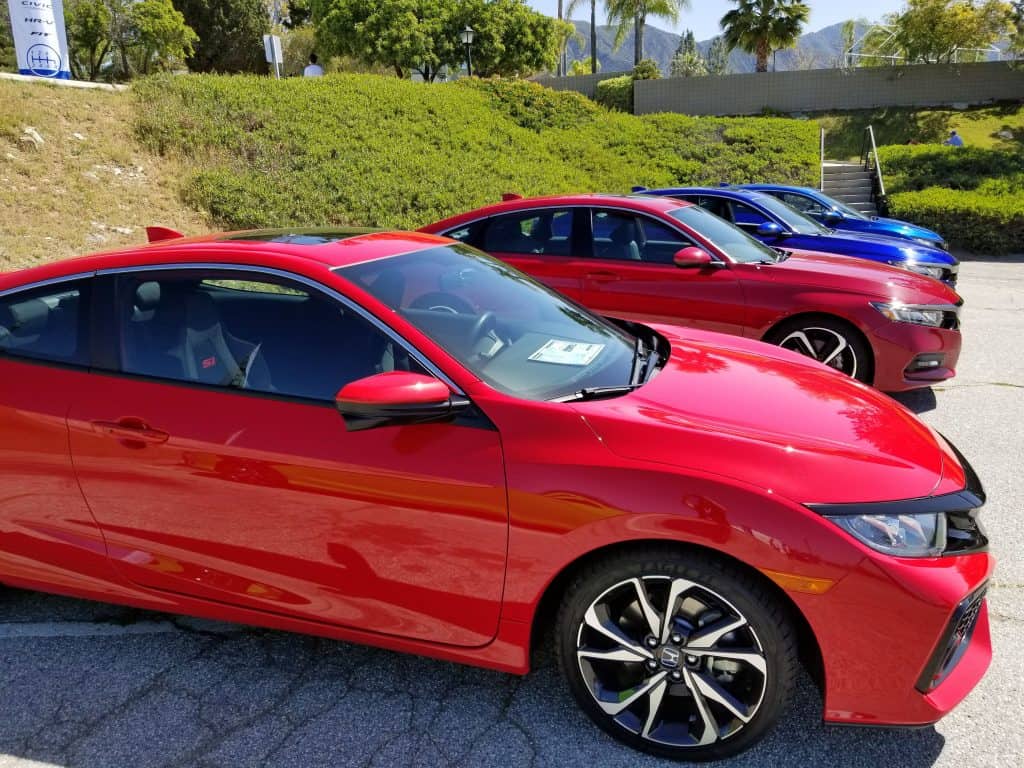 Anyway, driving manual can be scary at first but that fear quickly abates. Shifting is easy, and the clutch systems are much more evolved, making shift gears with Honda a much smoother process. I didn't stall once! I did, however, make it lurch a couple of times. I was worried about the hills, but Honda has this new system that will possibly be your favorite amenity if you're new-ish to driving manual: brake hold. Basically, this alleviates the worry that you will roll back on a hill. We tested it out and sure enough, push that button and you do not move anywhere but forward after you step on the gas pedal. What an evolution in driving stick shift!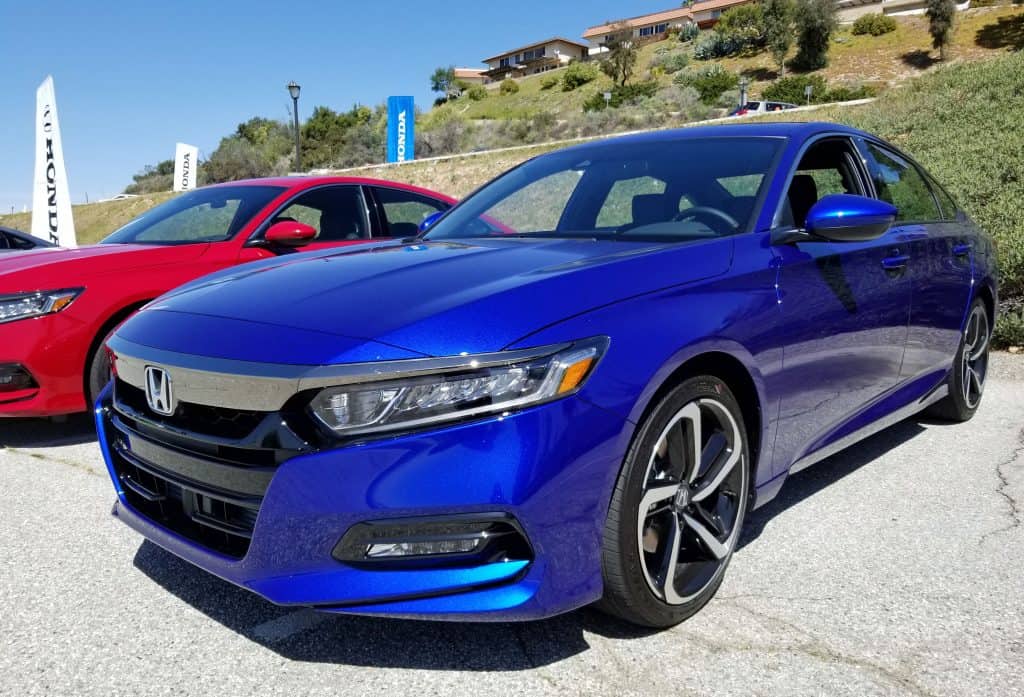 There are also other reasons that driving manual is something you need to consider.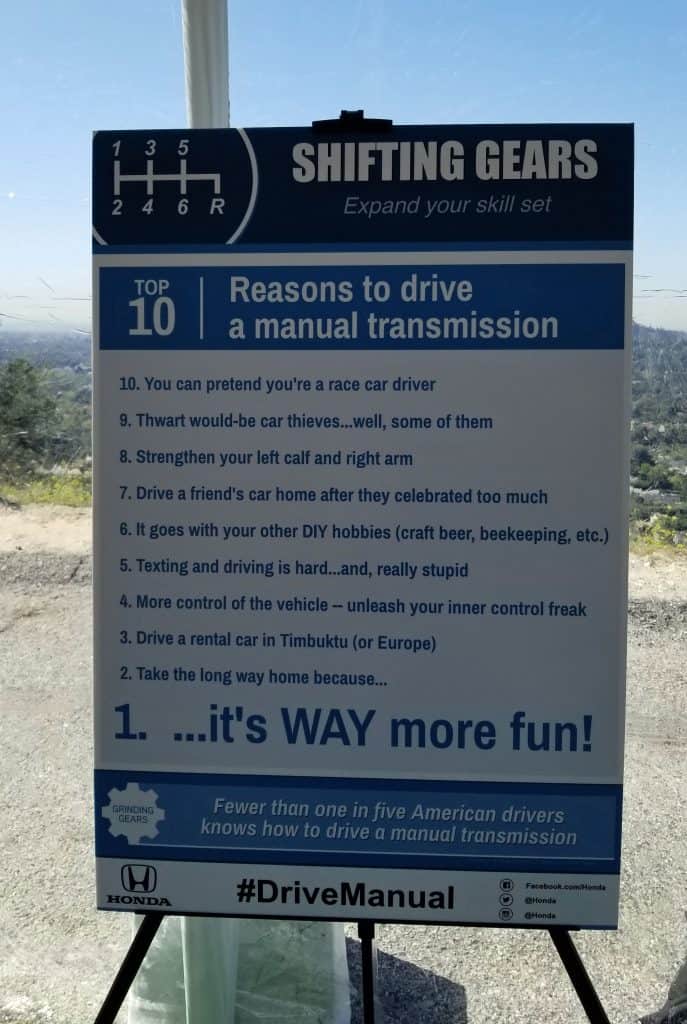 The cars handle well and unlike years ago, where the manual cars were less appointed, all the manual models (which is literally all the Honda models, something other manufacturers don't offer) are just as full of amenities, style and comfort as the automatic version. The power was fantastic and the control from shifting gears made driving a lot more fun.
Then we got tacos off of the taco truck, enjoyed the views a little more, and hit the road to head home. Honda, thank you so much for the invite and for the fun! You've given this cargirl the confidence to consider a manual car whenever I buy my next car! Check out the Hondas when you go to purchase and enjoy the fun!
And these tacos were killer!