Super Nintendo fans, it's coming!! SUPER NINTENDO WORLD™, the innovative, immersive and highly-anticipated themed land, will open at Universal Studios Hollywood in 2023! A Super Nintendo World in California is the first to debut in the entire United States, so get ready for live action Nintendo fun with your favorite Super Nintendo characters!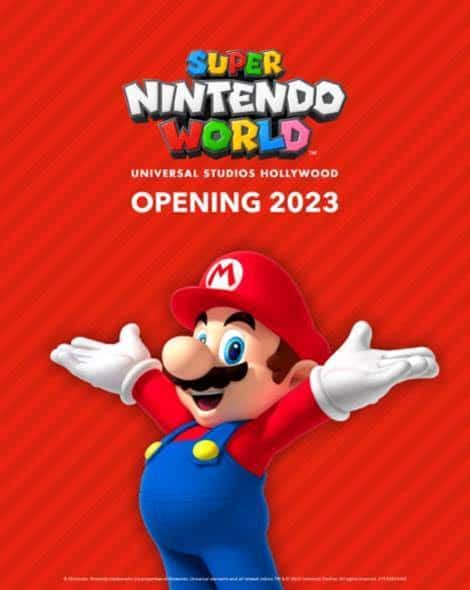 SUPER NINTENDO WORLD opened first at Universal Studios Japan to rave consumer and critical reviews in 2021. The U.S. debut of SUPER NINTENDO WORLD at Universal Studios Hollywood will transport theme park guests and Nintendo fans into the world of Mario, Luigi and Princess Peach to become part of their compelling universe.
The immersive land will be a visual spectacle of vibrant colors and architectural ingenuity located within a newly expanded area of the theme park, featuring a groundbreaking ride and interactive areas, to be enjoyed by the whole family. Themed shopping and dining will enhance the entire experience.
Who is your favorite Super Nintendo character? Every family game night, when we bust into the video games and get silly, there's a rush to choose which character will represent each of us. Princess Peach is a popular choice, and partially because of the sounds she makes during game play. My son has to be Mario every.single.time. If someone beats him to it, its going to go down and the competition gets fierce! If I can't get Princess Peach, I go for Yoshi. There's something about him that makes him a fun one to play with!
To mark the occasion as the countdown begins to the land's exciting debut, Universal Studios Hollywood will unveil a takeover of its popular Feature Presentation retail store with SUPER NINTENDO WORLD theming, opening soon. Located just inside the theme park's main entrance, guests will have a chance to share their excitement for the land's 2023 arrival by gearing up with merchandise such as Mario and Luigi themed apparel and iconic character hats. A selection of plush characters, including Yoshi, Mario Bowser and Luigi in a variety of sizes, will also be among the many fun items available for purchase.
As a family of gamers, with every iteration of Mario World or Mario games available, we're excited to hit up Universal Studios Hollywood to visit Super Nintendo World in California. Southern California is already such a big tourist destination, and now there's one more reason to travel to California for your summer vacation. (And we just opened up our guest room, so we can't wait to welcome out-of-state guests to experience the park with us!)
Who is your favorite character? Share below!