If you're an 80s kid or you just like a good sitcom, chances are you've watching The Goldbergs. I've seen every episode since the show started, and it's truly one of the most clever depictions of family life I've watched. Things have changed a lot for the quintessential 80s family this past couple of seasons, and tonight's emotional Goldbergs episode will have every mom or mom-to-be out there in a puddle….in between solid laughs and relatable moments.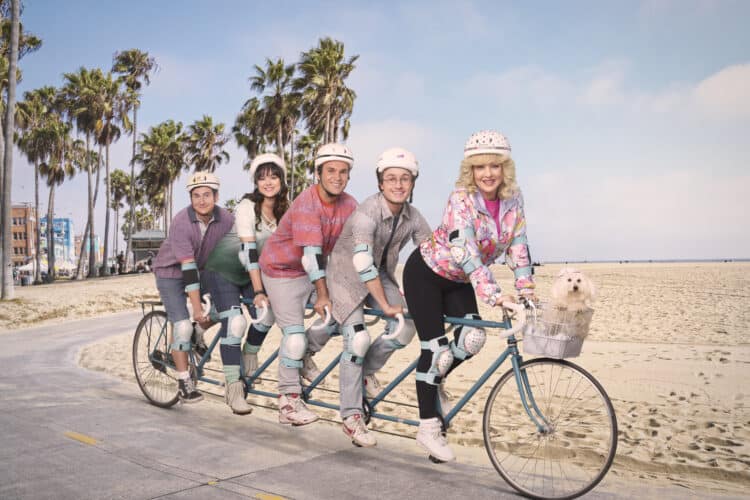 If you haven't watched any of the show before, here's a brief clip of a recent episode featuring David Hasselhoff. You don't get much more 80s than him, right?
Earlier this week, I had the pleasure of prescreening tonight's episode, "Uncle-Ing", and attending a Q&A with two of the main cast members, Wendi Mclendon-Covey and Hayley Orrantia. Wendi plays Bevy, the mother — or smotherer, as some of her schmoopies refer to her. (And if you haven't watched, she refers to her kids individually as Schmoopie when she's showing them affection…which is a LOT.)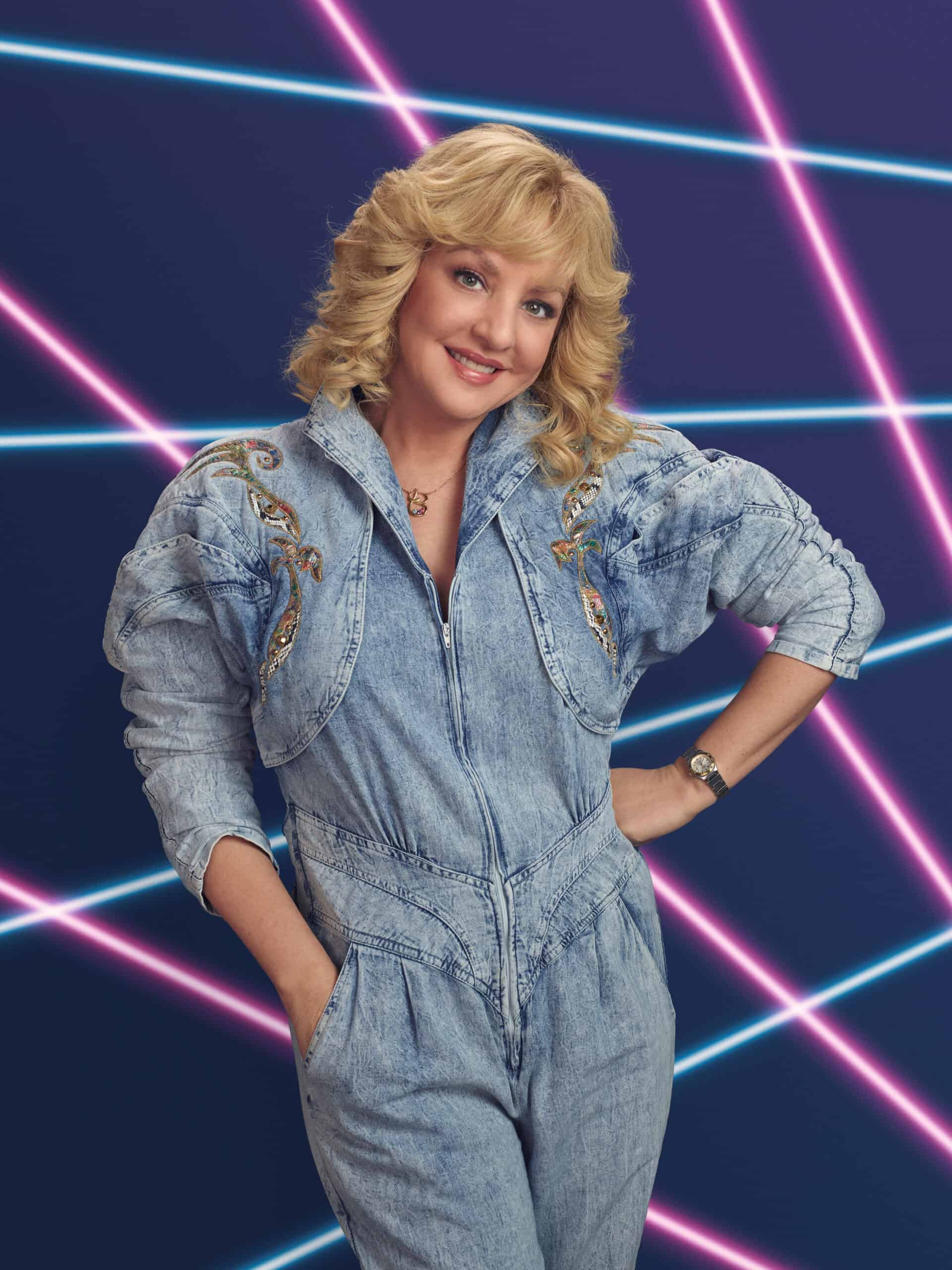 This season, Erica, Bevy's oldest child, is pregnant, after getting married last season in a beautiful episode that was typical Goldbergs — funny yet hitting on notes that we can all relate to. The show, now in it's 10th season, is based on actual video footage that the youngest Goldberg, Adam, takes as he grows up, and most episodes end with real footage that he took. It's brilliant.
Both Wendi and Hayley were so fun during the Q&A. Wendi rolled with a light outage on her end without missing a beat, and they were both so kind and open. (And I personally loved that they liked my blog name!) I got to thank them both for their parts in the show, and to express my own reactions to the episode; after it airs, I'll come back here and update. No spoilers — you'll need to watch! I will say this though: if you're a mom, you will have all the feels tonight. All of them.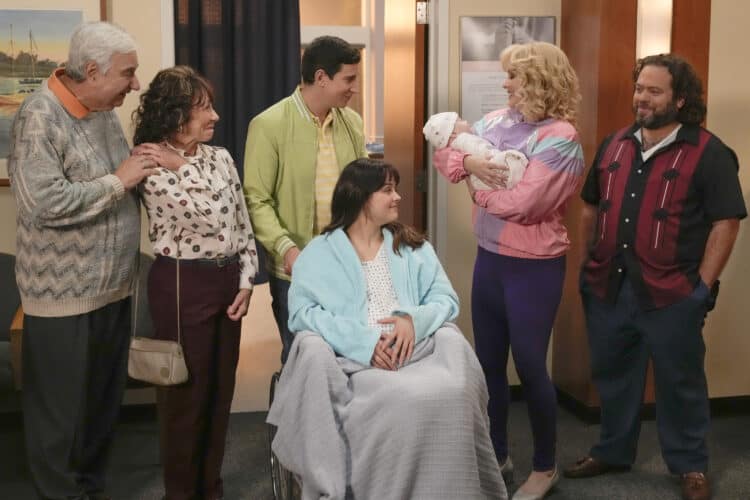 Hayley has played Erica since day one, and her role thus far has had her playing a young teen, slightly rebellious as she grows into a college student who drops out to start a band. Then she marries Jeff, her longtime boyfriend, who comes with his own set of slightly clingy and overly-involved parents. Erica has an amazing voice (you may know Hayley from her country music singing talent) and she turns down the opportunity to sing backup for a major singer to stay home with him rather than do a long tour stint. Last season ended with her announcing her pregnancy, and we all knew that it would come with a lot of Bevy love and drama.
I had the chance to ask Erica which of her many personas she enjoyed the most, or as she termed it "Erica eras." (Perfect word for it!) She's had so many crazy and adorable moments on the show, but she said that what's to come might be her favorite yet — juggling motherhood with working mom. I cannot wait to see how that happens! Wendi shared that Bevy, who recently is a widow on the show (due to the actor who played Murray, her husband, leaving between seasons) is going to be babysitting and learning a new way to go about life as she faces being a grandmother while being a widow and finding her way.
Sniff.
Wendi and Erica were asked a lot of great questions, but I got a kick out of Wendi's response when asked if she had crazy stories about any of her own aunts and/or uncles doing crazy things with her as a child. She mentioned that some of them would them her up in the air as an infant, but the best part is when she touched on the point that aunts and uncles are the ones who can do those crazy things and get away with it! I think my kids can relate to that…and as a grandmother myself, I laugh because I can give the baby a piece of chocolate and leave, or buy the baby an outrageous gift that my daughter may not appreciate. Like drums. Or like TWO drum sets for the baby's first birthday. True story.
Also, Wendi's tips on what to do when you're a young mother were clever and witty, with this one particular one standout: Make friends with baby wipes, because you're not going to get a shower. Spot on!
One of the best questions that I love to ask, or to see someone else ask, is what is the on-set dynamic like? What's it like for everyone to work together?
"I don't want to say we've become the bad kids in the class, but we kind of have a little bit. I love these people. I love them. I really feel like they are family now, and it makes it a pleasure to come to work…this is my second family." — Wendi
"I don't know what life is going to look like without being here on set with everyone…we have so much fun together." — Hayley
None of that surprises me a bit, because the camaraderie between these two showed in just our brief time together. I am really excited for everyone else to see tonight's episode, because the love they have for each other really does transcend onto the screen, and nothing shows it more than a scene about a parent's ever-present love for their child…or a Schmoopy.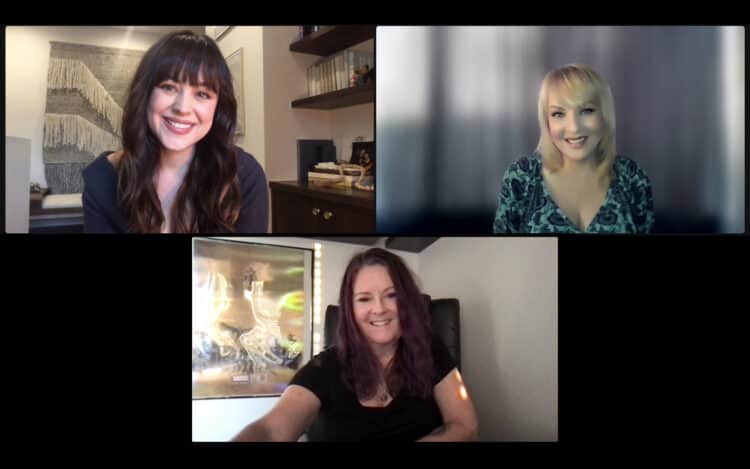 Thank you, Hayley, Wendi and ABC for the fun screening and Q&A!
Watch tonight's emotional Goldbergs episode, Wednesday, Oct. 19 at 8:30/7:30c on ABC and available next day on Hulu. (And grab a tissue or two.)