As the parents to four kids, my husband and I have had to be planners. This means we're packers, as in we pack up stuff ahead of time so every event we attend goes smoothly. We carried a diaper bag around for years, since our kids are 12 years apart. Diapers, ointment, wipes, beverages, spare clothes, first aid, snacks…the list goes on. Eventually, we outgrew a diaper bag and moved into a big backpack. It was "the backpack," as in "did you pack the backpack?" and "where's the backpack?" Then there was "who's going to carry the backpack today?"
Now that our youngest is in high school, we don't carry around diapers or juice boxes anymore, but we still pack the backpack every time we go anywhere. Amusement park? Beach? Festival? The backpack goes along. This last year, we resumed our hiking habit, and sure enough, we take the backpack with us. Protein bars, water bottles, hats, hoodie, phone charger….as our hikes get longer, so do the backpack ingredients.
Over the holidays, we had an unusually warm morning and decided on a spontaneous hiking trip. When we got to the top, we found a beautiful area to sit and enjoy the view.
        "Wouldn't this be a perfect place for a picnic, like the wine and cheese kind?"
        "Yeah, but you're not going to want to carry a bottle of wine and the food up this far."
        "Well, I kinda thought you would be the one to carry it."
It was then that the idea of the wine purse that I bought my friend for her birthday was pretty spot-on, but would not be practical for a hike. Carrying a bottle miles up into the mountains isn't feasible, and those little bottles of wine, well, they're little.
We kind of did "eh, it was a good idea, too bad it wouldn't work" and moved on. Ate some almonds, chugged from our water bottles and headed down the hill.
It was just a few days later that I got an email from PortoVino, a company that makes bags, backpacks and totes that carry — you guessed it — WINE. Heck yes, I would LOVE to receive a complimentary backpack so I can write about it here on the website.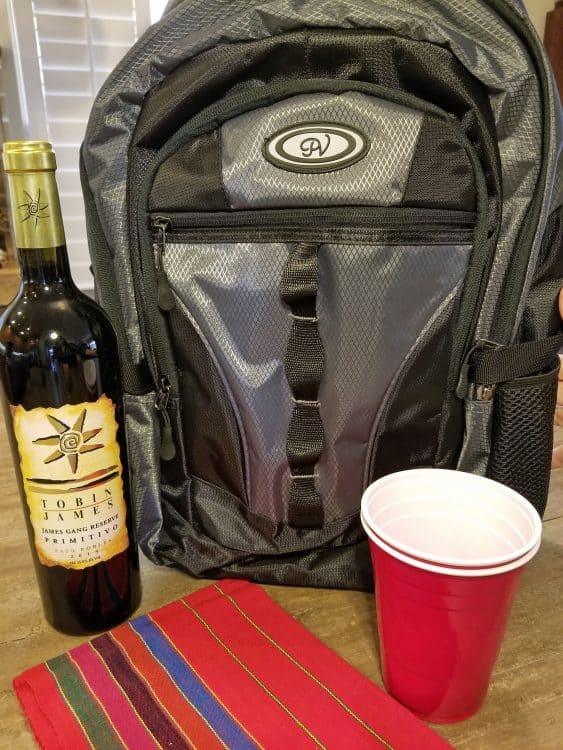 This wine backpack is the answer to a wine-lover's dream!
The PortoVino Day Pack arrived and so did the Southern California rainy season. Our mountains are cold and rainy, and currently, partially under evacuation watches for flash floods. The one Sunday morning that was hike-worthy was a no-go for me, still nursing a very sore tailbone after falling really hard while attempting to snowboard. Don't get me wrong, we love the colder weather and the state desperately needs the rain, but bummer on no recent hikes.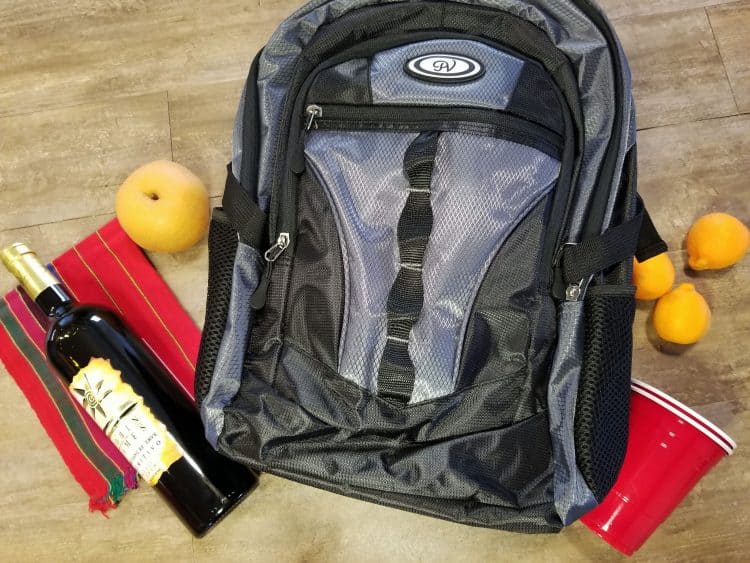 That doesn't stop us though from packing our new "the" backpack. See, the PortoVino Day Pack is just like a regular backpack with only one real difference: a hidden, inside zippered pocket, not noticeable to a quick backpack searcher as it's under a little liner.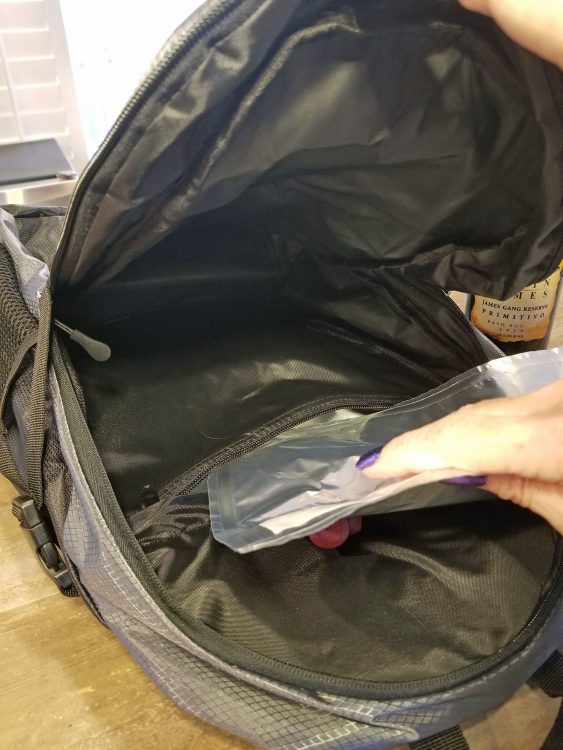 That hidden pocket holds a wine bladder, which can hold up to two bottles of wine. The dispenser pokes out the hole on the back of the backpack, hidden underneath the padded strap, so unless you know to look for it, you'll miss it.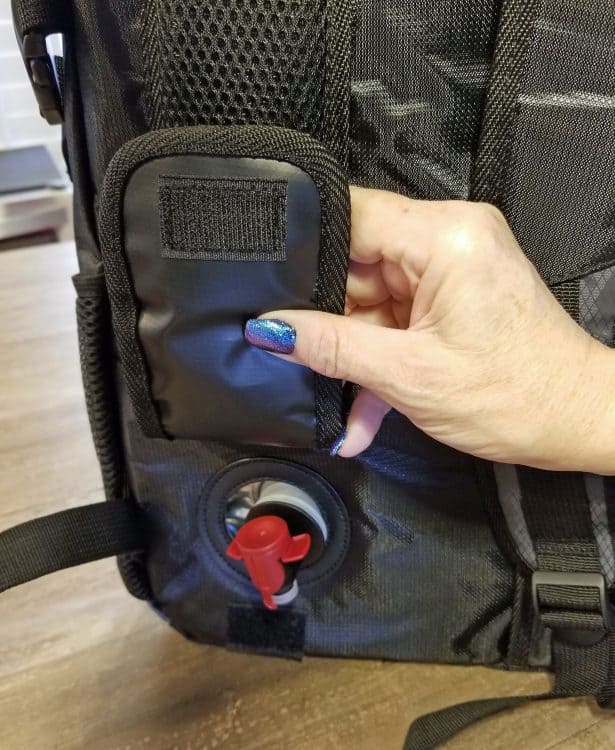 GENIUS.
The Day Pack is a regular sized backpack, so you'll still be able to stow your snacks, spare clothes, hiking gear, kids' items and more. Save money on buying alcohol when you attend an event, as your cold wine (or whatever beverage you choose to put in the bladder) will be available at the push of a button, literally!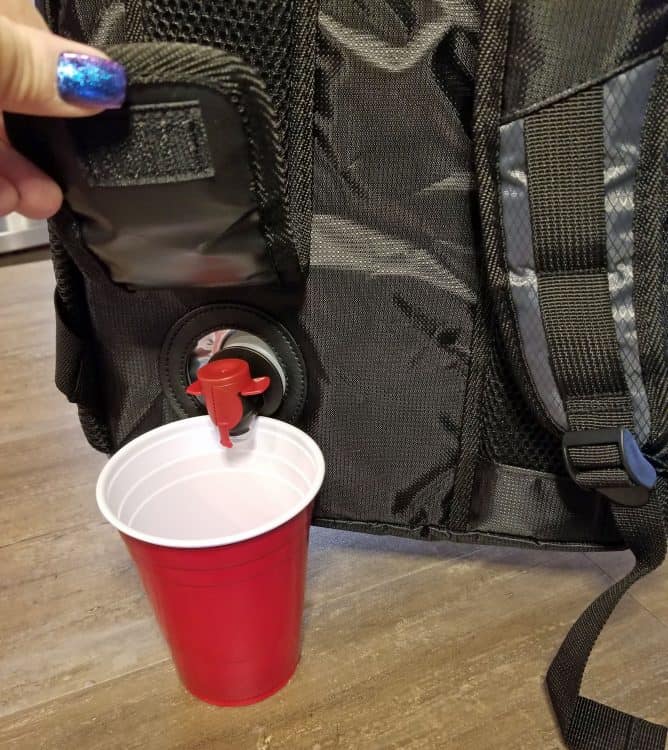 This wine backpack also has the usual pockets on the outside, extra compartments for your keys, phone and ID, and a plenty of places to hook carabiners or attach other items. It's literally everything I need in a day pack.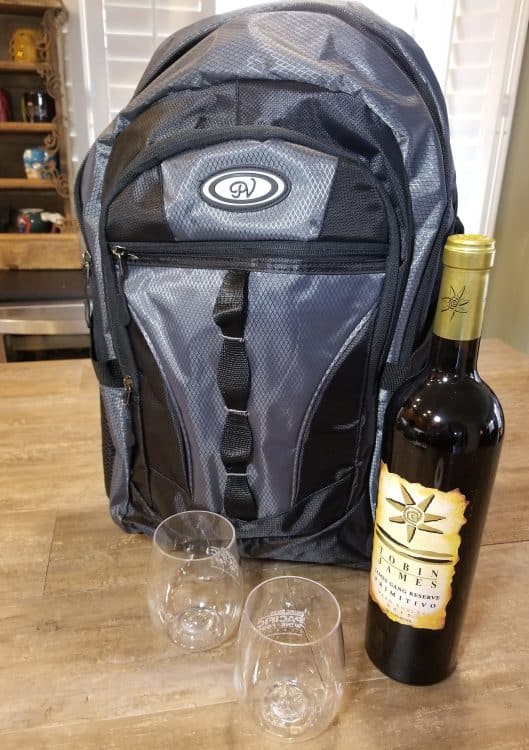 At $59.95, it's the best gift for a wine lover or hiker, or someone who is both! We can easily have our mountain-top wine and cheese picnic without worrying about the hazards of carrying glass, and we can carry plenty to share with our friends, too. And no one will know unless you want them to! (And that Tobin James wine? We got that on one of our trips to go wine tasting in Paso Robles!)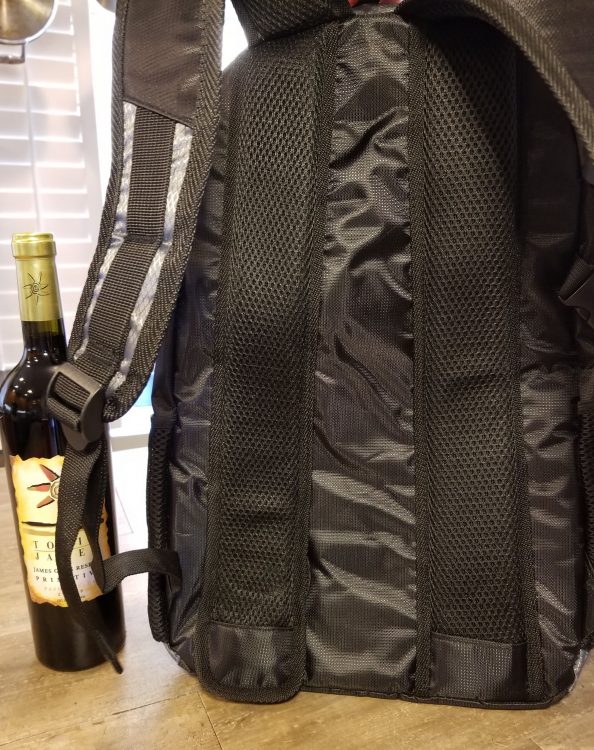 Visit the PortoVino website, and look at the other products they have in addition to the Day Pack. It's easy to order and ship directly, making it even easier to order unique gifts for your friends and family. We're going to be getting a wine backpack for someone on Mother's Day, and maybe someone else on Father's Day. The husband loves it and when he carries the backpack, he's more personally invested. Who wouldn't be, right?