Two weeks ago today, I was staying at the Marival Distinct, one of the best resorts in Riviera Nayarit Mexico. Located in Nuevo Vallarta, about 20 minutes north of the Puerto Vallarta Airport, it's like entering it own world.
Paradise.
When you leave the door-to-door airport shuttle, you are greeted by this beautiful infinity fountain. Like most other pools and fountains at the Marival Distinct, it changes color and it's entrancing. I was on a press trip, so this post is sponsored, but not one second of the entire trip felt like work.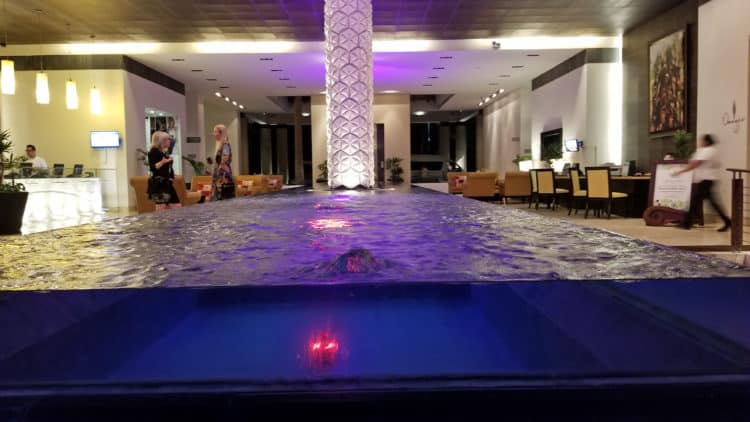 Head upstairs next and you'll ooh and ahh over your room. The spacious kitchen, fully appointed with everything you'll need to make a meal, pop a cork, enjoy a snack or get caffeinated before you sit down on one of the comfortable chairs in front of the flat screen TV…or on the balcony, enjoying a sunset.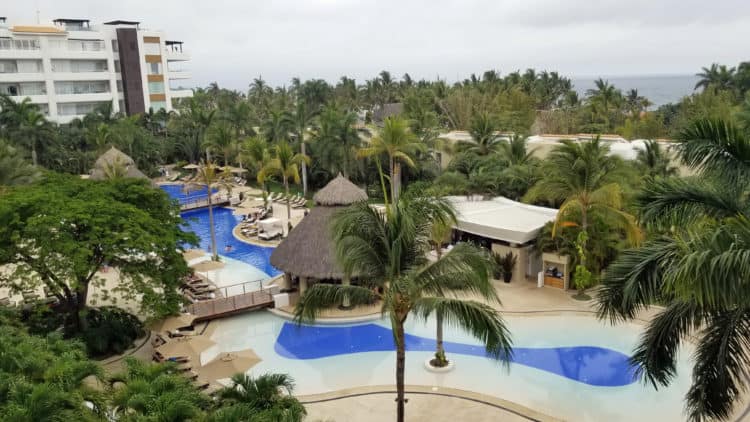 When it's time for bed, you'll be comfortable in your master suite or the additional bedroom. (Room sizes depend on which residence or villa you book. Ours had two bedrooms, one with a king-sized bed and a private en suite bathroom, and the other with two queen-sized beds and a bathroom across the hall, right next to the washer and dryer.) You'll also enjoy the L'Occitane bath products.
What makes it one of the best resorts in Riviera Nayarit Mexico?
So. Many. Things.
Let's start with the food. There are several restaurants on-site, and if you don't feel like leaving your room, there is room service available, too. (There is a nominal fee for the delivery. Tipping is also encouraged.) We ate at the Lemon Grass a couple of times, and their margaritas are FAB. We also ate at the Insu Sky Bar, the rooftop restaurant with sunset views for miles, Mozza Mare (just a short walk away) and Omaggios.
There are other restaurants on the south end of the resort, sandwiching the Melange World Spa, which are not included in the all-inclusive fees, should you wish to try something different, but you're going to have plenty of options with the restaurants that are included.
Did you forget something in your suitcase? The shop downstairs in the lobby carries first aid items, medicines and hygiene items, clothes, souvenirs and more, all for very fair rates. As a guest, I received 15% off my total, and I scored on several handmade bracelets and necklaces for crazy low prices.
If you feel like visiting the city or taking an excursion, the concierge can help you make arrangements or provide transportation, but there is a lot to do at the luxury resort itself. Pools of all depths and configurations are surrounded by lounge chairs and umbrellas, and if you want to enjoy some nighttime relaxation, there is also a large fire pit that I enjoyed one evening with a glass of sauvignon blanc.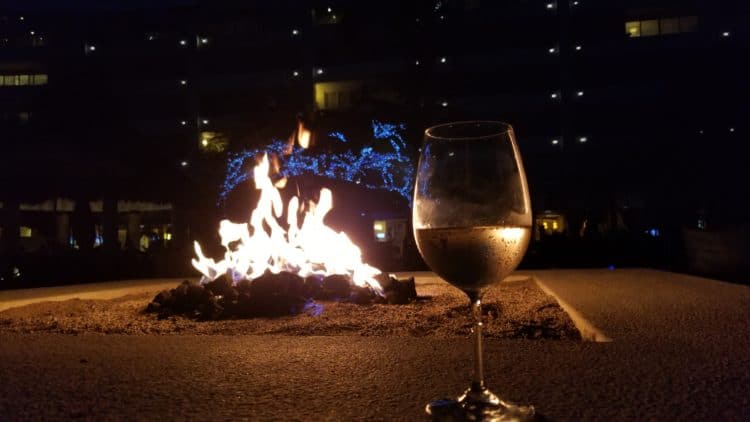 Ahhh, peaceful.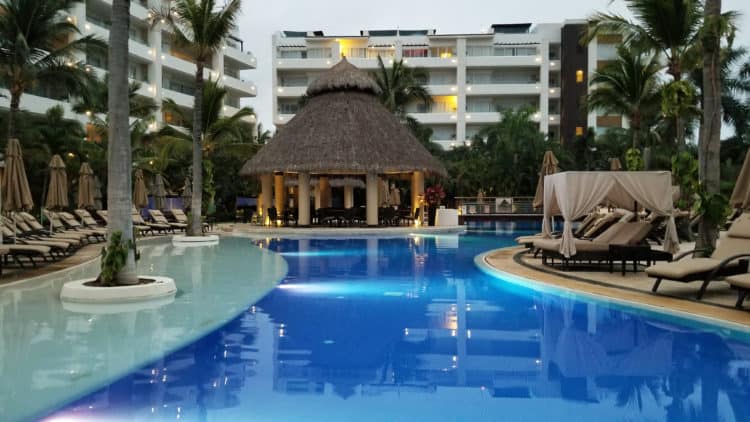 While kids are welcome and it's definitely a family-friendly place, it was never noisy or crowded. I loved watching the kids play with beach balls in the wading pools and fountain, and there's also a playground. We saw a lot of couples in addition to some girls' groups celebrating.
I can tell you all about the amenities, the food and the views, but what is hard to convey in words is the vibe. I didn't feel like just another guest, but someone special. The few times I had to visit the front desk, they handled my questions quickly. For example, there is free wi-fi on the premises but it comes with a default limit of two devices simultaneously. Since there were two of us staying in our suite, and I had two devices of my own, so I could work and adequately share on social, we were short a device. When I inquired for an additional code, they immediately provided it.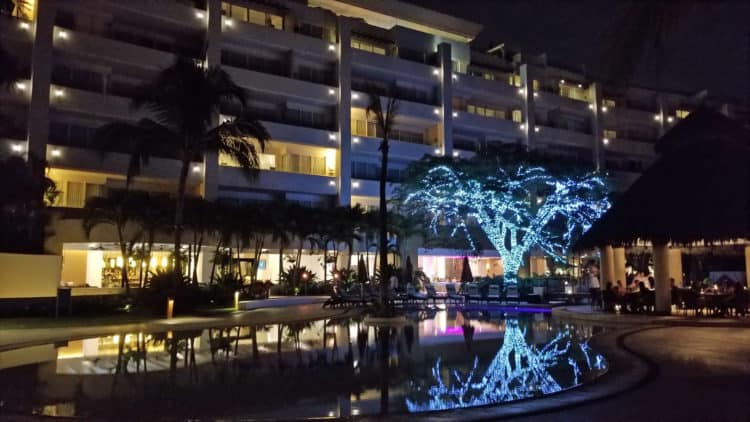 Everywhere you look, the staff of the Marival Distinct is paying attention to every detail to meet your needs. Hot towels. Cold towels. Tropical cocktails. Help or directions. Need a bottle of wine opened? They're there. Need extra pillows for your room? No problem. Their service is fast and they always had a smile on their face.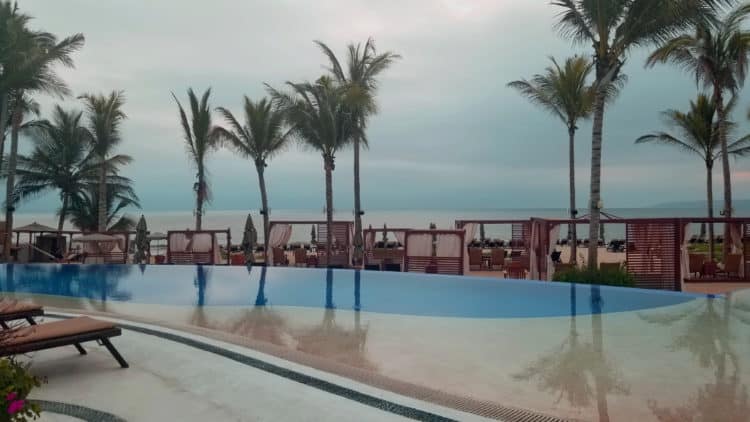 Thank you, Marival Resorts and team, we had a wonderful time, from our accommodations to the food, to the cocktails — shout-out to Orlando for the margaritas at Lemon Grass — and to the Insu Sky Bar for all the exemplary service during our evening dinner at sunset. (And extra thanks to the kind gentleman who subbed out a taco when I couldn't eat the beef, then brought me a to-go cup of wine for my room!) We had a blast and I can't wait to return.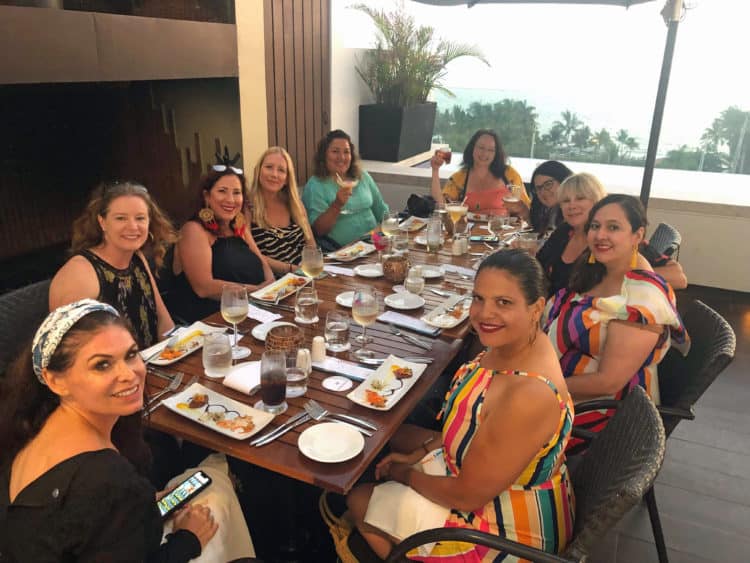 If you're looking for a primer on the whole Riviera Nayarit, read my blog post detailing where it is, what it's like and what to expect when you visit its miles and miles of beaches!