Thanks to the USFamily Guide, my family and I went to our first Harlem Globetrotters game on Saturday. What a blast! If you're like me, you remember the old show on Saturday mornings, where the Globetrotters would get into scuffles and be silly and play basketball. I watched it every Saturday morning until I grew out of Saturday morning TV, but I never forgot it. When I was in my 20's, I got a new job for a major appliance company and one of the repairmen was a very, very tall man. I had no clue for a couple of weeks that he was one of the original Globetrotters!
Years later, I'm heavily into Nascar and haven't watched a live basketball game ever — I don't even know if I've watched a full game on TV. Ever. Other than the Globetrotters, of course. My youngest son is now into basketball to the point of wanting to quit Tae Kwon Do so he has more time to play. Considering his growing stature and ability, I'm all for it. Thing is, I got the tickets for the Globies game well before he developed his basketball interest and had no clue what a hit the game would be.
We saw the Harlem Globetrotters play over at the Galen Center on the USC campus in Los Angeles. We were really excited to see our tickets were seventh row up, aisle, and with a great view. In fact, they were right along the tunnel that the Globetrotters enter onto the floor!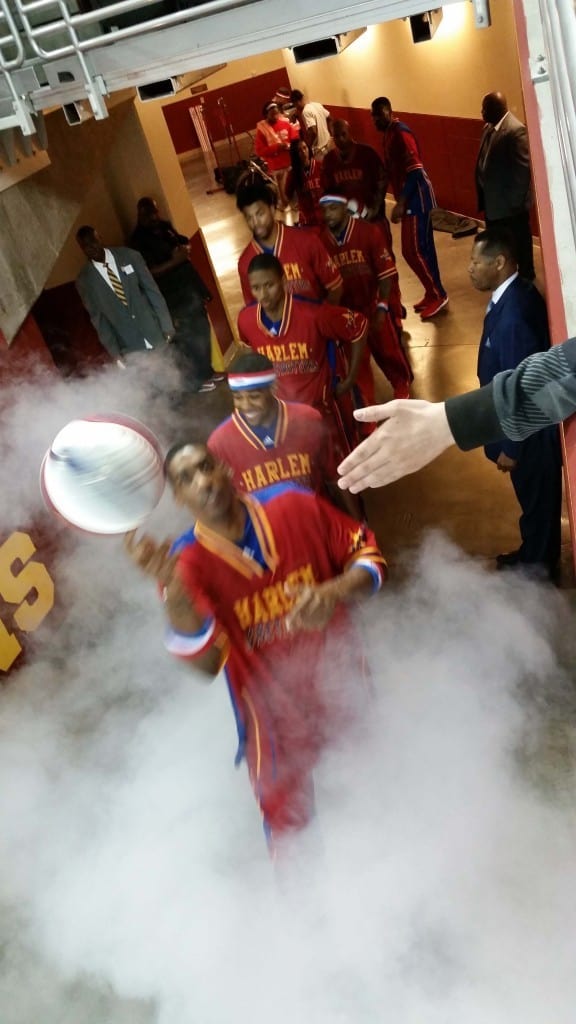 That's Little Dude's arm — I didn't realize until after I looked at the pictures that I'd gotten the spinning ball and his hand right before Hi-Lite gave him a high five!
The game was a lot of fun. Some amazing dancers start you off, getting the audience revved up for the game. They were so much fun to watch! Then there's the player introduction and an explanation of the Generals being the only team that have beaten the Globetrotters way back in 1921. Of course, everyone roots for the Globetrotters and the rivalry begins!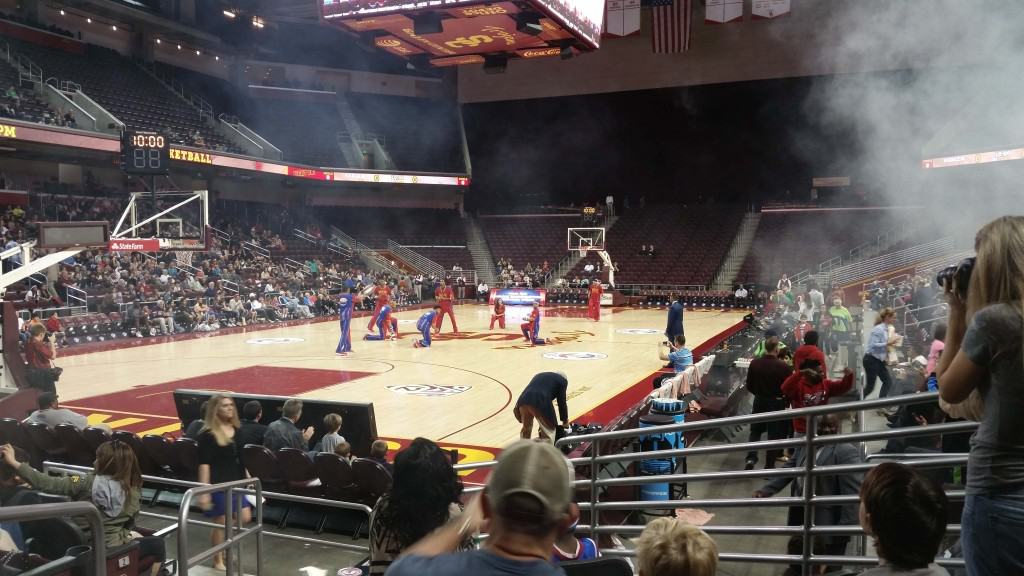 There is a lot of other activities that take place — kids and adults alike are brought onto the floor for things like a dance off and a shooting contest.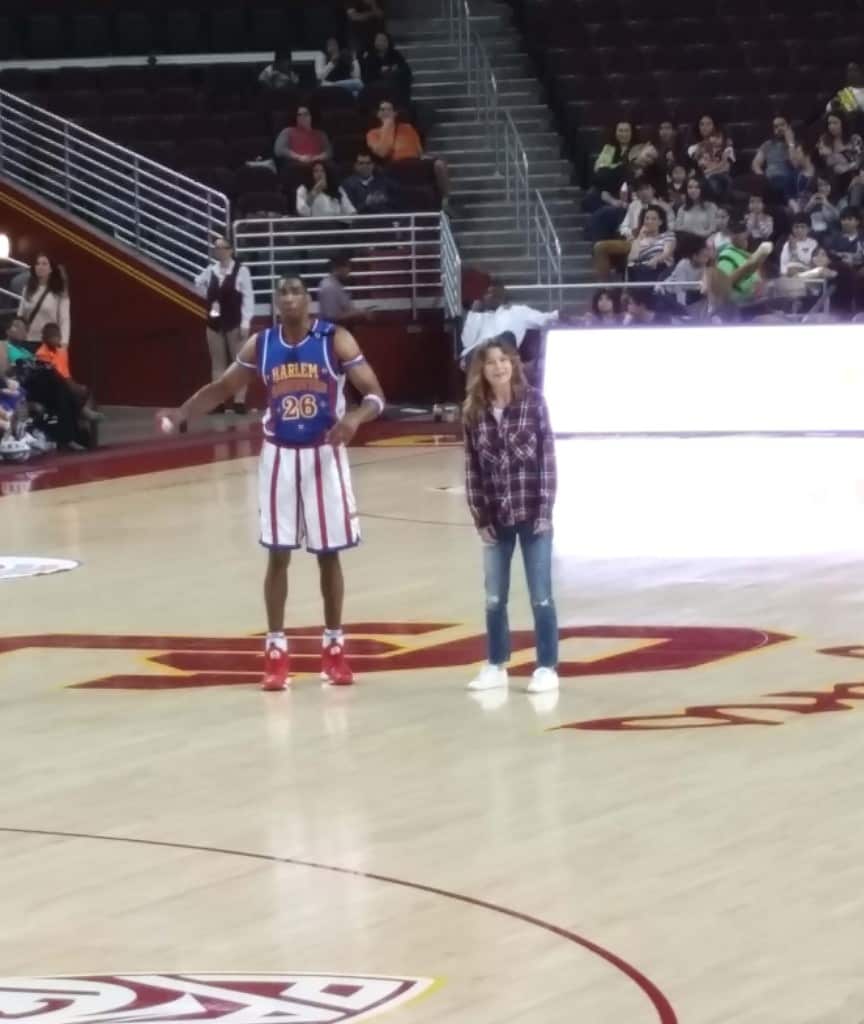 Anyone recognize the random person they chose to play the game? Yep, that's Dr. Meredith Grey from Grey's Anatomy! (Aka Ellen Pompeo)
Globie, the mascot, is pretty funny, as is Big G, who had us all laughing with his size changes and dance ability. You gotta love it when adults can enjoy the game as much as the kids do!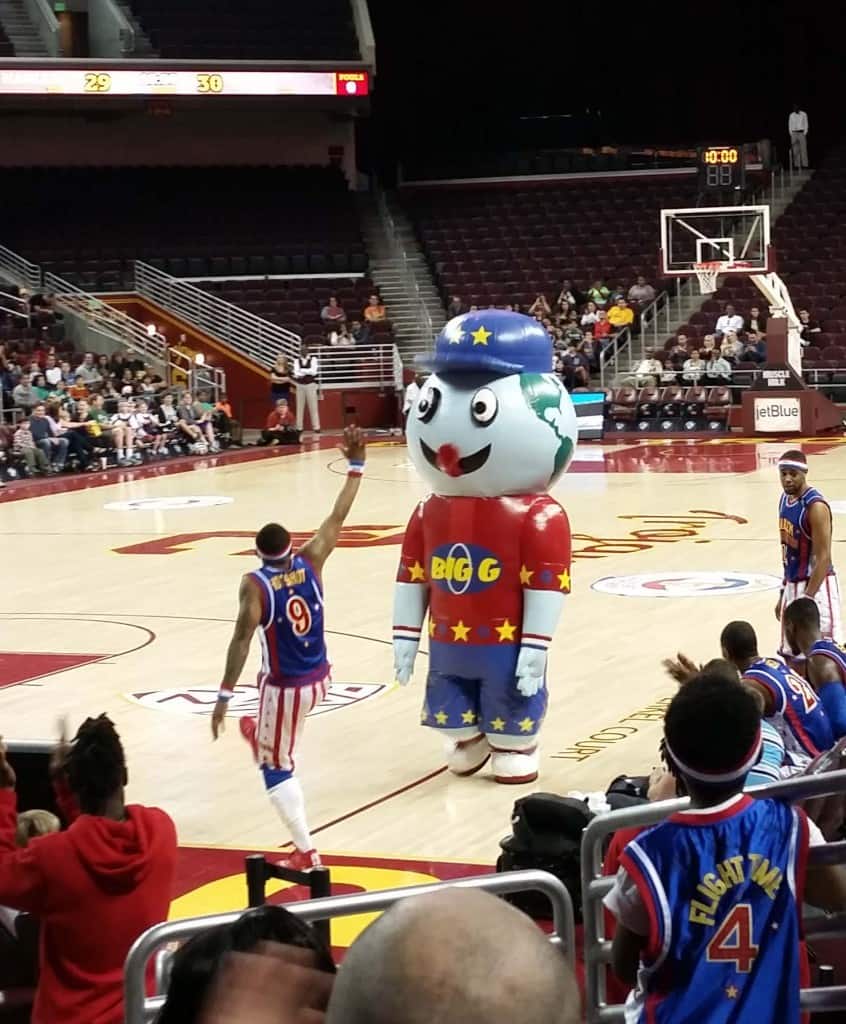 At half-time, Harlem Globetrotter basketballs are available for purchase on the court. Little Dude wanted to get one and take it around to the players during the 20-minute autograph session, so they got in line and joined what looked like everyone else in the stadium to purchase a ball. He was really looking forward to getting it signed.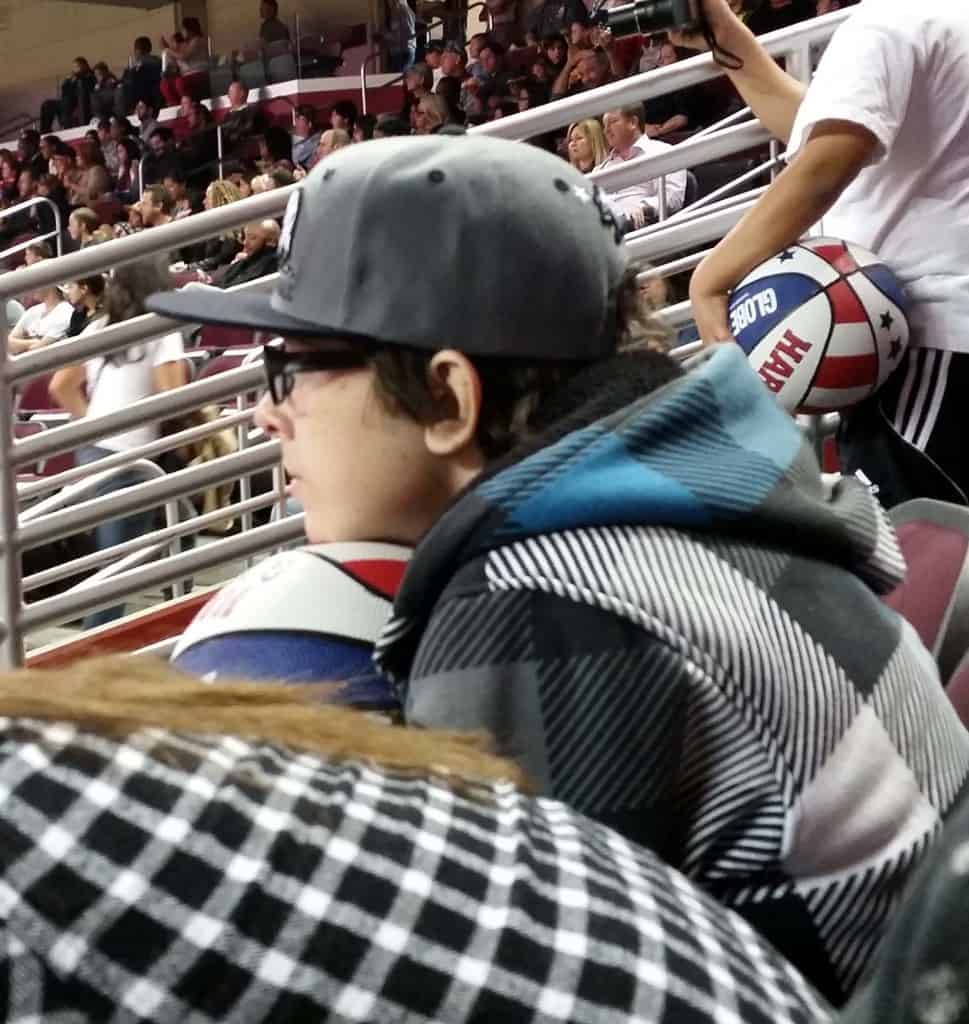 After the game was over — and I won't tell you who won! — we did the autograph rounds. Take patience with you if you attempt this, as there is only 20 minutes and that's a tight fit to get every autograph. The players are so gracious and polite, but some adults at every station were line-cutting pretty bad, and I was really proud that my daughter helped my son get to the front the right way.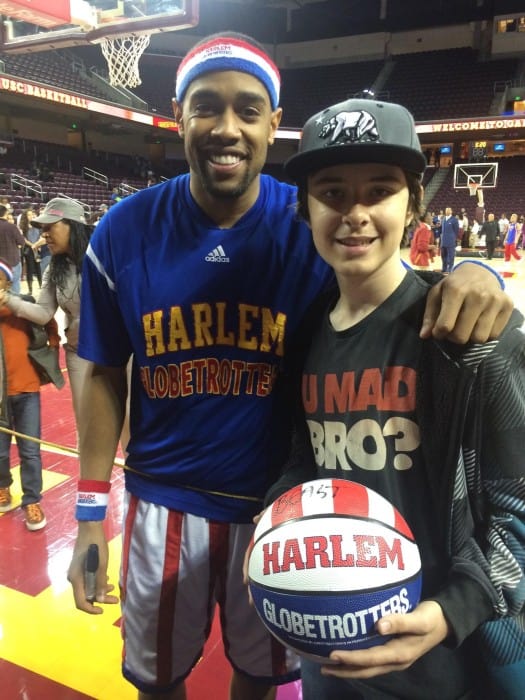 Little Dude and Cheese! 
The Harlem Globetrotters game was the perfect family event. It was about two hours, start to finish, and it went really quickly. We would definitely go again, and with Little Dude's new basketball interest, I bet it won't be long! Follow them at Globies on Twitter!
Want to visit? Save $7 off with this coupon!  Courtesy of the USFamily Guide, that coupon doesn't expire until May 31, 2015. (You can follow at @USFG.) You will have a blast!