So last week, I hopped on the freeway, drove kinda fast and then got on a R-EEL ride, the new coaster at Sea World San Diego! Electric Eel opened on May 10 and I was one of the first few to ride it. Talk about excited!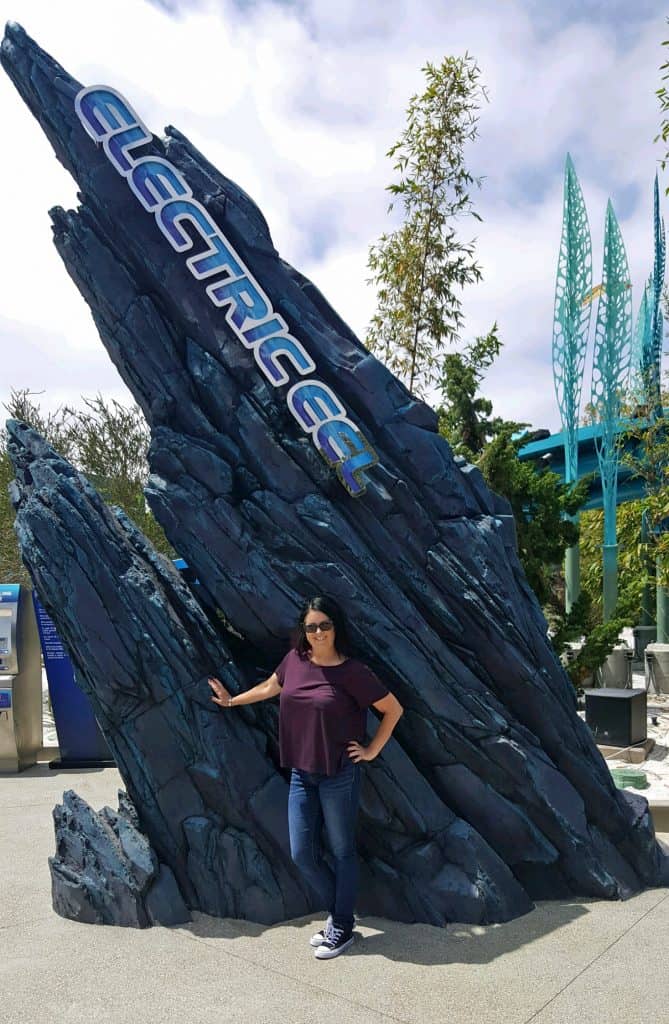 In fact, I'll let you see exactly how excited I was. Sea World had five cameras set up around the ride, including one on the front of our seats and I wore a mic'd vest so you could hear my ridiculously goofy screaming….a good kind of scream. This new ride is SO. MUCH. FUN.
Watch this short video, laugh at my expressions a little, then keep reading for more scoop on this ride.
I know, I'm loud. Dean (from Amusement Today) and I loved the ride. We were invited to cover the opening as press so we could experiene the Electric Eel before it was open to the general public at noon. (We then were invited to stay in the park as long as we wanted, including the husband and my son. Sea World is one of his favorite places and if you've been reading the blog, you know about his obsession with walruses. Sea World means that we get to see our friends, Mitik and Chou-Chou again!)
Back to the ride though…
Electric Eel is only 45 seconds long but it's memorable. It's intense. There are surprises along the way, which you don't necessarily see when looking at the ride because the structure is pretty compact. You start off going straight up, then you coast back. Forward once more, full-speed, straight up 150′ where you then face some inversions while twisting and turning at speeds up to 60 mph.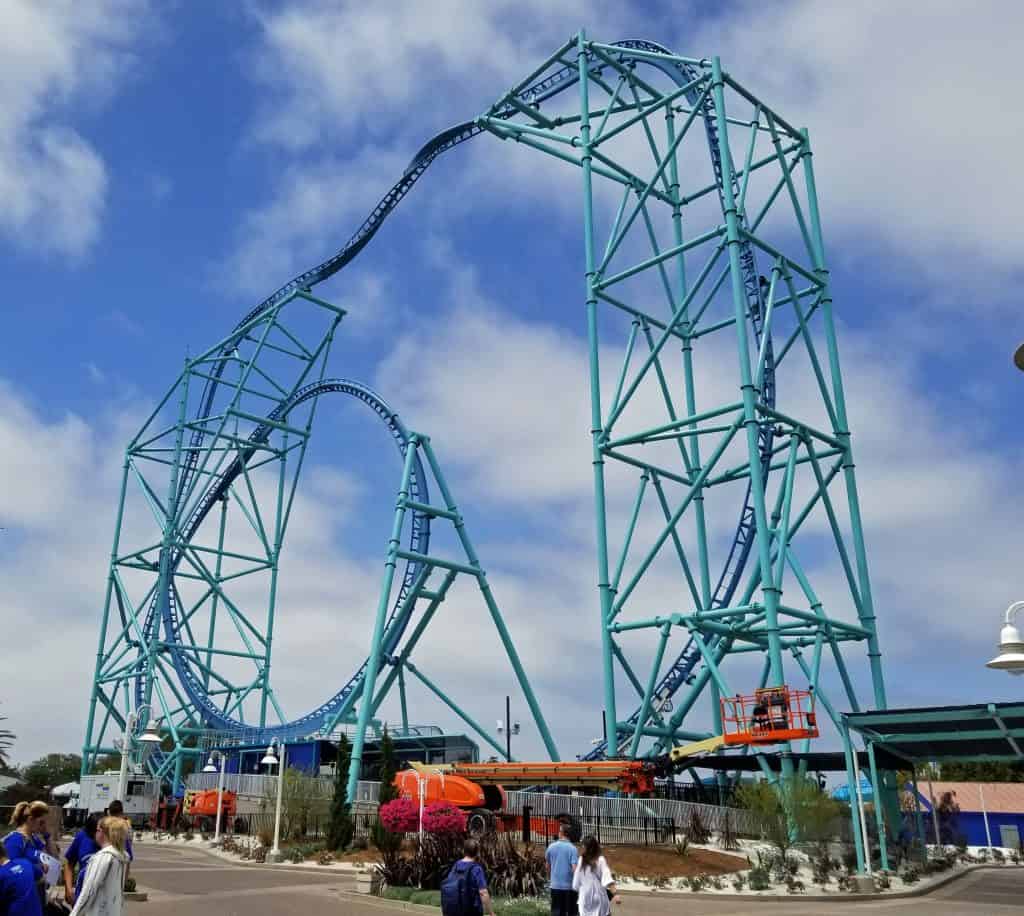 And while you are hanging upside and your hair is ALL over the place, you feel entirely safe as that seat holds you in while keeping you from bouncing. The ride is so smooth as it is, but the restraints are comfortable while not getting in the way of your amazing views of Mission Bay.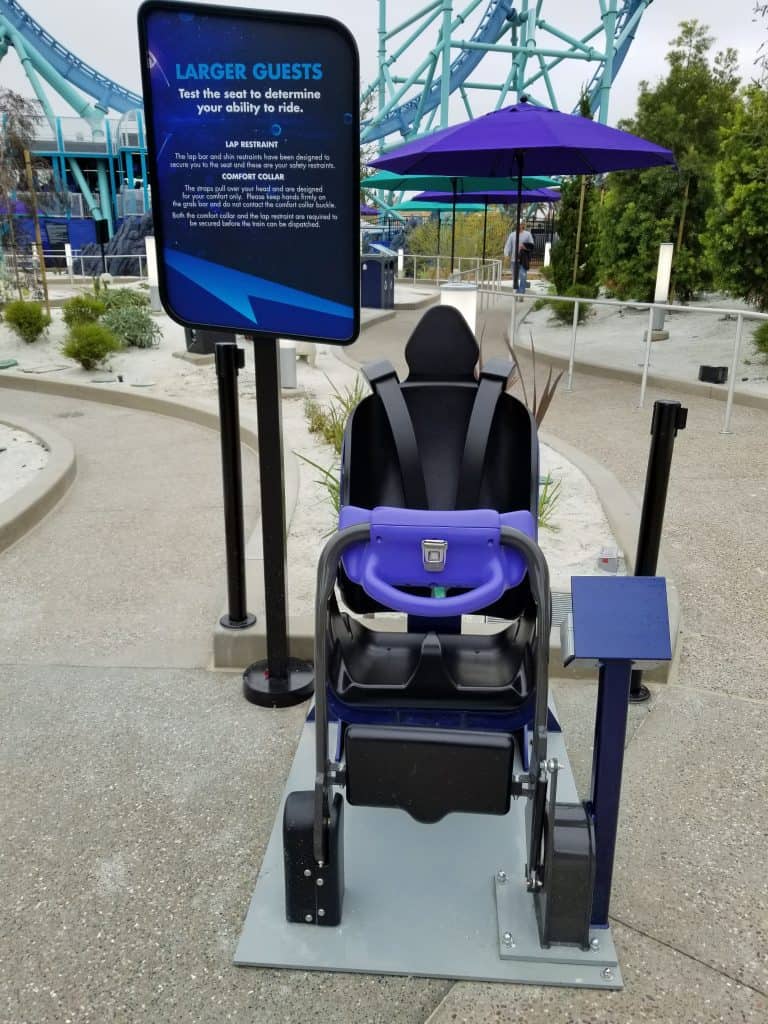 It's CRAZY FUN.
Electric Eel joins Manta as another coaster for the San Diego Sea World. Rides are included in your park admission, so in one day you can ride Manta, Electric Eel, Journey to Atlantis, Shipwreck Rapids and more — including the new kids' rides in the Sesame Street Bay of Play. Whatever your age, Sea World has a wide selection of rides available for all ages!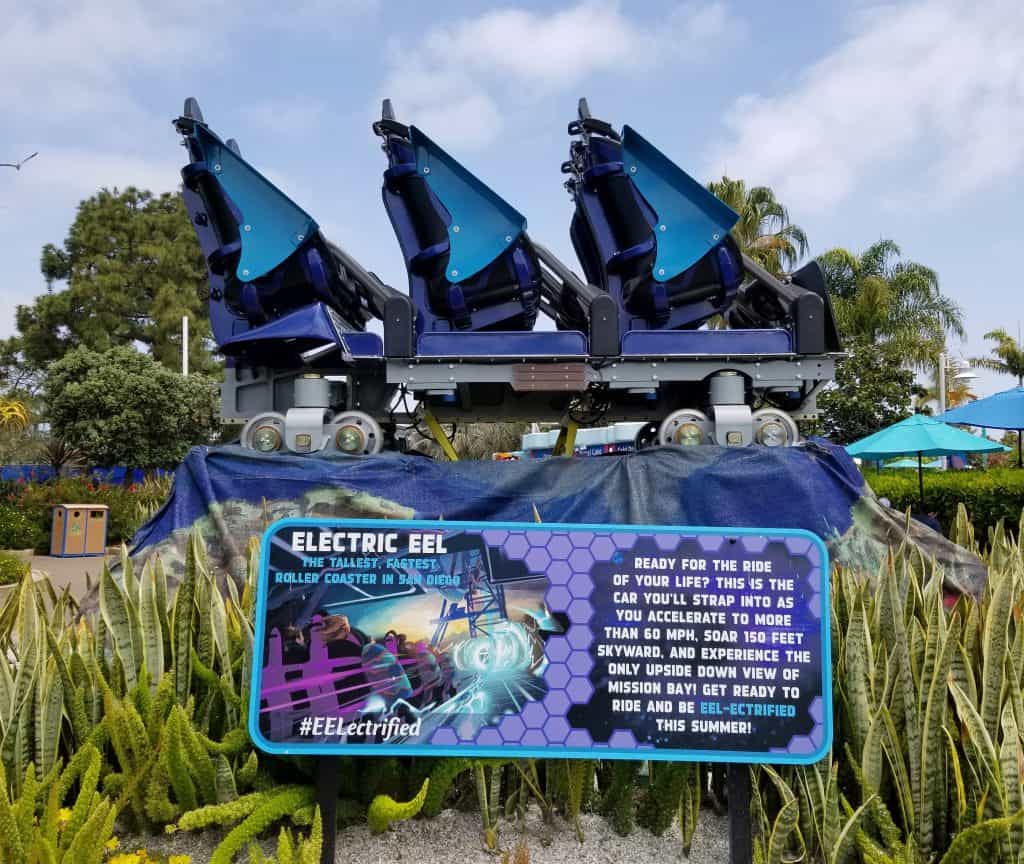 And Sea World is no slouch in the food department. This lunch! We ate at Pineapple Pete's Island Eats, a good choice if you're looking for a delicious salad, a sustainable fish meal or one of the many unique desserts like funnel cakes, dipped bananas and ice cream confections. I did share this pineapple whip but I easily could have eaten the whole entire yummy thing.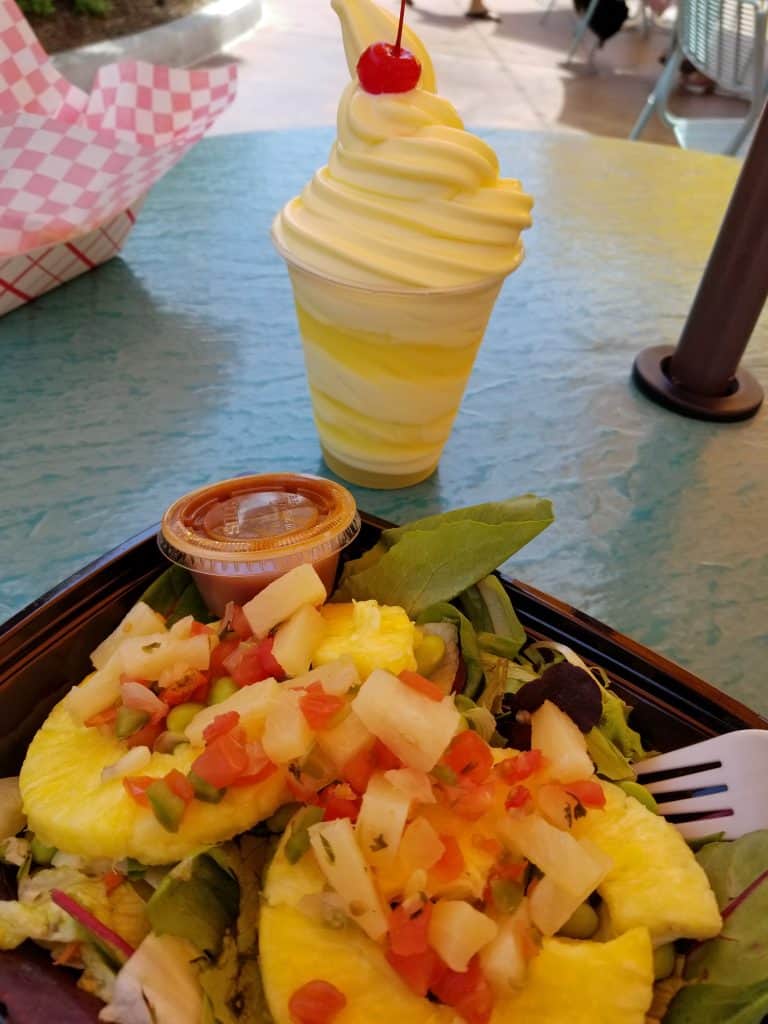 This little guy seemed to want my food, too. See my new friend there? He peeked up at me, like, "Uhm, excuse me, ma'am. Could I please have some of that salad?"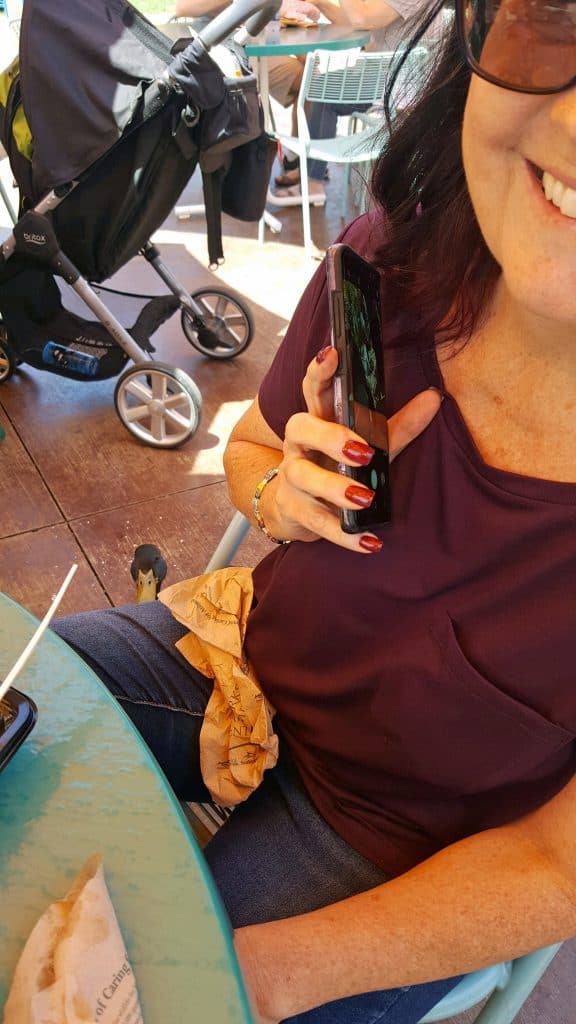 I said no.
Sea World's entertainment is always changing based on seasons, while keeping some of the favorites year-round. New this summer is the Sesame Street Party Parade! Read more about it at the Sea World website. The Sesame Street Party Parade takes place at 4:30 p.m. every Saturday and Sunday, from May 5 through September 2.
No visit to Sea World is complete for us without seeing the walruses over in Wild Arctic, then heading over to Dolphin Point. Look at these beauties!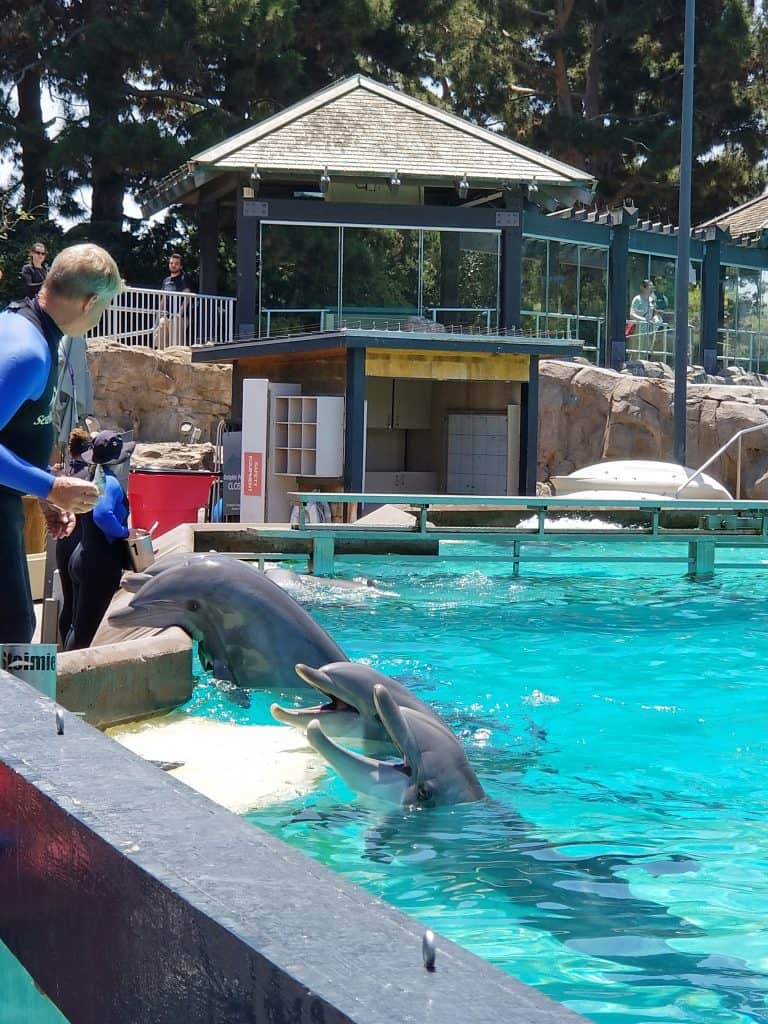 And this one swam by me a few times to say hi. (Don't tell me it isn't true, it's totally true.)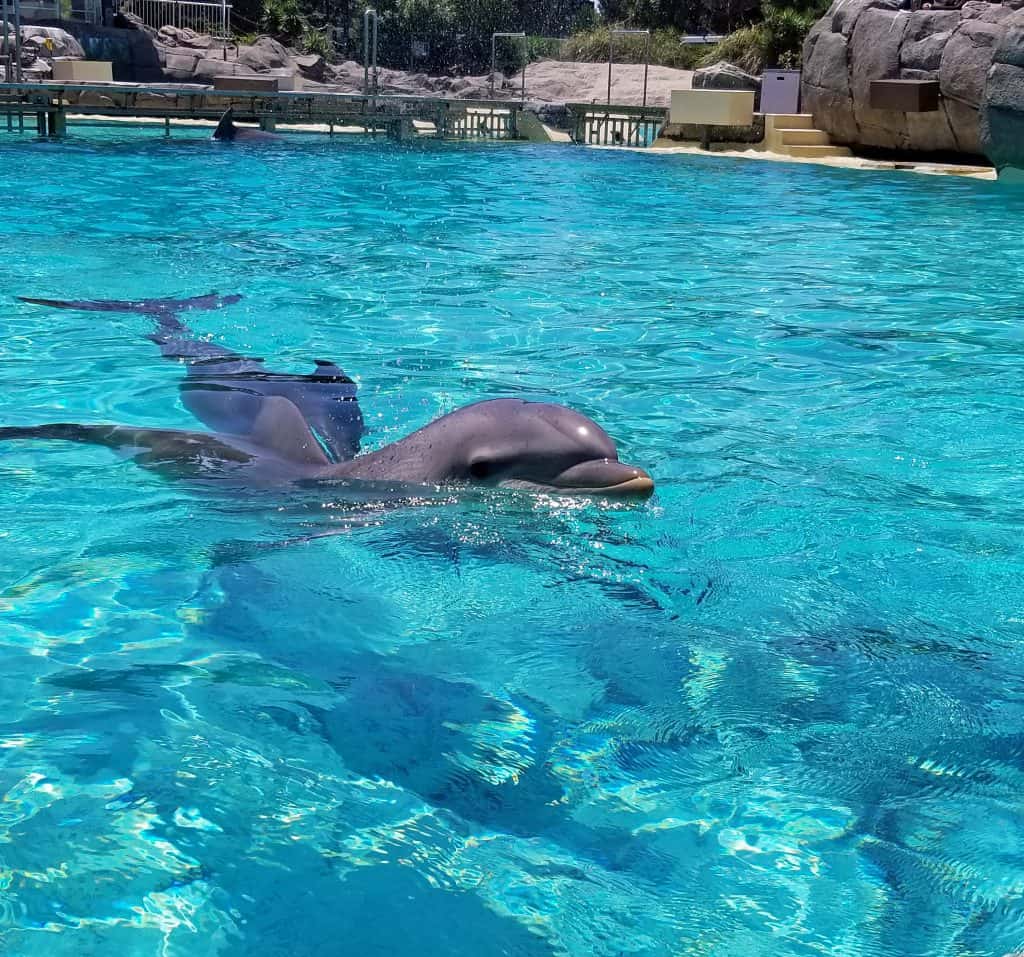 You can buy tickets online or at the gate. Special deals are available and if you plan on going at least twice, the seasonal pass is the way to go. The free parking alone is worth it! These two will tell you that you also need to go eat the stuffed pretzels for sale by the entrance to Electric Eel. They were pretty into their food.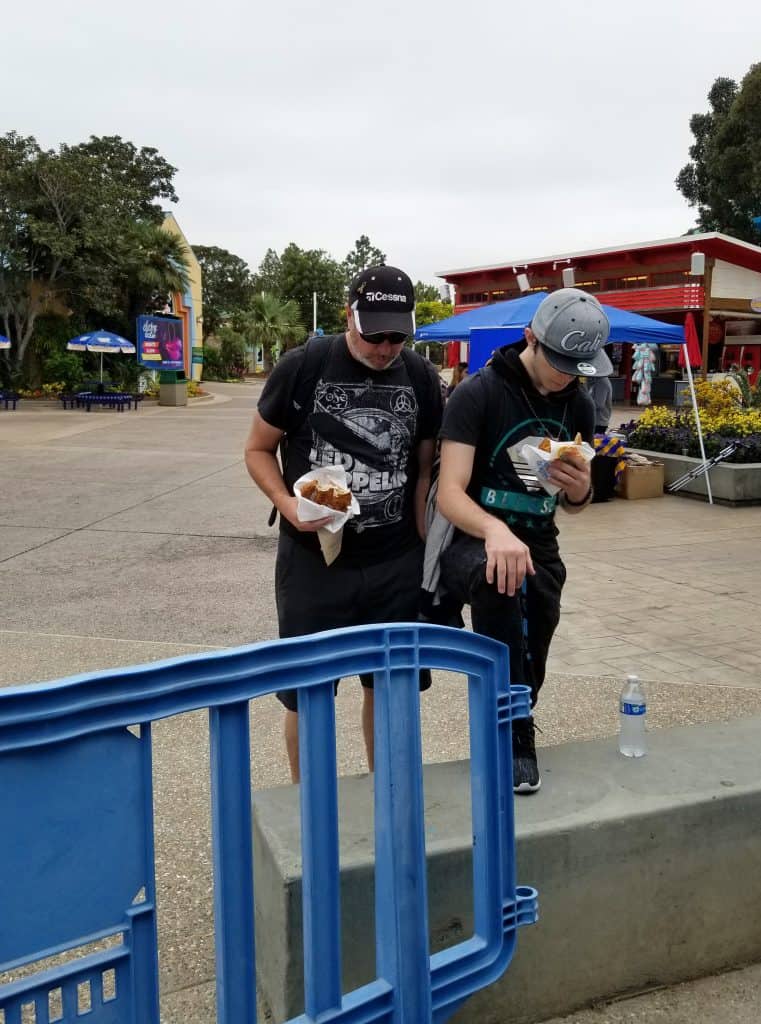 Since the Electric Eel opened so recently, my suggestion would be to head over there first when you arrive. The line on opening day was really long, and I bet that there will be a LOT of interest going forward. Curiosity will get you on the ride once, and then you'll return again because you're hooked!
My son's also pretty hooked on these guys at the entrance. Submerge your hand and then hold very still. Those little guys will suck very gently on your fingers and arm, and if you hold reeeeaaaaalllllyyyyy still, you'll end up with 5, 10, 20 or more. It's really mesmerizing to watch!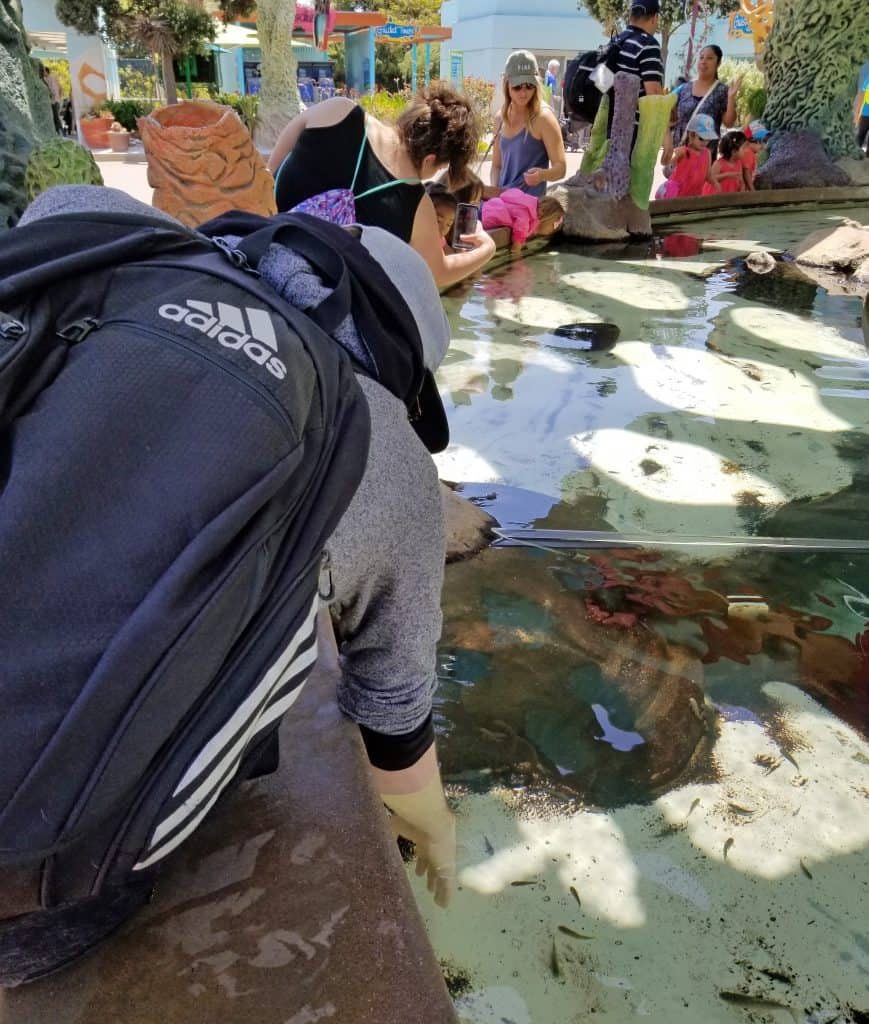 Sea World San Diego is a favorite of ours. They all clearly love their jobs and do so much for animal rescue, while allowing us to learn from what they do and grow our own love of animals and marine life. Visit and "sea" for yourself!