Want to live naturally and live clean? Consider living pHur! pHur Cleaning Water is a new cleaning formula made with just two ingredients: water and salt. Designed to replace multiple toxic products, it's created with just two all-natural things that are proven effective against 99.99% of known bacteria and viruses. Sounds too good to be true, right? Except it is true, and pHurwater sent me one of their new cleaning kits to try out and use in my own home, then to share the news of this healthier way to stay clean with you.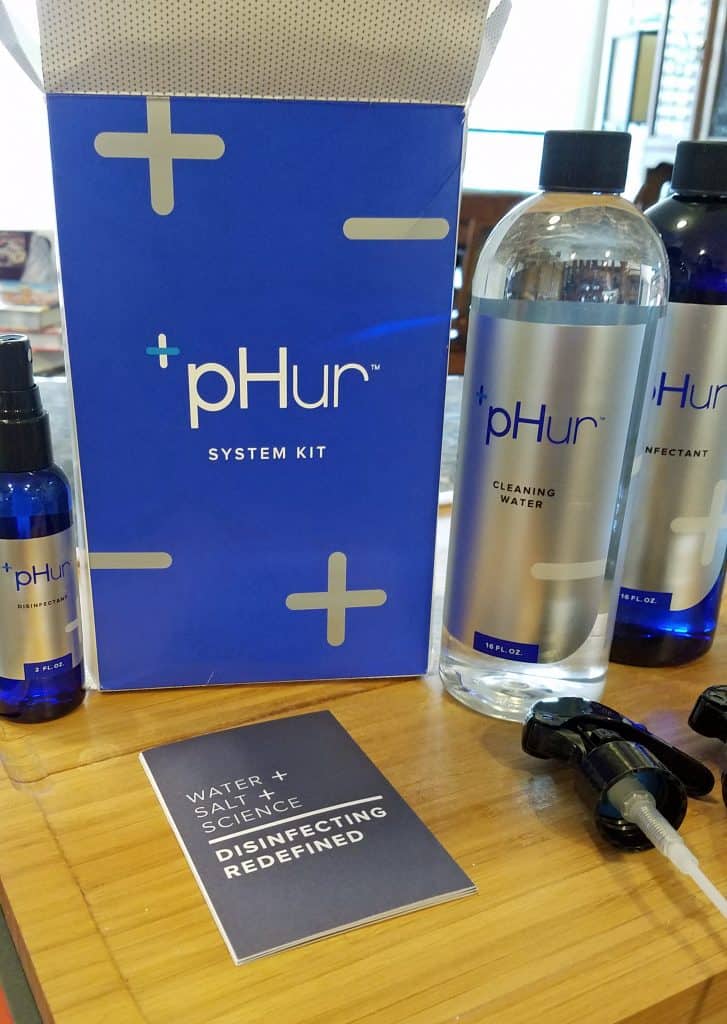 The idea of pHur is simple: clean without putting unnecessary chemicals into your home. The high pH level of pHur Cleaning Water is a highly effective alkaline cleaner that kills bacteria on contact, not unlike how our bodies fight infection. It will clean toxic and sticky residue. The process of using it is simple as well: spray some of the cleaning water on the included microfiber cloth, agitate the cloth a bit in your hand, wipe the surface with the disinfectant spray, then walk away. Or you can spray the product directly onto a toilet seat, toilet flush handle, doorknob, etc., and walk away. No rinsing is required.
pHur has been thoroughly tested in labs, hospitals, homes, and airplanes, all places known for high concentration of germs and bacteria, so you can rest easy knowing you're using a product that has been through its paces. It's also EPA registered.  It's also safe enough to use it right onto the toy box, a child's crib, a car seat, a high chair or other places that you might hesitate when it comes to spraying a regular cleaning product.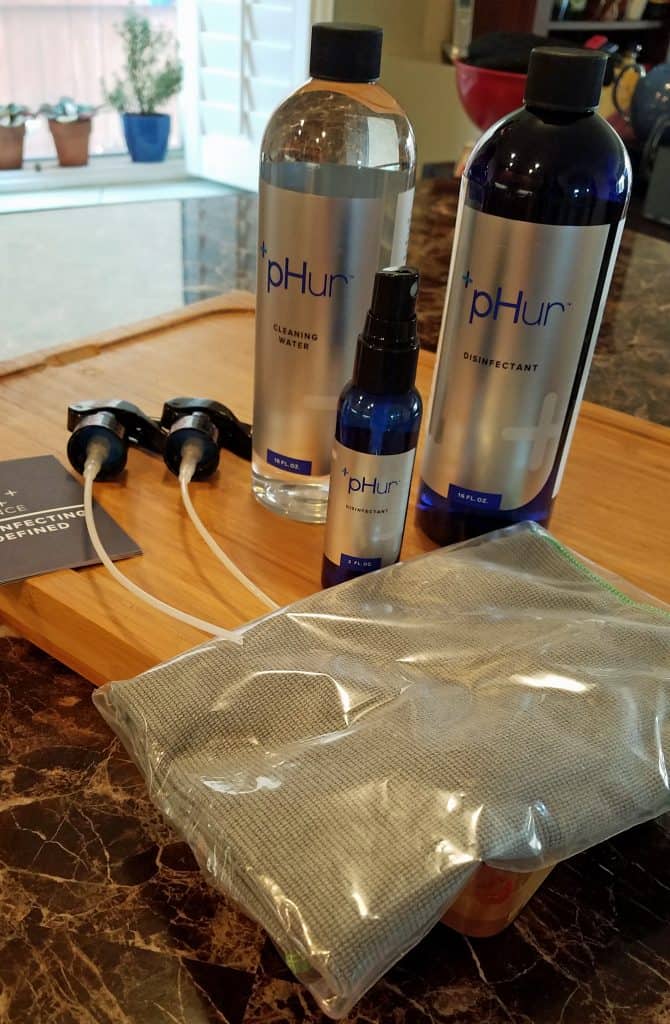 There are more details on their website, where you'll also learn more about their philosophy towards living naturally, living clean life. Follow them on all the social channels, like Instagram, at @pHurWater. You'll also learn about how the company was started, back in 2015, based on a way to modify water and stabilize it at a certain pH level that can kill germs and allow you to clean without spreading them from one surface to another. Sounds like a basic way to finish the search for safe cleaning products, right?
You can purchase the product at their website, and order a monthly refill so you never run out. The initial kit costs $30.95 and includes 16 oz. disinfectant, 16 oz. of cleaning water, 2 oz of the On-the-Go disinfectant, 1 Greenspeed Original microfiber cloth and 2 sprayer heads. From then on, you can refill with 16 or 32 oz, costing $19.95 or $39.95.
Let me know if you try it! I love the idea of not having to buy multiple products or worry about what chemicals are within reach of my special needs dog. We also work really hard to remove added chemicals from the house and this makes it possible without the worry of germs remaining on popular surfaces. Thanks, pHur Water for removing one more worry from a natural living home!