As part of our whole house renovation we completed last year, we remodeled all three of our full bathrooms. We had a lot of bathroom design ideas, but we also had a limit on expenses, after having added in a lot of extras elsewhere. Here are some of the tips and things we learned about how to complete a full bathroom remodel on a budget!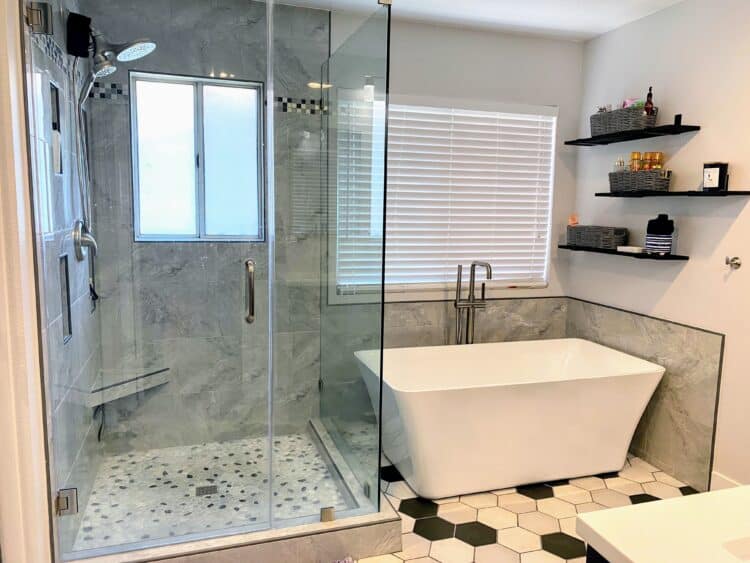 All three of our bathrooms were of different size and layout, but we wanted to have a cohesive feel but also maximized space. The size of the master bathroom is twice the size of the next smaller bathroom, and our downstairs mother-in-law suite/guest bathroom is pretty tiny, yet still holds a full-size tub. It gave us a bit of a challenge to find matching vanities and fixtures that fit with each approach, but I think we pulled it together pretty well — and all within our remodel budget!
Each of the three bathrooms needed a new vanity, toilet, tub and/or walk-in shower and flooring, along with matching fixtures and medicine chests. It was basically a demo of each existing space and starting over. This is both fun AND a little scary!
For context, let me show you the BEFORE photos of the above bathroom. At the end of the list below, I'll show you all the afters!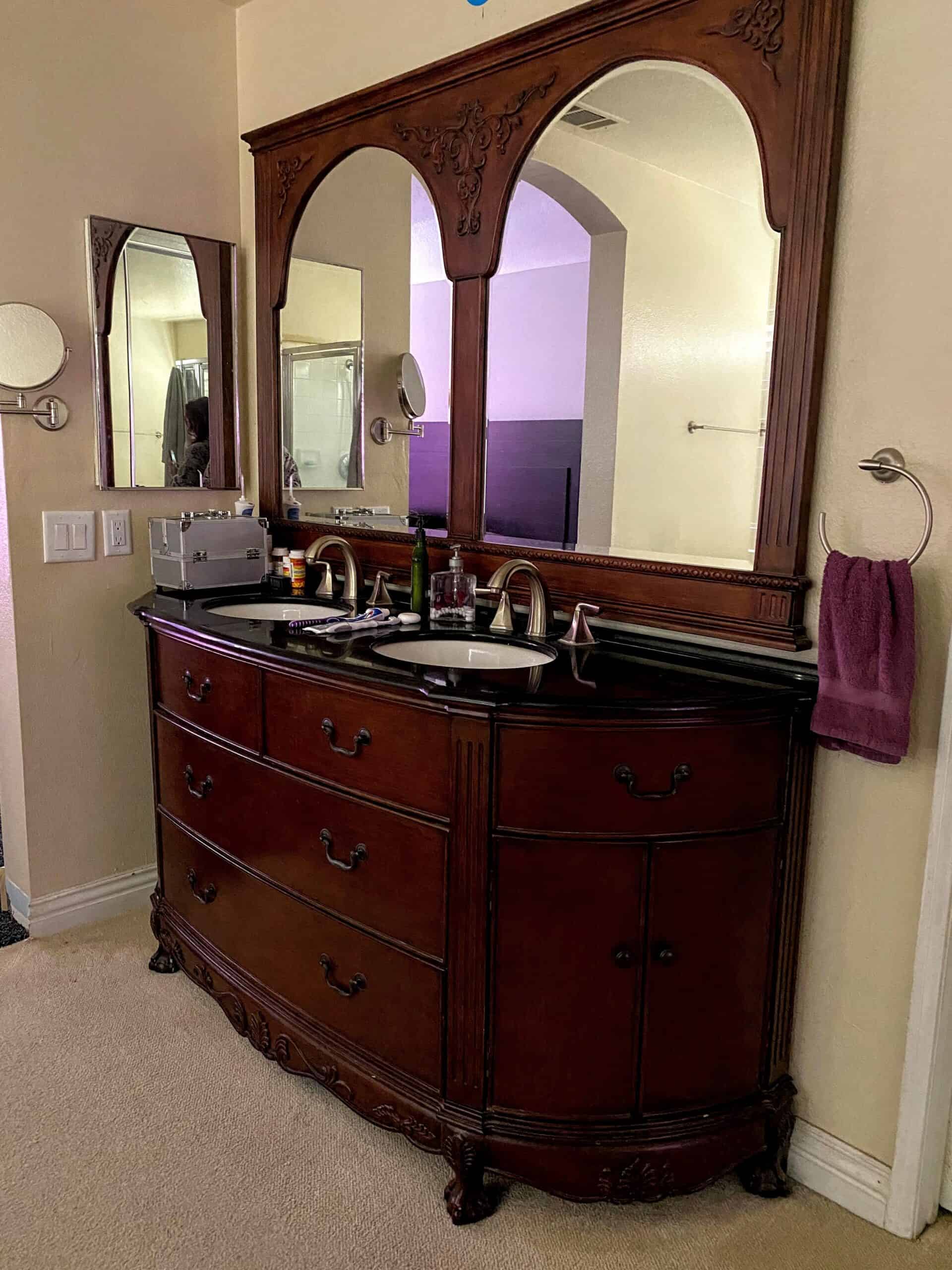 Here are our bathroom design ideas to help save you money and time!
Measure each room you're remodeling. Measure the floor, tub/shower, vanity space, medicine chest cutout (or space where you want it to go), where shelves will go, lighting, toilet, doors, etc. Not only will you need this when you go shopping for design inspiration or actual products, but your contractor will base part of his time projection on how big of a space he's handling.
If you can, go a step further and do a basic outline of your space shape and with what you want to go where, using graph paper. This helps you really visualize it and show it to the contractor.
Make lists. What does each room need? List everything, from vanity door handles to door knobs to shower curtain rod. Put the sizing, once you know it, next to the item. (You'd be surprised at how many tub sizes there are, for one example! To remodel our bathroom, the list was longer than for a kitchen almost!)
Once you have your basic layout chosen, decide if you're going to do anything yourself or have a contractor do it all. We were able to save a significant amount of money by shopping for supplies ourselves. Just be sure that your contractor is okay with this. We did have one that said he'd need to supply everything. (We didn't choose him. We knew there were cost markups for things we could easily buy ourselves at warehouses and supply outlets open to the public — and there are TONS.) List what you want to do on your own — like demo'ing your existing space — and what you definitely have to have someone else do, like your plumbing and electrical wiring.
Get estimates from at least three contractors. This gives you a general ballpark for the cost overall. You may be excited about the first or the second person, but still, get at least three estimates, minimum. Estimates are also useful in seeing the kind of detail your contractor will pay to the project. We had one electrician email us a literal one-sheet proposal form saying "$11,000 for electrical work." Without a breakdown, we can't tell where the money is going, and what we'd need to either delete or expand upon. It also sends a message of "I'm not really invested in getting this project." (And that same project was actually done by another electrician for about $3200…and it's PERFECT. I really think the $11k guy didn't want the job. That's okay, but a professional finds a way to politely say that, not send a passive-aggressive quote.)
Speaking to the above point: follow your gut. If a contractor gives you a bad vibe, remember that. If you don't get a good feel for someone, don't hire them. These people are going to be in your home, possibly for a week or two, and you need to trust them. You won't be able to watch them as they work or wander, and you want to know the work is being done properly. (Our flooring guys were a third-party installer for a MAJOR home improvement store. This 'professional' team left a wadded up ball of plastic under a hallway floorboard, told us it would eventually lay flat, and to give it time. Meanwhile, our new high-end Pergo flooring was creaking and had a hollow spot. Wait? No, thank you, I'll take the store manager out here, please. He found the wadded up plastic, apologized profusely, and had to set up another day, pushing back other renovation projects, so they could remove the flooring from the wall to that spot, which was a LOT of of planks. He tried to give me the same team…uhm, no? That same team also took photos of each other 'moving' our furniture, and asked for extra money. We'd actually had a neighbor come over to help move the three items, so when I called the same store manager to question the $300 charge suddenly added to my bill, he said the installers said I was lying. That did not go over well, and my non-confrontational husband ended up on the phone because calling a customer paying over $20k in things just for this one project was not okay. We ended up with a large credit AND a gift card. And the installers were never, ever allowed back into our home, not even to fix the brand new sink they clogged or to scrub the brand new flooring they left disgusting when they learned their work was being ripped out so they weren't getting paid for it. I'm telling you, there are shifty people out there, like in any industry, so watch, take photos, keep notes, and do not tolerate nastiness.)
Visit multiple stores, once you know what you want to buy. You may end up seeing new tile or vanity colors you like better than the ones you had in mind, and you can see where it's best to buy each item. You may get a bulk discount by buying everything in one place, or you may choose to buy things where you find them to get the best costs. It can be worth purchasing at multiple stores if you see something you really want! We weren't going with navy blue vanities until I saw them in a design store about an hour away, but I absolutely love them.
Ask a lot of questions when you find things you want. Do they have it all in stock? If not, when will they? Do they deliver? How much is delivery? Will they leave it in your driveway or carry it into your home? (I had piles of bathroom furniture and tubs in my living room for weeks.)
Have everything before the job begins, as much as is feasible. This helps the contractor/s make sure it's going to work. We had a faucet for one of our bathrooms that looked really cool — in the box — but in reality, didn't fit with the tub we chose so last-minute, we had to order a new one. It was on us for not catching the layout first, but at least we had a couple of days after the contractor saw it before he got to that step in the process. It saved us from having to set up a return date for him, and we were able to use the bathroom sooner.
Have a plan B. Your dream vanity may not come in your size, or may be stuck overseas and not be able to get here for four months. (True story, but with another item.)
Do the math before you have the work done. This helps you know where you're at with your overall budget in addition to your budget for each room.
Source unexpected places. You may not think of CostCo when it comes to buying tubs or vanities, but the Ove brand is unique, comes in a lot of varieties and sizes, and is shipped directly to you. We saved a lot of money on their products, and got everything we wanted.
Design is a lot more than just where you'll place the tub and shower. It's the tile colors and shapes, the shade of paint, the style of lighting and more. In the photos below, you can see where we chose a bright crystal type of light, clean Shaker-style cabinetry and we had custom-made shelves for the wall to match the hexagon tile shape. (And bonus: hidden Mickeys!) Have fun with what you choose, and see where you incorporate the look when you select soap dispensers, tile and rug colors or other accessories. (We eventually chose a small bench to go next to the tub that has the same black industrial pipe edging that is all of our curtain rods and stair rails. It's so fun bringing some unity to the whole-home feel!)
Faucets come in so many styles, your head will spin. They all have the same function, but if you want a spa feel like we did, we chose a waterfall style that comes out more gently and softly, giving a peaceful touch to even the most basic of tasks like washing hands.
Every contractor wanted to put a faucet in our shower ceiling. Every. Single. One. I have purple hair, and washing it daily is just unnecessary, but it's hard to avoid it when your main nozzle is overhead. I had to really stress NO. A couple were surprised, but it's MY bathroom.
If a contractor refuses to do any work because you have mold, and he insists on an expensive mold test done before they even get in the walls, that's a red flag. Some walls will indeed have mold that you'll need to handle carefully and properly, but you don't need to pay hundreds of dollars for an external test; finding mold in the grout of the shower corner is not the same as mold inside your walls, so even if your city requires a specific mold test, it is likely for the mold INSIDE your walls. Question it if a contractor says otherwise. Only one of our four contractors insisted on a mold check due to discoloration in the corner of one tiny section of grout. He wanted almost $500 for a 'required' test that turned out to not be required….and when demo started with the team we chose, there was NO mold in our walls. We would have wasted $500.
And that leads me to reiterate: ask questions. Any time someone says something is required, if you're unsure if it's legitimate, research and ask for details. Why? Who requires? What does it entail?
One big question to ask is: how long will this project take? Almost all projects will take a tick longer than quoted, but if your master bathroom is en suite, you're going to have no toilet for middle-of-the-night use while they're working on it. For us, it meant we have to put up a baby gate so the puppy didn't get in that area. Our closet is on the other side, so we had to get things out in advance. Have a contingency plan if it takes too long, and be sure they help you with it if the cause is on them. (We got lucky, our master bathroom was completed in five days. This included the entirely new shower, tub installation, vanity install, faucet install, and flooring. The only thing that threw a wrench in it was that the prior vanity had been hiding a mess of pipe extensions that weren't going to match up with ANYTHING IN THE HISTORY OF BATHROOM FIXTURES. We had to have a separate guy come out and move some pipes, quickly, for them to finish. This still happened within 24 hours but it was both an unexpected expense and delay.)
In keeping with the timeline above, ask each contractor what their time expectation is. When can you start and how long will it take? How many people will be here? What kind of hours do you keep? Are there any days you cannot come? This helps you plan, because while things happen, you also don't need to go without, say, a kitchen counter while the contractor takes a vacation he never told you about. (Another true story: our kitchen guy made a massive mistake on a portion of our counter and his very rude wife told me that we'd just have to live with it, they weren't messing up their vacation. A) Stop being rude. I paid you for a specific project outcome, your husband made an egregious error, and I just need it done before the holiday, which is weeks after you were supposed to be done, and B) I would never want to mess up your trip, but you will need to rearrange your schedule for the rest of the work you had planned elsewhere in order to finish mine, and C) maybe this is a learning lesson for you both, because this error should never have happened.)
Also ask, daily, anything I can't touch? Anything that's wet? Can't be turned on or used? Can I flush the toilet, turn on the sink, etc. Little stuff can cause a big headache if you don't know.
Keep copies of every single thing. If a contractor tries to change the date or the cost or tells you something strange, ask them to notate it on the contract, along with the new numbers/dates, and have him date/initial it. If you do not agree, do not initial it. I'm not an attorney, and this is not legal advice, but contracts are contracts, so if a contractor's nasty wife threatens to rip it up when they're 95% done, because you want that egregious error repaired, you have that for your attorney or small claims.
Your water will be shut off during a bathroom remodel. It could be for an extended period of time, so be prepared. You'll only get so many toilet flushes out of each one that is accessible, and showers have to dry, so you may be hitting up family, friends, Starbucks….
You live in the house now, so design your bathroom as you want it — but someday, you will need to sell the home. Purple walls and other unusual choices can turn off potential buyers. They can repaint but a weird shower design (like one that removes the tub, runs the entire wall and has 10′ of space between the shower head and a bench on the other end) can deter a sale. Make it what you want, but just keep resale value in mind.
Cut costs where you can, without sacrificing quality. Our shower, which we had enlarged 8″ since we had a recessed tub removed and a freestanding one installed, had a weird window in it, which looked directly into the bedroom of the house next door…only about 15′-ish feet away. It had blinds on it, and they had seen better days but were most definitely required. To resolve this issue once and for all, we could have installed a new window with glazed glass OR had the window removed and sealed, covered by the new shower — except it's an extended two-story and had to be partially done from the outside. Expensive. We chose to remove the stupid blinds and use a glaze on the window glass. For less than $20, we have a window no one can see through and it looks fantastic.
And this is a DURING gallery…because wow, what a mess. If you plan to remodel a bathroom, expect it to take twice as long as they say just in case. Ours was pretty on target, but I know not all bathroom remodel crews are as competent; there can also be supply delays.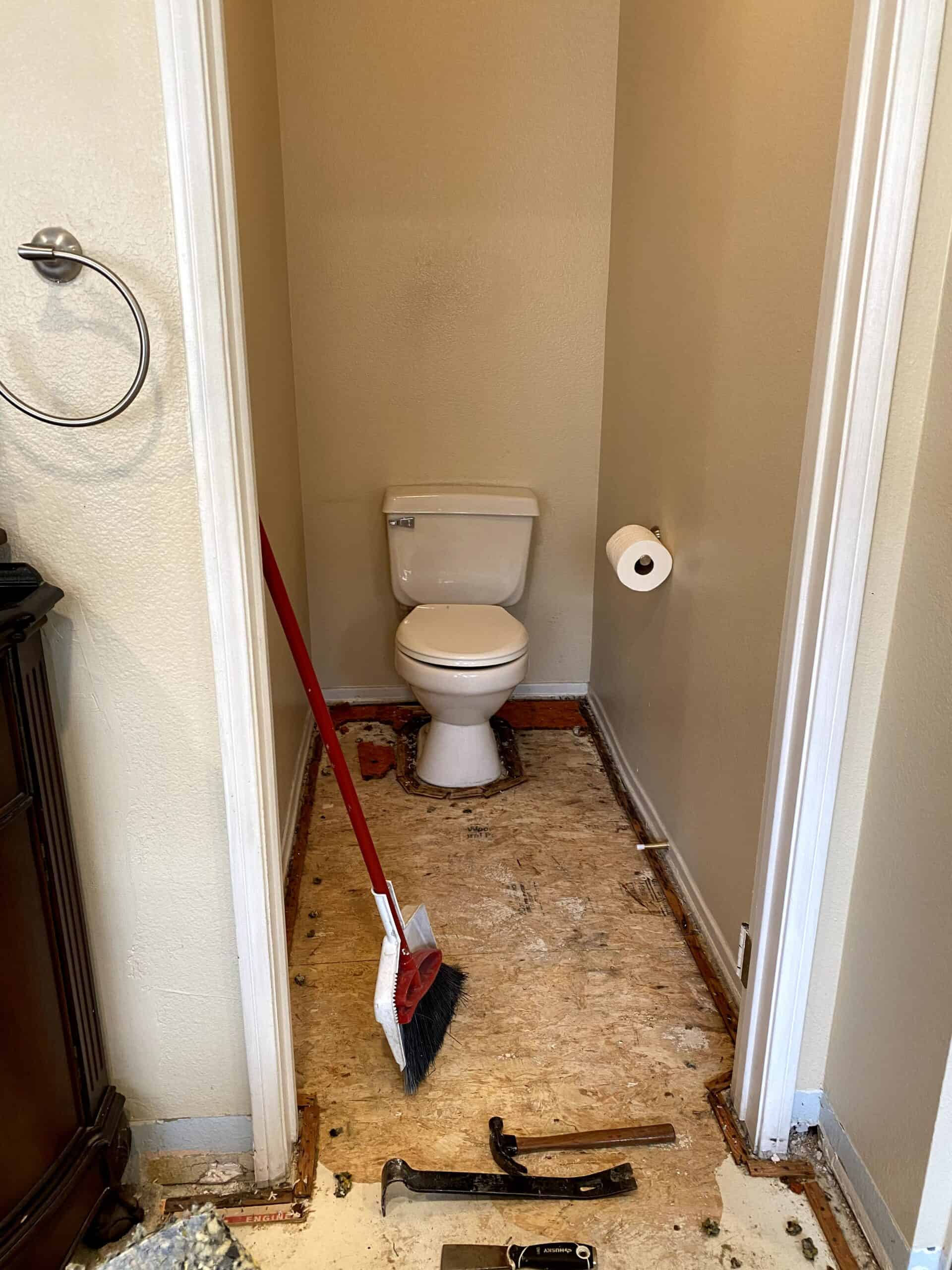 So this is a lot of bathroom design ideas to consider, but it's a big deal when you spend this kind of money to remodel a bathroom or renovate your home in any fashion. I hope these help you design the bathroom of your dreams! Here's mine!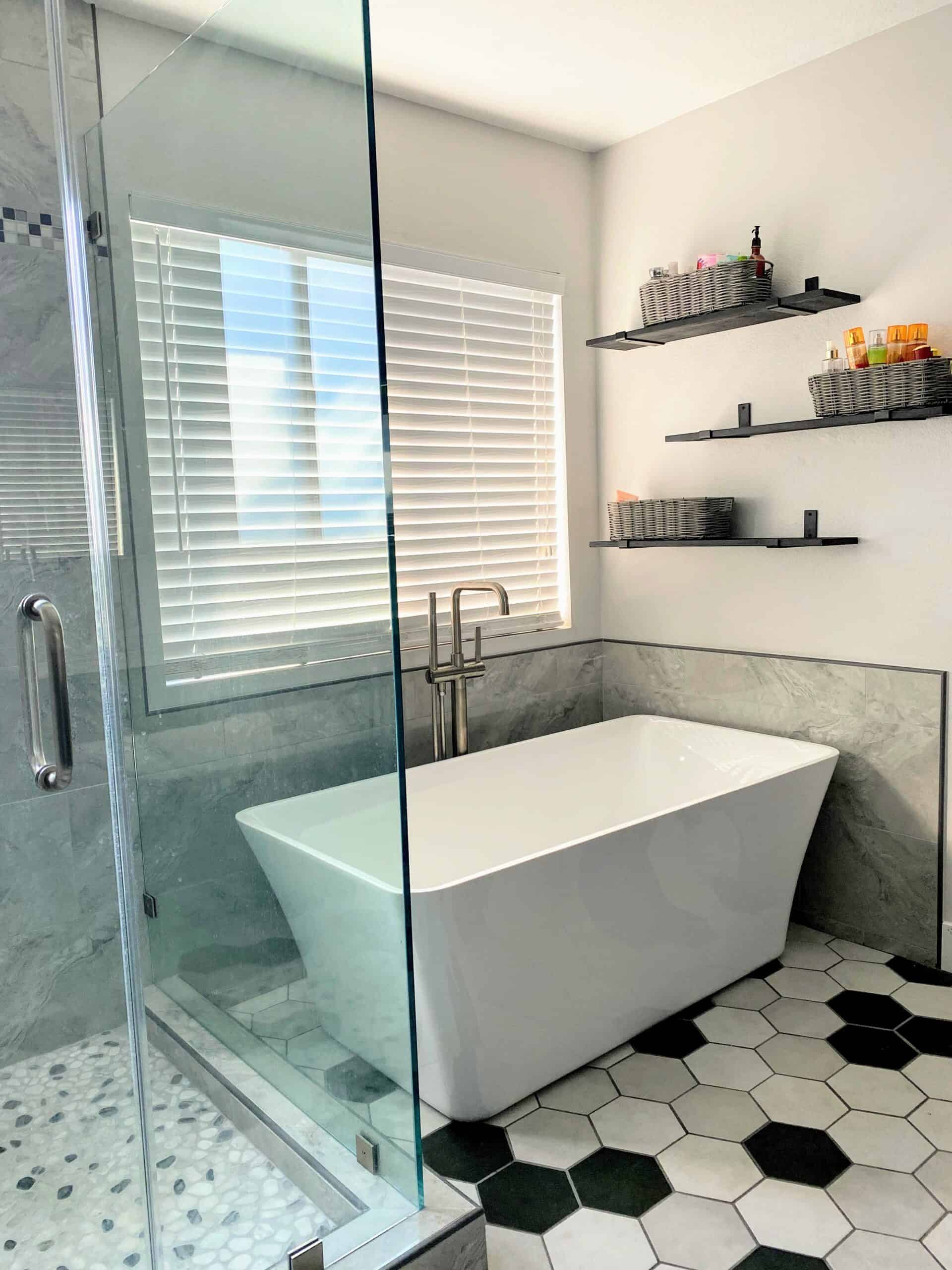 For more bathroom design ideas, and other home remodel and home renovation suggestions, poke around the blog! We've shared a lot of products and recommendations to make your renovation and remodel process easier, like this post on best kitchen brands to use, our first guest bathroom remodel, how we redesigned our new kitchen, and first-timer renovation tips anyone can use to survive all the dust, mess, interruption and expense!