One of our favorite family meals is grilled pizza. It's easy and everyone makes their own custom dinner, but when it's 100 degrees outside, no one wants to be the one stuck manning the grill. It's these nights we turn to focaccia, a pizza-ish meal that allows us to use up our random produce and meats that may be leftover in the fridge. The dough comes together quick and we plop it into a big cookie sheet for one massive slice. However, some nights I forget to make the dough in time and then we're stuck — so I came up with this lazy version, a quick focaccia recipe to help everyone get dinner on the table fast.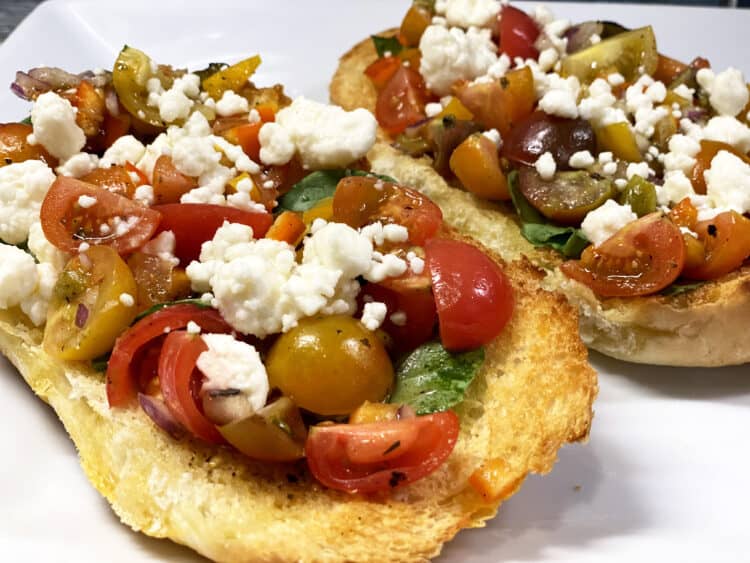 I don't even really call this a 'recipe,' because it's really just assembling food.
It's as easy as buying processed, prepackaged food but it's fresh and custom and oh so good.
It's basically cheating.
Your quick focaccia recipe really depends on you, not a recipe. Use quality, fresh ingredients and be creative. What makes my idea so easy? Why is it cheating?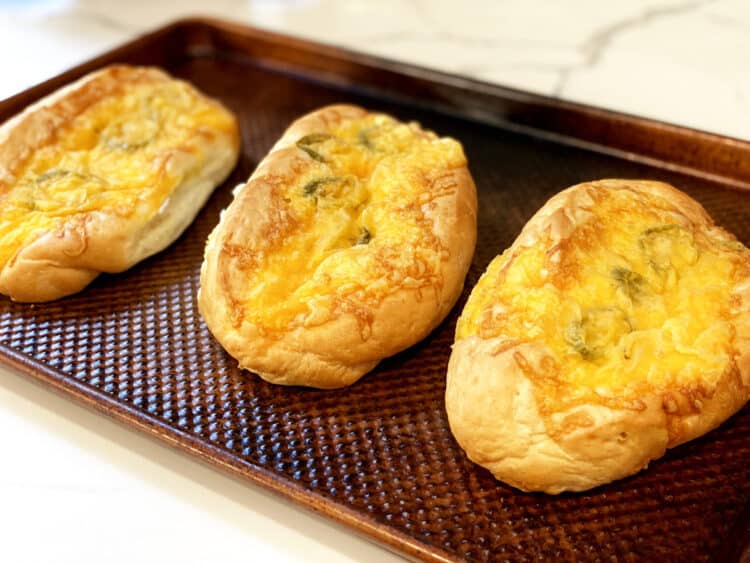 Premade bread! No, not the kind of stuff you buy in your grocery store aisle, the ones full of preservatives or high fructose corn syrup. Instead, hit up your store's bakery. I'll confess, our favorite one is the local Winco. They have a bunch of different kinds of breads for $2-$3 per bag max. I like to make my bread from scratch, but some weeks, I'm too busy and when I finally need to throw some in the oven, I don't have the 2-3 hours my artisan dough takes to rise.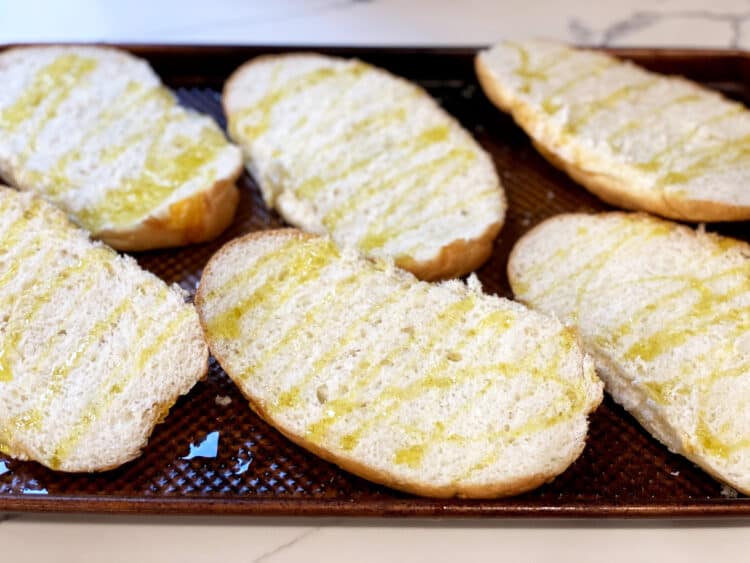 For this quick focaccia recipe, I bought a six-pack of bolillos. It's a Mexican bread that's versatile and great for sandwiches. We had a bag on hand one night, when I was looking through the produce drawer to see what I could make for dinner on a busy night. I found a bag of mini bell peppers, a gorgeous container of heirloom tomatoes that Melissa's Produce had sent me, a purple onion and fresh baby kale. Dinner was on its way without any work other than chopping!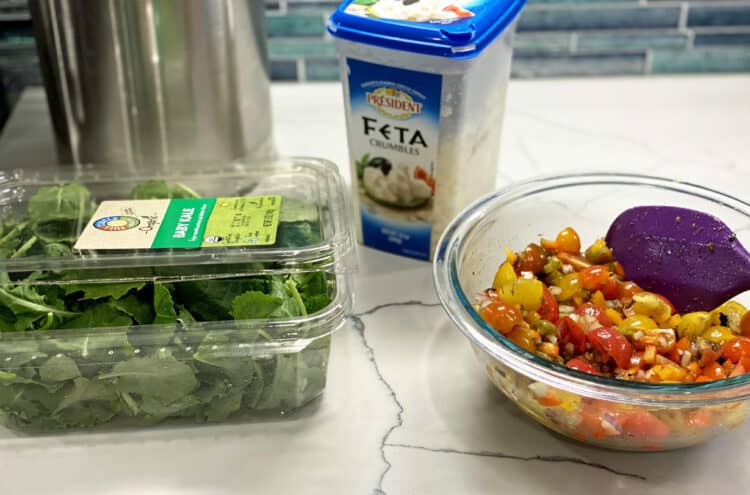 It took just as long as it took for my oven to heat up to 400 degrees. I chopped up all the produce, except for the baby kale, and put it all in a bowl to drizzle with olive oil. I added a little salt and pepper and mixed it up. Then here's where it got so easy: I sliced the bolillos from end to end, put them on a cookie sheet and drizzled with a little more quality olive oil.
I don't like soggy bread or pizza that flops over. No au jus sandwiches for me. If it's soft, I'm not eating it, so I put the bolillo halves in the oven for about six minutes, until they slightly browned.
We're a spicy family, so I pulled out some of the Hot Hatch Peppers we'd been gifted at Gelson's the week before, at a media event with Melissa's Produce. They were already roasted, so I pulled out two, took off the skin, sliced them open and scraped out the seeds. Quick rough chop, threw them in the bowl.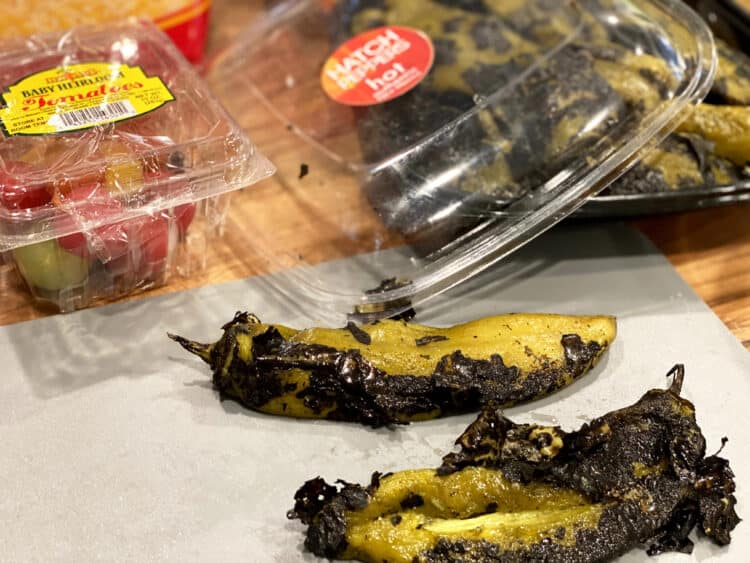 Pull the halved bolillos out of the oven, cover each slice with a pile of the vegetable mixture from the bowl. Throw in some baby kale, torn in pieces, and sprinkle feta cheese over the top.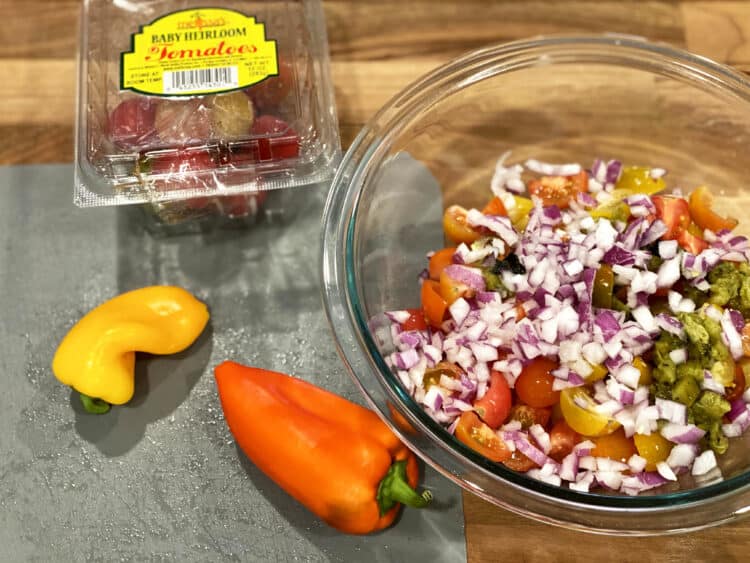 Bake for another 10 minutes or so, until you see the bread getting the color and level of crispiness you want.
Dinner is ready.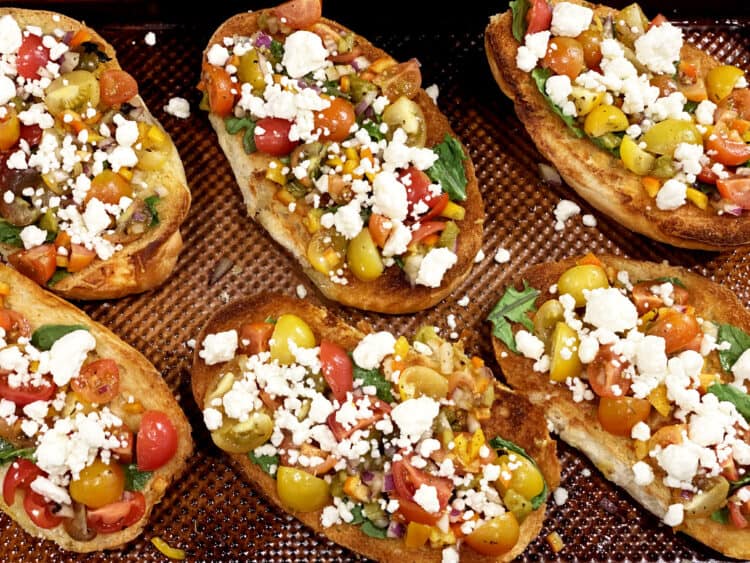 See what I mean? It's not even a recipe. You're literally using what you have, customizing as much as you want. Want more of a Hatch Pepper taste but less heat? Use mild peppers instead of hot. Like even more heat? Chop in some jalapeños. Use cheddar instead of feta.
To add a little more flavor, our bolillos were baked with a little bit of cheese and jalapeño in the crust. (Thank you, Winco Bakery!) It added one more slight level of flavor.
If you're a little edgy, aka one of those people, throw on some pineapple.
It's me, I'm those people, I love pineapple on my pizza. Now you know.
If you've been reading my blog posts prior, you know I'm all about eating good, quality food…usually healthy, but sometimes a splurge. I'm also all about not letting being a busy working family get in the way of that, so I focus a lot on making meals that don't have us in the kitchen all night.
I also try to include things that are kid-friendly and items that increase family time by allowing us to prep the food together. As a mom of four, I want to incorporate vegetables into all our meals, so our food is as nutritious as possible without scaring kids off. This helped the kids grow up liking most vegetables. Now that they're all young adults, I like to think it's helped them develop lifelong habits. We still eat this way, even when we're only cooking for the two of us.
Eating good fresh food isn't difficult, and it doesn't have to be perfect. I am working on cutting back my carbs, but now and then, I just want a bite of bread. This quick focaccia recipe fits the bill! Eating healthy isn't an all-or-nothing prospect, so while I'm no nutritionist, I really believe we shouldn't deprive ourselves of things we really like, as long as know how to monitor how much of it we have. I could eat bread three meals a day, but one dinner with a crunchy slice of French bread drenched in delicious vegetables was the perfect amount. Best of both worlds!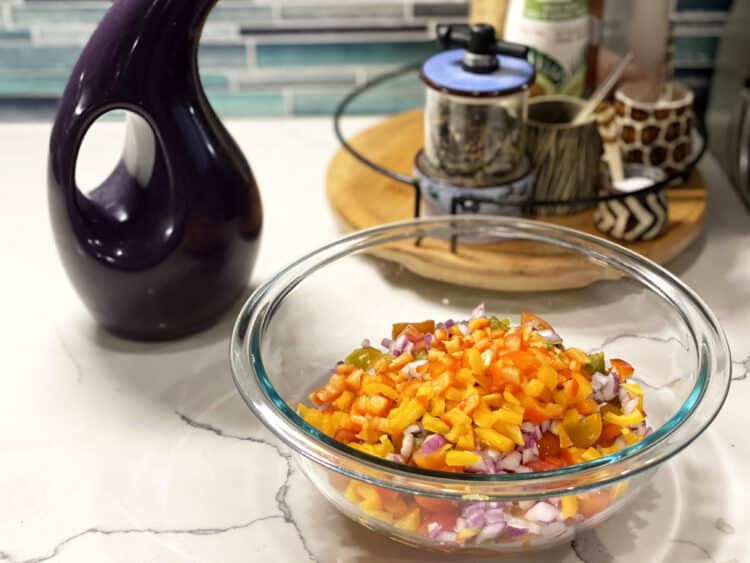 Look at the Melissa's Produce website for some ideas of unique produce you can purchase for your own focaccia. Multipurpose it and make some delicious fresh veggie tacos. Throw it on fresh lettuce or arugula and add a hard-boiled egg.
Now that we've only got one son left at home, I'm getting better at downsizing our meals. I'll frequently cook a whole chicken on a Sunday afternoon, usually with adobo seasoning, and use it in meals the next few days. We waste far less now, by reusing leftover items in different ways. Even just one or two mini bell peppers, a handful of grapes and a couple of artichokes amp up our meals. It's all about getting creative! One of my most favorite breakfasts is a veggie scramble with a couple of eggs. Those grapes? Halve them and put them in a bowl of Greek yogurt mixed with 1/2 cup of homemade granola. SO GOOD.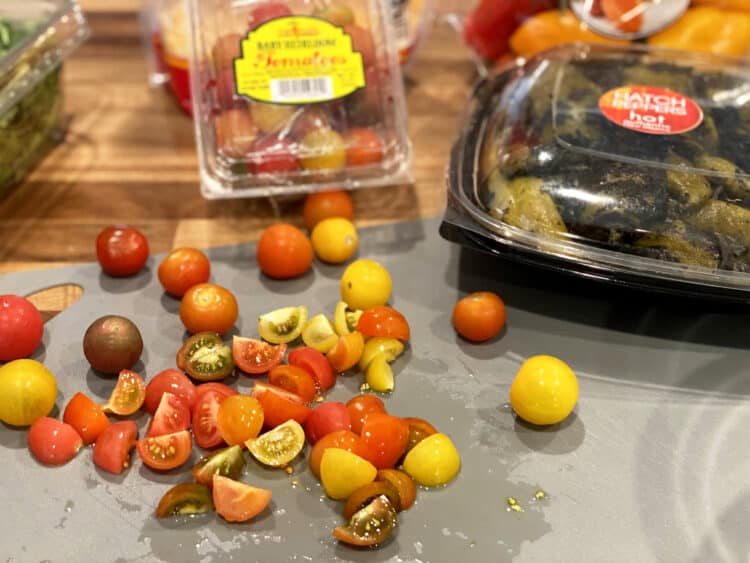 So back to that focaccia…those heirloom tomatoes were fresh and delicious and added so much color to our meal. I left a few smaller ones whole and they popped when you bit into them. (That was a little hot if you weren't prepared.) They were almost sweet, and I could have eaten the veggie mix with a fork. These also make a great vegetarian meal, too. Or even vegan, if you change out or omit that cheese.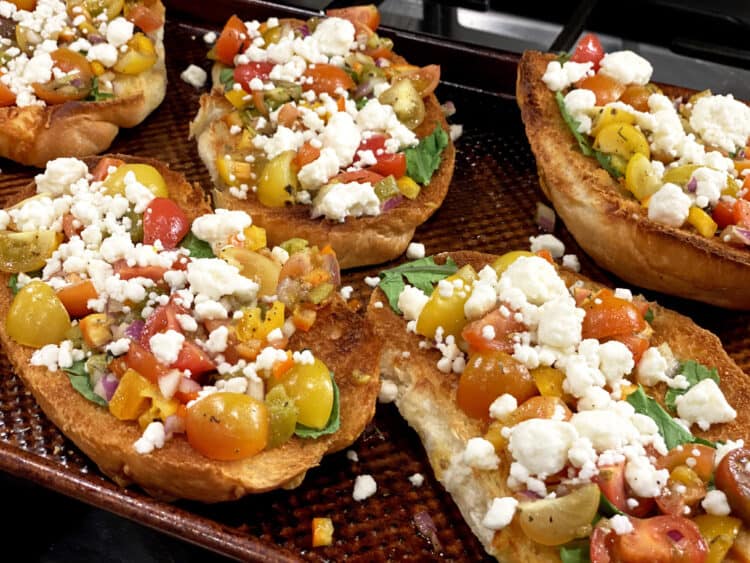 Don't overcomplicate your food! Let the produce shine and enjoy the flavors you create!