Warner Bros. Home Entertainment provided me with a free copy of the DVD I reviewed in this blog post. The opinions I share are my own. Keep reading for my review on Big Little Lies Season 2!
Almost two years ago, I was invited by HBO to a fun event to screen the first episode of a brand new original series, Big Little Lies. Based on the book by Liane Moriarty, the book chronicles the life and drama of the "Monterey Five," portrayed by Reese Witherspoon, Nicole Kidman, Shailene Woodley, Laura Dern and Zoe Kravitz. Not only did we get to see the first episode in the studio, but we had a brief meet and greet with Reese and Nicole. (You can read about that event here.)
We were sent home with a copy of the book, and I dove into it immediately, sucked into the story of these five ladies and their lives in Monterey, California. I finished the book in less than 24 hours, and I was even more excited to watch the series in its entirety. It ended with a teaser for season 2 though, and it was a long wait for June, 2019 to come around to see what happened with the first season's cliffhanger. Season 2 did not disappoint!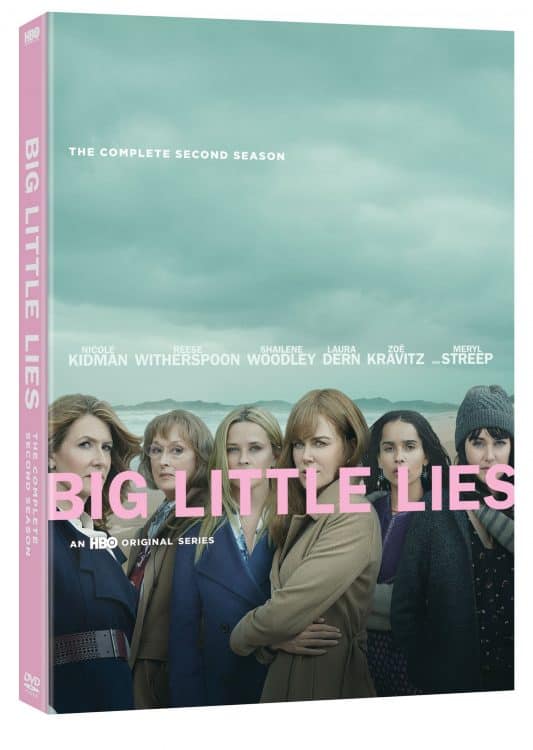 Now Big Little Lies Season 2 is available on Digital NOW and on Blur-ray and DVD as of January 7, 2020. I have my copy here, so me and a few friends had a movie-watching session over the weekend. The guys were watching football, so the ladies and I poured the champagne and settled in with some popcorn. Meryl Streep joined the cast in season 2, and I love her as the amazing actor she is, and she portrays the horrid mother-in-law of Nicole Kidman's character, Celeste perfectly.
We didn't finish all the episodes in one day, so that's giving us another excuse to get together tomorrow for brunch. Quiche, mimosas and more popcorn, we're set to again see how Perry's mother's incessant search for the truth transpires.
Here's a little more about the DVD, straight from the Warner Bros. Home Entertainment press release.
Fall in love with the "Monterey Five" again and again, as you relive the whole series, with the Big Littles Lies Season 1 and 2 twin-pack. The DVD set will also be available on January 7 for the low price of $49.99 SRP ($57.99 in Canada). You can also get just the complete second season for $29.98 SRP, which includes two DVDs, with a run time of approximately 420 minutes and 36 minutes of enhanced content.
The Big Little Lies Season 2 DVD/Blu-ray includes these seven one-hour episodes:
What Have They Done?
Tell-Tale Hearts
The End of the World
She Knows
Kill Me
The Bad Mother
I Want to Know
Enhanced content includes "The Lies Revealed: A Conversation with the Cast," as they share mimosas and laughs about the making of season 2.
While Meryl's "Mary Louise" adds the appropriate creep factor to an already disturbing story of love, lust and dealing with things out of your control, I want to give major props to Laura Dern. Without giving anything away — in case you haven't seen season 2 yet — her husband is quite a piece of work. Her dedication to getting through a lifechanging problem is both humorous and hard to watch, because you really want to smack him. She's taken them from nothing to her being on the cover of a magazine and his mistakes pull them down in a heartbeat.
If anything else, Big Little Lies conveys the importance of owning your truths. Be yourself, speak up and don't let anyone intimidate you. These ladies all have to do that in some way, and Jane Chapman's acceptance that she has to move forward, both for her own sake and for that of her own, exemplifies strength in a way that many people wouldn't be able to achieve. Not only does she deal with what Perry did to her all those years ago, but with Mary Louise's insistence that she be an involved grandmother, and a young man who is trying to show her that is lovable and worthy of a second chance.
I loved Big Little Lies, and while there's no confirmation of a season 3 (as season 2 wasn't even in the book), I do hope they make one. This is a stellar cast and each of the talented actors make you believe their character. They also made me want to move to Monterey, but we all know it's a lot more expensive to live there than it appeared to be, for at least Jane. (But that bridge though…)
Call your friends, make the popcorn, and settle in for a few hours of indulgence with Big Little Lies Season 2.