Last week, I was privileged to be able to participate in Disney Park's Blog Magical Meet-up in honor of Mickey and the Magical Map. In a word..okay, three words: what a blast!
This was my first visit back to Disneyland in 3.5 years; we used to be annual passholders until we moved to South Carolina in April of 2010. Who knew we'd quickly find out that we missed going to Disneyland so much? When I saw the sign-up opportunity for the meet-up, I quickly joined and was probably disproportionately excited that I made it in time to be accepted, and when I learned I got to take a guest with me? <happy dance>
My 12-year-old son loves Disneyland, particularly the fast rides and cookie decorating over in the Critter Country barbecue, so I chose him to be my guest. (I don't think I'd have gotten away with taking anyone else!) I promised him new passes this year, but then that pesky layoff thing sort of jumbled our plans. (Not for long though!) We counted the days until Friday came and when he woke up that morning, the first thing out of his mouth was "We're going to Disneyland today!"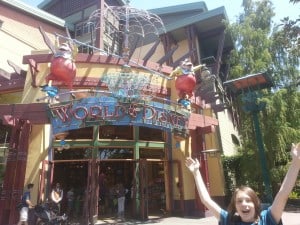 We arrived at Downtown Disney around 2pm – 2.5 hours early – so we headed to Rainforest Café to enjoy the animals and get an early dinner. (Boo, they got rid of their Safari card! I can't bring myself to pay $25 for a restaurant program to replace it, so we now have to give up on our preferred seating options.) After enjoying some fantastic clam chowder and a filling mamba wrap, we headed back to the esplanade to wait in line. We did have to wait outside for a little while to get in – not the most fun in the heat, but the crowd was good and the conversations interesting. Who doesn't like to get the chance to chat it up with other bloggers and blog readers? I only wish I'd had my business cards with me!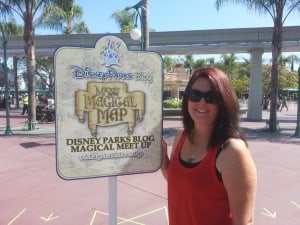 At 4:25, we were allowed in and quickly escorted to the Fantasyland theater. First time in 35 years of visiting Disney that I saw them hold up the parade for a crowd to get through! It was a bit hard to keep up in parade traffic and we picked up some stragglers, making it hard to follow the light saber-wielding host, but we arrived mostly in-tact and waited a bit longer for the theater to empty. Then the fun began!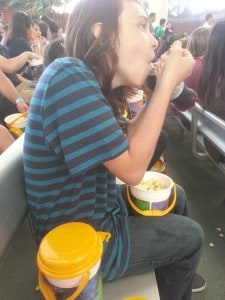 Goodies! Disney, you do not disappoint! We were all given a free refillable souvenir drink mug, filled with kettle corn, and our choice of beverage. Perfect after waiting!
Then the show began.
It was fantastic! I have to admit, I've never visited Fantasyland Theater before. (Shhh, don't tell anyone, okay?) With kids in such a big age range, it was hard to get everyone to agree on where to eat lunch, much less to sit and watch something that only suited half the family's interests, but my little guy's eyes were glued to the stage. (I think it was that way for everyone, there was a lot of popcorn spillage going on as people scrambled to grab it without looking.)
All too quickly, it was over and Disney moved on to the raffle (ahh, the prizes! The prizes we didn't win! LOL) and the guest panel. What an evening!
Little dude didn't want to ask a question, but he was so curious how the entire production was put together. He was transfixed! We left and headed out to get on some rides, as Disney graciously allowed us to stay after until he park closed. On the way out of the theater, we were all presented with a Mickey Mouse-shaped rice krispy treat and luggage tag. Thanks, Disney!
Kudos to the Disney staff – we weren't prepared for the amount of grad night kids, particularly when they get in the 'stretching room with no doors or windows' at the Haunted Mansion and do some deafeningly loud cheer that had everyone else climbing the walls and plugging their ears – who handled it without batting an eye. (And to the staffer that helped us after my son and I were both taken down by a road-raging stroller pusher? Thank you. I'm hoping the mom had to go to the bathroom or had some other urgent reason to need to 'run the light' at the crossing on Main Street. The six of us you hit in succession are now sporting bruises as souvenirs. I only wish mine was in the shape of Mickey's head or something cool.)
My son's plans were to stay until they kicked us out, but his plans were bigger than his ability to tolerate the crowds for that long, so we left around 10pm. We had only a brief wait for a tram back to the Mickey and Friends parking structure, followed by a calm 45-minute drive home, during which little dude slept…the whole time.
All in all, it was a fantastic evening. Disney, thank you again, and please keep offering your lifesaving special assistance pass. For people with serious crowd aversions and overstimulation problems, it can make or break a visit. Without it, we couldn't attend. Autism may be invisible to the untrained eye but it's a very, very real issue for the family and the child who deserves the chance to be like everyone else and enjoy the rides and experiences that Disney and other amusement parks have to offer. Annual passholder-land, here we are, and we are glad to be back!