Now that I'm solidly in midlife, I'm seeing wrinkles pop up on my face in places I didn't have them before. I'm also experiencing some of those lovely darker patches of skin, and if I'm being perfectly honest, it's discouraging. Thanks to my Celtic heritage, I've always had a lot of freckles. My skin tone, despite also having Spanish and Moroccan/Algerian ancestors, is on the pale side, and I'd burn easily as a teenager. Covering myself in baby oil at the beach didn't help either. Now I'm paying for it all, but I want to use less chemicals and more natural products. When LilyAna Naturals reached out to me and sent me this amazing box of products, I quickly said yes — no artificial ingredients and good smelling products that help my skin without chemicals, who would say no?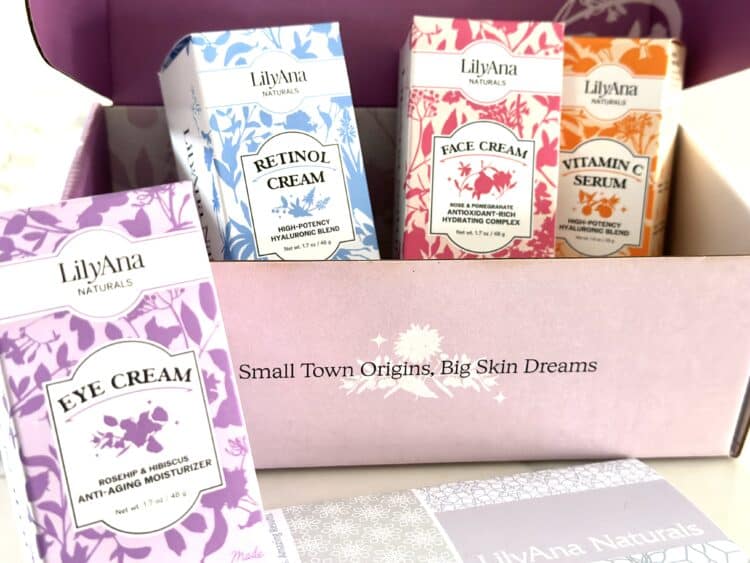 For starters, the packaging is pretty. The LilyAna Naturals motto, "Small town origins, big skin dreams" is evident and holds true as you open the box and see everything inside. The beautiful colors elicit a sense of calm, and it's so obvious you're using products that are chemical-free. Two years ago, we completed a whole home renovation (you can read more about that here) and I created a spa bathroom. I don't leave a lot sitting on my counters, because they clutter up the space and detract from the zen feel, but these LilyAna Naturals fit right in.
LilyAna Naturals is a family-owned skincare company based in the United States. They created their skincare line with good stuff from nature, so when you use it, you're not rubbing chemicals you can't pronounce onto your skin. You're using items that smell fantastic, don't feel greasy, and do what you need without breaking your budget.
Vitamin C Serum, a high-potency hyaluronic blend, and Retinol Cream make a great pair. Neither irritate my skin when I apply them, and I've had zero rashes, breakouts or other side effects that sometimes I've experienced when trying products made with more man-made ingredients. Now that I'm in my 50s, it's so important that I take care of my skin, and this power couple gives me the "powerful elasticity-boosting impact of Vitamin C and the tonal smoothing and fine-line finessing of the Retinol Cream all at once. The Retinol Cream is even more effective with the addition of Vitamin C, giving you a super-hydrating combo that helps protect against harmful UV damage and environmental stressors." That's straight from the website — they say it better than any way I could.
They're both so simple to use!
Next up is the LilyAna Naturals Eye Cream. It's a unique botanical blend of rosehips and hibiscus. It hydrates and moisturizes my eye zone, reducing the under-eye puffiness and dark circles while smoothing the wrinkles. I don't get a lot of dark circles, but they primarily arise when I've had a late night of writing or bad sleep, and I can instantly tell when I've consumed too much salt by the swelling under my eyes when I wake up. It's so bad sometimes, I can literally see my skin when this happens, an immediate "oh no" moment. Few products tackle it properly, and even less do it without some sort of redness. LilyAna Naturals Eye Cream to the rescue!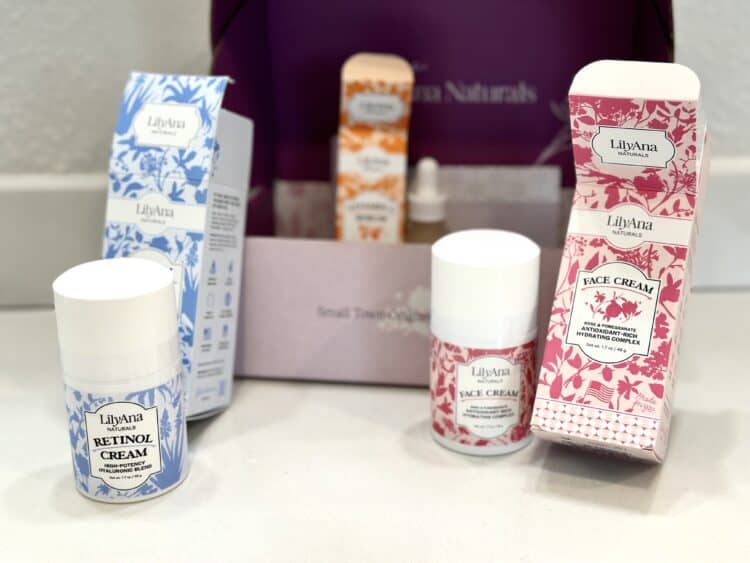 I rounded out my experience with LilyAna Naturals Face Cream. I was a little worried, because the other three products were perfect, yet so many face creams sound great but let me down with some greasy feel or unwanted sheen. If I want a dewy or glowing look, I'm going to do it with an actual product intended for that, not some product that is thick on my skin and looks unnatural — but I didn't need to worry, LilyAna Naturals Face Cream didn't set on my skin, but blended IN it. And it smells fantastic! I don't like overwhelming scents, and none of the products in my gift box made me feel like I needed to be concerned about layering smells.
The face cream is rose and pomegranate, so imagine that delicate scent! It's light on my fingers, non-greasy, and even lighter on my face while it's hydrating my skin, and visibly reducing dark spots, any dullness and hyperpigmentation. This product might be favorite of the four that I tried, because this is the area I struggle with the most. I have to buy full coverage matte liquid foundation to counteract the dark spots and I'm always mindful of what happens on days I only have time to quickly apply foundational powder. It's awful what vanity makes me think of! I know it's totally a ME thing, but with a good face cream, I can feel more confident that the spots are decreasing and hiding them can eventually be less of a worry.
Unsure what products to buy? Take the LilyAna Naturals skin quiz on their website! It's free and will give you a good starting point. Next up, I plan on ordering the Dark Spot Corrector, just to give myself an additional leg up on those spots. A face wash would also be a good addition to my morning skin care routine. Healthy skin care products is a work in progress, so it's not an all-or-nothing thing. Buy what you can. Use what you can, and add in more later if you want to. Even if you only buy one product, you can rest assured you're making positive change over the chemical-laden products you may currently have on your shelf.
And that natural floral scent? You can't beat it.